666 new routes launched in six weeks in Europe by 82 airlines; 307 airports in 64 countries involved as Ryanair, Wizz Air lead the way
In the six weeks since The ANKER Report was last published, Europe's airlines have been extremely busy starting a surprisingly large number of new routes. This analysis covers the period of Saturday 12 June to Friday 23 July, a total of 42 days. In the first three days of July alone, some 200 new routes were launched.
While The ANKER Report would like to believe that it has identified all of the new routes launched across Europe during this period, the reality is that several new services are likely to have been overlooked for a variety of reasons. Feel free to let me know via my e-mail.
Over 650 routes definitely launched in last six weeks
However, what can be said with reasonable confidence is that at least 666 new routes involving European airports have been identified and confirmed, as a result of checking airline websites, published schedule data, flight tracking websites and the airports and airlines themselves. These routes have been launched by over 80 airlines (some from outside of Europe) and involve over 300 airports across over 60 countries. Yes, the last six weeks has seen new routes between Europe and regions outside of Europe, including Africa, the Middle East and North America.
For full details of all these new routes, including weekly frequency, aircraft type, sector length and competitor analysis, please check out the downloadable New European Route Database (NERD) file, which can be downloaded free from www.anker-report.com or www.jonathanl227.sg-host.com.
During these challenging times, with constantly changing travel restrictions, airlines have had to be flexible in their planning. As a result, route launch dates have often been pushed back not just once, but sometimes several times. In some cases planned routes have been completely abandoned, at least for the foreseeable future. Airlines would rather push back a launch date, than start a route and then have to suspend it and then restart it, as this is not good for an airline's reputation and is expensive operationally.
Ryanair and Wizz Air (who else?) lead the way
Two airlines, both ULCCs, have been much busier than everyone else when it comes to launching new routes during the last six weeks. With more bases spread across Europe than their rivals, Ryanair (152 new routes) and Wizz Air (96 new routes) alone account for 38% of all new route launches in Europe during the period examined. One of the consequences of this is the growing number of routes on which they now compete, which has risen from 40 in 2019 to almost 150 this summer.
Other LCCs or leisure airlines fill out most of the other places in the top 14 airlines for new routes. Four flag-carriers are present; Aegean Airlines, LOT, Lufthansa and Royal Air Maroc but these carriers' new routes are mostly to/from leisure destinations in and around the Mediterranean.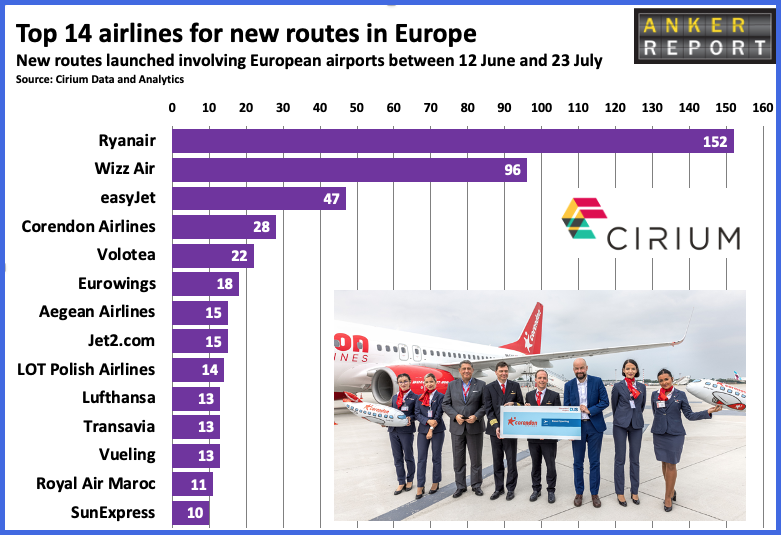 Greek airports busy welcoming new services
Seven of the top 16 airports for most new services are in Greece (highlighted in pale blue) with a further three in Spain (shown in orange) while Germany and Italy both have two airports represented in the top 16. The impressive growth in planned seat capacity at Greek holiday airports is covered in more detail here.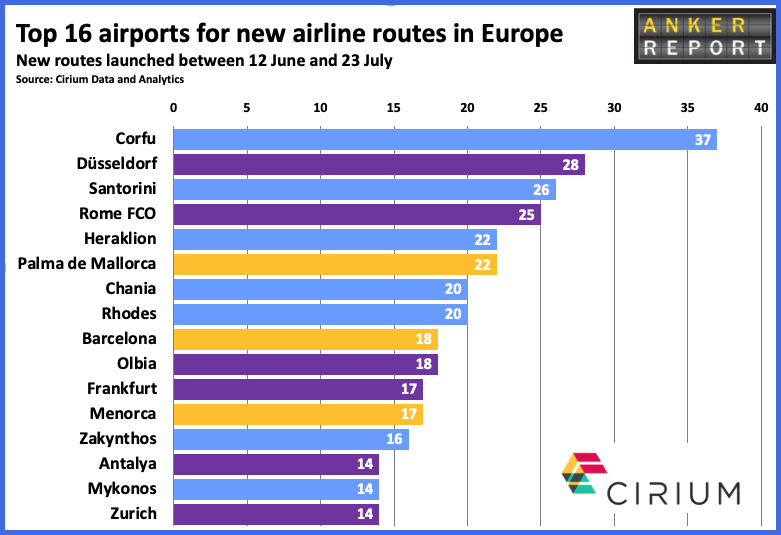 Not surprisingly, Greece leads the way as the country celebrating the most new route launches. Western Europe's big five air travel countries fill the next five places with Italy leading Spain, the UK, Germany and France. The majority of new Greek routes were international, whereas second-ranked Italy celebrated a significant number of domestic routes, where each end of the route would feature an Italian airport.
Countries that made the top 15 include Bulgaria, Morocco and Ukraine, while countries such as Austria, the Netherlands and Portugal all ranked outside the top 15. Maybe surprisingly, there were even eight new routes from Europe to the US, operated by five different carriers (Air France, Delta Air Lines, French Bee, LOT and United Airlines). Athens, Dubrovnik and Paris all welcomed two new US services.