Aarhus dominated by SAS hub-feeding services; Air Dolomiti new for S21 as Ryanair grows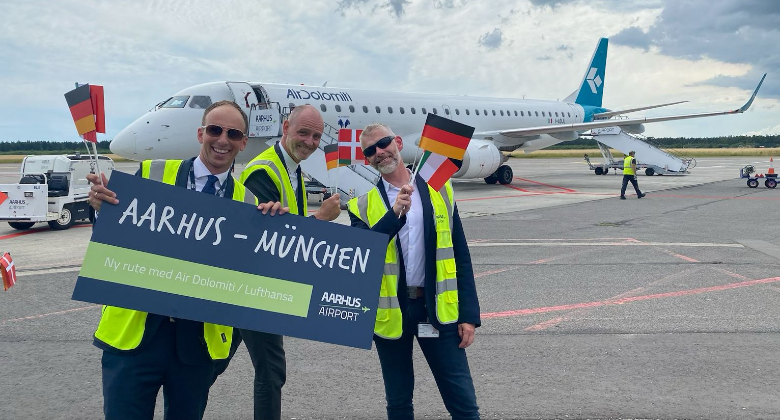 Located on the east coast of the Jutland peninsula, Aarhus is Denmark's second largest city (after Copenhagen) and was a designated European Capital of Culture in 2017. It has a municipal population of around 350,000. The airport serving the city, which dates back to 1943, is located 40 kilometres north-east of the city. It competes with the larger airport in Billund, which is 95 kilometres south-west of Aarhus.
The airport's busiest route is to Copenhagen, a flight of just 150 kilometres but a road journey of 310 kilometres taking over three hours. SAS operated this route with up to 4-daily flights. SAS also offers links to its hubs in Oslo and Stockholm, with both of these routes having been launched in 2018 along with new links to Malaga, Munich, Nice, Palma de Mallorca and Split. This helps explain the 30% growth in airport traffic in 2018. Faro, Manchester and Rome FCO routes were added in 2019.
easyJet and Ryanair both present in Aarhus
That year also saw easyJet start service from Berlin TXL and London LGW. This summer only the Berlin route is bookable, with flights now operating from the new Berlin airport. Ryanair has operated routes from Aarhus to London STN since November 1999 and to Gdansk since October 2017. On 2 July it added two new routes to Corfu in Greece and Zadar in Croatia, both served 2-weekly. The Zadar base uses A320s inherited from its acquisition of Austrian-based Lauda. Two more new routes, to Malaga (a resumption) and Riga, are set to launch in late October. Ryanair has also served the Danish airport in the past from Alicante, Girona, Gran Canaria, Oslo RYG, Palma de Mallorca and Stockholm NYO.
New link to European hub with Air Dolomiti
The airport's latest new route commenced service on 9 July, when Air Dolomiti began 6-weekly service to Munich, using its fleet of 116-seat Embraer E195s. For the airline, which is a fully-owned subsidiary of Lufthansa, this is a rare route that does not involve an Italian airport.
Charter flights this summer are being operated by Danish newcomer Airseven, which operates two 737-400s to various destinations in and around the Mediterranean. Finally, from 27 September, BRA Braathens Regional Airlines will begin non-stop service to Aarhus from Gothenburg, while also offering a one-stop service to/from Stockholm BMA via Gothenburg. The 180-kilometre Gothenburg route is set to be served 6-weekly using the airline's ATR 72s.