Aeroflot Group traffic at 89% of pre-pandemic level; Aeroflot has added over 20 new SVO routes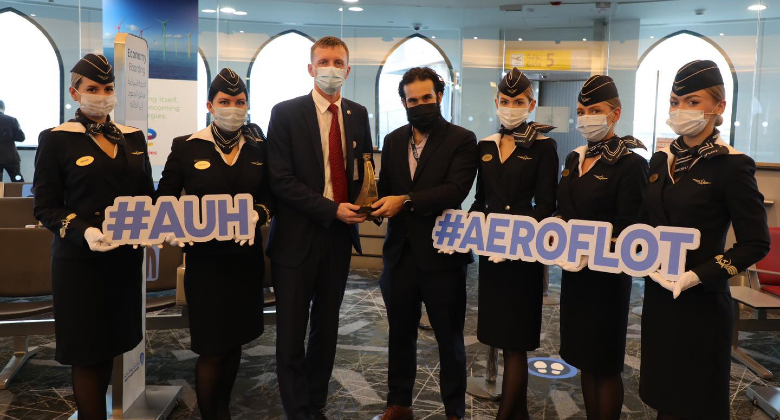 During the pandemic, Russia's airlines and airports have seen demand recover more quickly than in many other regions of the world. In part, this is due to having a massive domestic market. In most countries restrictions on domestic travel have been much less onerous than those placed on international travel. Russia also has a number of beach resorts along the Black Sea that have made domestic holidays an even more popular option during the pandemic, so much so, that in August 2020 Sochi Airport ranked as Europe's 13th busiest with almost 1.2 million passengers.
Aeroflot Group traffic down just 11% on pre-pandemic levels
Russia's flag-carrier, Aeroflot, kindly provides relatively detailed monthly passenger figures for itself and its fellow Aeroflot Group member airlines, Pobeda and Rossiya. In August 2021, the Aeroflot Group carried 5.5 million passengers, which was up 50% on August 2020, and, more impressively, just 11% down on August 2019. However, the Group has shifted capacity around and while Aeroflot saw demand drop 26% compared with 2019, Pobeda, the airline's low-cost subsidiary, saw demand increase by 47%. Rossiya demand was down 13%. In September, Group demand was down 13% versus 2019, while October's figures indicate demand still down around 11% compared with two years ago.
Group has fleet of over 350 aircraft
Focussing on Aeroflot, October data shows that the airline operates around two-thirds of its flights on domestic routes, where load factors, at almost 81%, are considerably higher than on international routes (68.4%). Although still a separate carrier, Rossiya (IATA code FV), now operates all its flights on behalf of Aeroflot according to Cirium Data and Analytics. In October, 80% of its flights were on domestic routes. In terms of aircraft, at the end of October, Aeroflot Group had 351 aircraft. Of these 193 belonged to Aeroflot, 114 to Rossiya and 44 to Pobeda. During the last year, Aeroflot has been gradually transferring its Sukhoi SSJ100s to Rossiya.
Volgograd is top route for ASKs
Looking at the airline's top routes in November as measured by ASKs (Available Seat Kilometres), reveals an interesting mix of destinations in the top 20. Despite also having a significant presence at St. Petersburg, Aeroflot's top 20 routes by ASK are all from its main base at Moscow SVO. There are 11 domestic routes and nine international, with three of those in the US (Los Angeles, Miami and New York JFK – shown in blue). The other six non-Russian routes (shown in red) are to airports in Armenia, Cuba, Kyrgyzstan, the Maldives, the UAE and Uzbekistan.
Although high-frequency routes to St. Petersburg (144-weekly) and Sochi (84-weekly) both make the top 15, it is the longer domestic routes, to far flung parts of Russia, that generate the most ASKs, with Vladivostok coming out on top. The 6,410-kilometre route to the city on Russia's east coast (which is also the terminus of the Trans-Siberian Railway), is flown 17-weekly using a mix of 777-300ERs and A330-300s, which all have between 300 and 400 seats.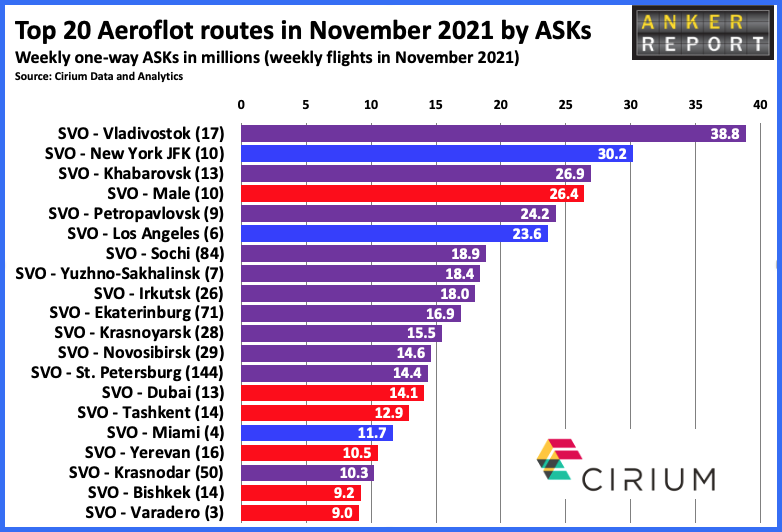 Over 20 new routes from Sheremetyevo
Aeroflot has added several new routes from Moscow since the start of the pandemic. According to Cirium Data and Analytics schedule information, four new domestic routes have been added to Gorno-Altaysk, Orsk, Penza and Yaroslavl. More impressively 20 new international routes have been launched from Sheremetyevo, all during 2021:
Abu Dhabi (UAE): 13 November, 3-weekly
Bodrum (Turkey): 10 August, daily
Cancun (Mexico): 18 November, 4-weekly
Casablanca (Morocco): 5 June, weekly
Corfu (Greece): 2 September, 3-weekly
Dalaman (Turkey): 10 August, daily
Dubrovnik (Croatia): 1 June, daily
Doha (Qatar): starting 1 December, 3-weekly
Gyumri (Armenia): 20 September, 4-weekly
Hurghada (Egypt): 1 October, daily
Kamchy (Kyrgyzstan): 14 July, 4-weekly
Mahe (Seychelles): 2 April, 4-weekly
Paphos (Cyprus): 11 July, 4-weekly
Pula (Croatia): 3 June, daily
Punta Cana (Dominican Republic): 1 October, 3-weekly
Sharjah (UAE): 17 April, 2-weekly
Sharm El Sheikh (Egypt): 1 October, daily
Urgench (Uzbekistan): 3 July, 3-weekly
Varadero (Cuba): 1 June, 3-weekly
Varna (Bulgaria): 10 July, 4-weekly (see picture below)
In addition, Aeroflot is now serving the new Berlin airport and has switched Tokyo services from Narita to Haneda. Many of these new routes can be classified as seasonal, leisure destinations, with two new routes each to Croatia, Egypt and Turkey. In addition, there has been a strong focus on destinations in the Middle East with two new routes to the UAE (Abu Dhabi and Sharjah) as well as Doha in Qatar, which is set to launch at the beginning of December.