Air Service One talks with, Giacomo Cattaneo, Director of Commercial Aviation, Milan Bergamo Airport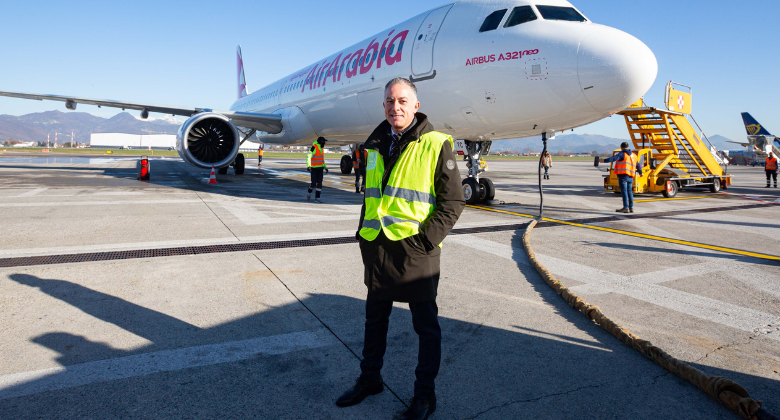 With 2023 well underway Air Service One will be continuing our successful series of interviews with key air service development figures from airports and airlines worldwide.
This time we spoke with Giacomo Cattaneo, Director of Commercial Aviation, Milan Bergamo Airport to understand how the airport has come back after such a huge struggle during the pandemic. An insight into the successful infrastructure development's that have taken place recently in addition to finding out more about the industries familiar face behind Milan Bergamo Airport's air service development program.
What have been the particular challenges faced by Milan Bergamo Airport since the start of the pandemic?
Bergamo and Lombardy were the centre of the pandemic in Italy and Europe at the end of February / beginning of March 2020. With all passenger traffic disappearing, it was very tough. We were in the middle of a massive investment plan and with no revenues coming in, it was a nightmare. Still, we took the courage to go on with investments, get more loans and continue investing throughout the pandemic. This paid off: when traffic restarted, we had a terminal much larger than before, offering more space to passengers (so useful when people were searching for social distancing) and anyway ready to accommodate the sudden return of important volumes.
Milan Bergamo is Ryanair's largest base in continental Europe and third biggest in all, behind London Stansted and Dublin. The carrier also accounts for over 80% of passengers at your airport. What are the primary reasons for the success of your relationship with Ryanair?
We have built over 20 years of cooperation a strong relationship. We believed in each other from when low-cost carriers were still a marginal phenomenon in 2001 and we were stuck more or less at the same amount of passengers. We knew we had a super-interesting catchment area around us, but the majority of traditional airlines were already flying to one or both of the other Milan airports. Ryanair started in February 2002 and, exactly one year later, they opened a base at Bergamo. From that time, flights and routes and based aircraft increased. Of course we have discussions, of course there are tough negotiations, but we managed to build a trustful relationship. As, I believe, over time we are also building with other customer airlines.
Although Ryanair is such a dominant carrier many of Europe's other major (U)LCCs are present at Bergamo. What are the key factors that have attracted these carriers to Bergamo?
Our terminal is large, with lots of light and has services for all types of passengers, but the real selling point for BGY is its geographic location. We are about 45 kilometres east of Milan, in the centre of an area very densely inhabited that includes the provinces of Bergamo – Brescia – Monza Brianza – Sondrio – Cremona, just to name some. If we do not count Milan (and clearly in the real world we actually count a lot on traffic from and to the city and province of Milan, with over three million inhabitants), the non-Milan residents of eastern Lombardy are nearly five million. It is a huge outgoing catchment area, full of companies and commercial activities. This helps generating also a lot of travel linked to business. At the same time, BGY is close to the mountains and attracts skiers in the winter, there are a number of lakes attracting tourism specially in the summer, and we have countless cities nearby that attract city-break tourists all year round, the main ones being of course Milan (one of the world's capitals of fashion; even more attractive after World Expo 2015) and Bergamo itself (the ancient walls surrounding the medieval upper city are UNESCO World Heritage). Particularly in 2023, Bergamo and nearby Brescia are the "Italian capital of culture", involving a long list of events that will attract more visitors in both cities.
Add to this that BGY is an efficient quick airport and you see the reasons (not a single reason) why our airport can be attractive to passenger carriers (LCCs or not).
You welcomed several new carriers during 2022 including Air Arabia from Sharjah, Anadolujet from Turkey, Transavia from the Netherlands as well as new local carrier, Aeroitalia. Tell us something about your experiences of working with these carriers and what they offer from your airport?
Working with each of those carriers is very nice and you can always appreciate and learn from dealing with people from different countries. Air Arabia on 7 December launched direct flights from BGY to their homebase in the UAE, Sharjah, with their new A321, offering connections to India, Oman and a number of other countries. Anadolujet, a trademark of Turkish Airlines, now connects BGY to Istanbul Sabiha Gökçen and, similarly to Pegasus Airlines that we also have, they offer not just Istanbul as a destination, but also several connections to other cities in Turkey and further. And looking at new airlines for Summer 23, flydubai will launch the daily BGY-Dubai route; Norwegian will be introducing some weekly frequencies between both Oslo and Bergen to BGY and Blue Bird will serve Tel Aviv once weekly.
Aeroitalia, a new carrier from Italy, has launched flights between BGY and Rome FCO and they will grow in the summer season with a series of interesting destinations, including both typically leisure summer routes (Greece, South Italy) and year-round destinations (domestic and non-domestic), plus charter operations.
What is the split between Italian passengers and non-Italian passengers? What percentage of inbound traffic is heading for Milan and how much is heading for the Italian Lakes region?
With 30% of our flights being domestic (having essentially Italians on board) and the remaining 70% being international (with a share of Italians / non-Italians quite equally split), about 65% of our passengers are Italian and 35% non-Italian.
Are there particular geographic markets which you see as having good potential for future growth?
We still see a lot of opportunities in many markets, but I do envisage particular potential in the Middle East & GCC countries, as well as in Northern Africa and Senegal.
Do you have specific goals in terms of route development?
Many goals: increasing the number of direct destinations served, linking more our airport to connecting hubs and increasing the cargo operations as well (our area is very strong in export).
What infrastructure developments have you made in recent years and how important are these for attracting new services?
A huge number of developments.
The airside part of the terminal is essentially all new or renovated. We added new gates both in Schengen an in non-Schengen departure areas (with E-gates for passport control); we enlarged the arrivals areas, introducing a brand new non-Schengen area (also with passport E-gates). The baggage carousels area was extended with more carousels now available. The check-in area was refurbished in 2022. In June 2021 we inaugurated a new and large airside lounge, called HelloSky Milan Bergamo; it is run by the specialised GIS (Tav Ops group) and is very much appreciated by customers. With more space available, more bars/restaurants/retail points were opened. To give you an idea, we have a capacity of about 20 million passengers per year now.
The apron was enlarged and a brand new cargo zone was built.
Having a large, new and appreciated terminal certainly helps the discussions with airlines.
What infrastructure developments do you have planned for the coming years and how will they benefit passengers?
New north taxiway and expansion of the north apron.
Further terminal expansion works (expansion of the check-in area with 20 new check-in counters – new security control area – new duty free area – two extra new non-Schengen gates).
Start of the works for the construction of the underground connection to the future railway station (train expected in late 2025 or in 2026).
More room for passengers in all parts of the airport experience, the presence of new generation x-ray machines at the security (not needing to remove liquids/portable devices) and direct trains to Bergamo and to Milan will certainly further improve the passenger experience.
In the meantime, further developments in the northern part of the airport will also continue, with new road accessibility to the new cargo area and completion of the second new warehouse. Plus, new customs gate and new office building in the north apron.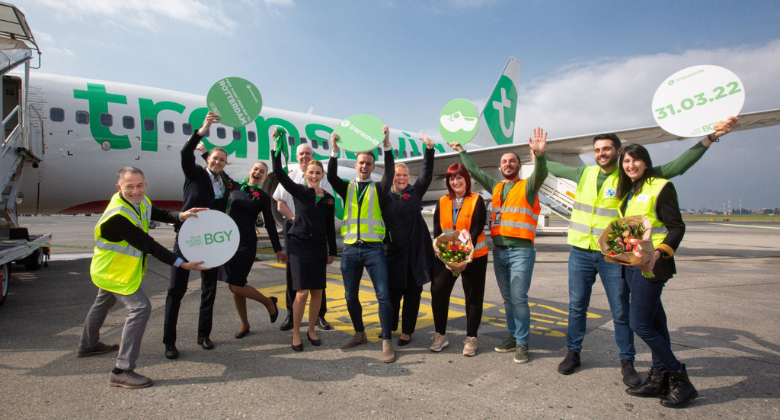 Air Service Fun questions
All-time favourite airline livery?
Many years ago there was a B737-400 of the Spanish airline Futura flying on behalf of Binter Canarias, with a special livery dedicated to the Canary Islands. I loved it.
All-time favourite aircraft?
B747 (passenger aircraft). So emotional to stay particularly in the upper deck…
Hardest to remember three-letter airport code(s)?
I always have to think twice for some of the Greek islands (JTR = Santorini, JSI = Skiathos, JMK = Mykonos) … too many "J". Or with Canada and the various "Y" three-letter codes. On the other hand, as my friend Marja from Tampere witnessed, we experience that the code for our airport (BGY) is often confused for the code of Bergen (BGO). It will be nice when we'll the see BGY-BGO flights from April!
Most remote airport ever visited?
Vitebsk in Belarus and Shymkent in Kazakhstan (not so remote, but quite unusual for me).
Most unusual/obscure airline you have flown on? Where, when and why?
As a commercial aviation director, I will never say that an airline is obscure. About 15 years ago I flew for holidays on an MD80 of ItAli Airlines. I remember it because the livery, hypothetically representing blue clouds on a white background, really recalled a cow… (my apologies to the designer). Not obscure, but very unusual.
Favourite sport to watch/play?
Volleyball (I used to play… less so now).
Favourite TV show?
I like quiz & music shows. And I like "Pechino Express" (a format existing with different names in many countries, like Pekin Express or similar).
Favourite film?
The very first Jurassic Park: as a child, I was always asking for books on dinosaurs to my parents. And seeing them on the big screen was a kind of magic! As a father, I've watched so many times "the Minions" movie with my kids and every time I can't stop laughing.
Favourite singer/band?
I like pop music in general (Ed Sheeran, Bruno Mars, Lady Gaga, Justin Timberlake, Dua Lipa, and many more). Let me mention among the Italians also "Pinguini Tattici Nucleari" from my city and, on the rock side, "Måneskin". When I was a teenager (a couple of years ago… in the late 80s), I was big fan of an Italian singer called Sabrina Salerno… I can't remember why…
Favourite unusual fact about Milan/Bergamo?
A peculiar story for Milan and for Bergamo, in a different way, refers to celebrations involving carnival and masquerades. Almost everywhere in Italy the final day of celebrations of carnival is "Fat Tuesday" or "Mardi Gras"; the city of Milan culminates its carnival celebrations (Carnevale Ambrosiano) four days later, on the "fat Saturday".
In Bergamo, a few weeks later, there is a Sunday in the middle of the Lent period separating Carnival and Easter ("metà quaresima") where the city stops its normal life and becomes a day of masquerade, street shows, confetti and celebrations, with huge parades when you can see the "carri" of residents of so many different countries, proud to show their colours and cultures.
Favourite place to visit in Milan/Bergamo?
The views from the top are my favourites. In Milan, the view that you can have from the upper floor ("Belvedere") of the Palazzo Lombardia is fantastic.
In Bergamo, the views from the historic Città Alta and San Vigilio to the city and plain is breathtaking. On a clear day, you can also see the skyscrapers of central Milan.
Favourite place to visit outside of Italy and why?
I like travelling and visiting. I believe that everywhere you go, there's something worth seeing. If I have to choose a single country, Greece and the Greek Islands are my favourite. You can breathe history, ancient times and myths in the archaeological sites, and the Islands offer fantastic sceneries and a wonderful sea.
Which city/country would you most like to visit (that you haven't been to yet)?
At least three and totally different: Iceland, Oman and Japan.