Air Service One talks with Maggie Bishop, Air Service Development Manager, Indianapolis Airport Authority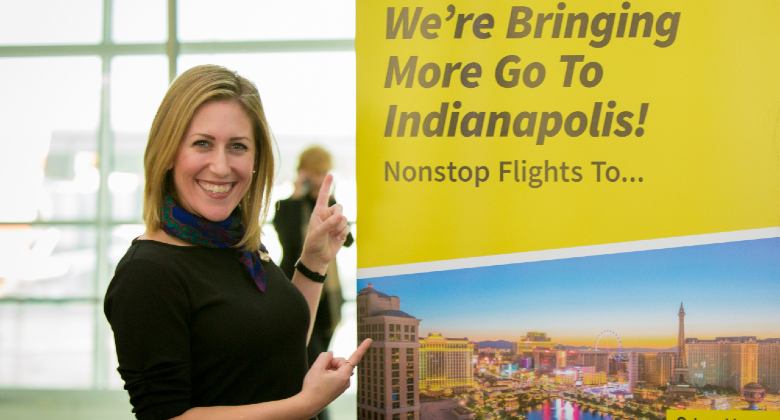 Home of the Indy 500 the world's most famous motor race, Indianapolis has long been synonymous with the adrenalin of international motorsport and with that the Indianapolis International Airport team has been working hard to bring on international services over the last few years as part of their network growth strategy.
Air Service One caught up with Maggie Bishop, Manager Air Service Development, Indianapolis Airport Authority during this week's ACI-NA JumpStart conference to tell us more about the airport, its network, why Indy is the destination for airlines to fly to, as well finding out a little more about the woman who is as passionate about IndyCar racing as she is about air service development!
What has been the biggest challenge for you regarding air service development during the pandemic?
Over the last 6+ years working in air service development for the Indianapolis International Airport (IND), my role has involved communicating the current and anticipated future travel needs of our business and tourism community to airlines, to assist them in their route planning. Travel data has traditionally played an essential role in evaluating those needs, but the pandemic has uprooted current and future business travel patterns. Fortunately, we have built great relationships with our local companies and economic development organizations and are able to partner with them to understand their unique anticipated needs and weave them into a short-term air service focus. What we see now is that the markets that were important to IND before, such as West Coast and transatlantic, will remain key to our community.
Last year alone you welcomed over 20 new airline services from seven different airlines (Allegiant, American, Contour, Southwest, Spirit, Sun Country and United). How does your working relationship with these airlines vary? Are some carriers more proactive than others?
Our relationship with each airline is unique. We know that even though our airline partners might fly similar routes from IND, they do so within extremely different network strategies. I work to appreciate the varying set of priorities across each network team and determine how IND can be a priority in achieving their goals.
Our community embraces the news of new airlines and new routes, and they look to us to share these developments with the traveling public. We're fortunate to have had so much great news to share despite the challenges of the pandemic. Our airlines have been great partners in those announcements and have helped us celebrate onsite at IND, showing the unification between the airline and airport.
Unusually for a US airport, according to our analysis of schedule data for this summer, no carrier has more than about 25% of capacity at Indianapolis. Is that a strength or a weakness for Indianapolis?
We see it as a strength, as it gives choices to our traveling community and promotes healthy competition. IND is a $1.7 billion airline market, and poised for growth, so we're a market to pay attention to or airlines risk losing a lucrative competitive position.
What proportion of your traffic is originating in the local area, and what proportion of your traffic is connecting?
We have historically been an O&D airport, and through our relationships with the local business and tourism community, we understand our passengers very well. We'll gladly share their current and future traveling needs with our airline partners.
When Delta launched transatlantic service from Indianapolis in 2018, they chose Paris rather than London. What was the reason for this? Was it because of SkyTeam connectivity with Air France, or difficulty in acquiring slots in London? Was it their idea or yours to use the flight number DL500?
It was important for IND to establish transatlantic service to a strategic hub on an airline with a strong European partner airline so that our community could use the hub to connect to key markets beyond on the same itinerary. Paris Charles De Gaulle and Delta, with their partners Air France, well fit that bill. We also identified a cargo opportunity from IND to CDG to support the success of the route, as well.
The flight launched on Indy 500 weekend and I give the Delta team full credit for DL500 flight number! I love to see our airlines give subtle nods to our racing heritage.
Flights to Europe are clearly a high priority for you and you have announced a new Transatlantic Incentive Supplement Plan. Tell us more about this.
The Paris flight became a beloved part of our community. It provided unparalleled ease of access to the rest of the world that Hoosiers (people who live in Indiana, and even surrounding areas) had never had before. The flight enhanced the global profile of Indianapolis and Indiana not only from a business standpoint but from a quality of life and talent attraction view as well. It's no wonder we want another flight to Europe, but we know the stakes have changed due to the pandemic. When the Paris flight launched, IND was setting record passenger numbers. Today, we are still in traffic recovery mode. As a result, we've created an incentive plan within the guidelines of the FAA to offset some of the risk of a transatlantic flight. The transatlantic incentive supplement offers up to $2 million dollars of incentive in the form of fee waivers and marketing support for up to 2 years. This is available to any airline, new or incumbent, that starts or announces year-round service to a transatlantic hub by the end of 2022.
How important has the cargo market been in helping Indianapolis get through the pandemic?
Cargo numbers have been in stark contrast to passenger numbers. In 2021, IND carried the most cargo in the airport's history, recording 1.3 million tons of total cargo and 5.7 million tons of landed weight. Cargo is the silent champion of IND and many thanks are due to FedEx. IND is the second largest FedEx hub in the world, and they continue to expand their operations as part of a multi-year $1.5 billion investment in facilities and infrastructure at the Indy airport.
For many people, Indianapolis may be best known as the home of the Indy 500, one of the world's most famous car races, which is held each year at the end of May. What other attractions should potential visitors to Indianapolis be aware of?
We were thrilled that the Indianapolis 500 returned to its traditional May weekend last month, and we saw our busiest air travel month since May 2019. IND rolls out the red carpet to welcome travellers from around the world, and we saw airlines increasing seat capacity and flight frequency to accommodate travellers for the race and Memorial Day weekend.
Indy is home to many more attractions and major events that draw national and international crowds. For example, we recently hosted the entire NCAA March Madness Basketball Tournament and the College Football Playoff National Championship. In the coming years, we'll continue to host the NFL Combine, welcome the U.S. Olympic Swimming Trials, and add our first NBA All-Star Game to our resume.
Additionally, in 2021, Indy hosted more live group events and conventions than any other U.S. city, and the Indiana Convention Center is slated to break ground on a major expansion project this coming December.
When visitors are here, the city offers a dining scene that was just named one of "America's Next Great Food Cities" by Food & Wine, unique attractions like the world's largest children's museum, Cultural Trail urban bike path connecting our cultural districts, and White River State Park, one of the largest urban state parks in the country full of museums and the Central Canal.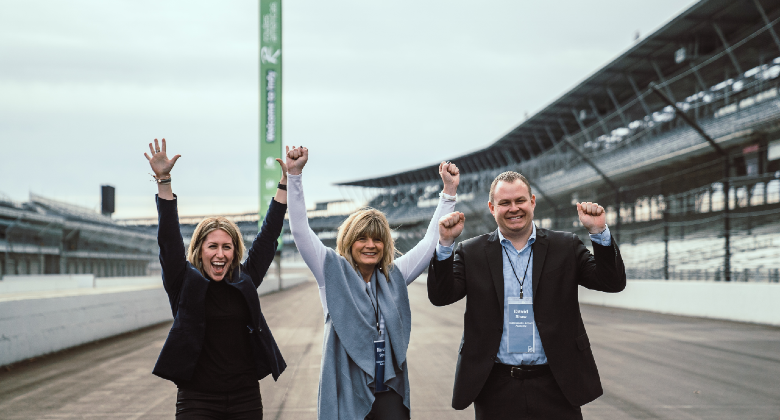 What infrastructure developments have you made in recent years that are relevant to air service development? What plans do you have coming up?
IND is celebrating an incredible milestone: A Decade of Excellence. For the last 10 years, Airports Council International has recognized the airport, based on passenger feedback, as the Best Airport in North America. This unprecedented milestone doesn't come easy, and the team is constantly thinking of ways to improve the passenger experience for decades to come.
Over the last several years, IND has welcomed new retailers and restaurants to the terminal elevating the shopping and dining experience. We've conducted research to better understand how our travellers use the terminal and how our airlines fit in based on their market share and gate locations.
We've also used the time during the pandemic with reduced passenger and aircraft counts to make major infrastructure upgrades, including a Terminal Garage Parking Expansion benefiting our Car Rental partners, runway and taxiway rehabilitation, and exploring additional capabilities for the future such as an on-site airport hotel. Most notably, IND is currently undergoing a full reconstruction for Runway 5R-23L and Taxiway D that will provide a modern runway system to accommodate heavier aircraft, increase cargo capacity, and encourage additional nonstop flights.
Through a $3.8 million U.S. Economic Development Administration CARES Act Recovery Assistance grant, IND will embark on a project to support the distribution and logistics sector in Central Indiana. This grant will build infrastructure to support supply chain needs by providing a faster, more direct route for critical freight distribution of temperature-sensitive materials – extending a critical access road to connect the airport to a cluster of nearby logistics companies.
Also, the state is announcing or cutting the ribbon on major economic development initiatives in Advanced Manufacturing, AgBioscience, Life Sciences, and Technology (to name a few key industries) that airlines should pay attention to over the next several years. In 2021, nearly 300 companies committed to locate and expand in Indiana, investing more than $8.7 billion in their operations. For example, Elanco Animal Health Incorporated, which grew from a small division of Eli Lilly & Company to a $4.7 billion independent global animal health leader with 10,000 global employees, recently broke ground on their new global headquarters downtown Indianapolis.
Air Service Fun:
All-time favourite airline livery?
Any livery taking me to a beach!
All-time favourite aircraft?
Boeing 787-9 Dreamliner
Hardest to remember three-letter airport code?
Rome (FCO) – although now I will never forget!
Most remote airport ever visited?
I'm still adding to my route map… the most remote is GCM – Grand Cayman and furthest is NRT – Tokyo.
Favourite sport to watch/play?
I love motorsports, especially IndyCar.
Do you have a favourite team/driver that you support at the Indy 500?
I was hoping Hélio Castroneves would be the first driver to get a 5th Indy 500 ring this year!
Favourite TV show?
Schitt's Creek
Favourite film?
Top Gun
Favourite place in your local area?
The Indianapolis Motor Speedway
Favourite fact about Indianapolis (the city not the airport)?
Elvis Presley's last concert was in Indianapolis at Market Square Arena in 1977.
The Children's Museum of Indianapolis is the largest children's museum in the world.