Air Service One talks with Thilo Schmid, CEO, Köln Bonn Airport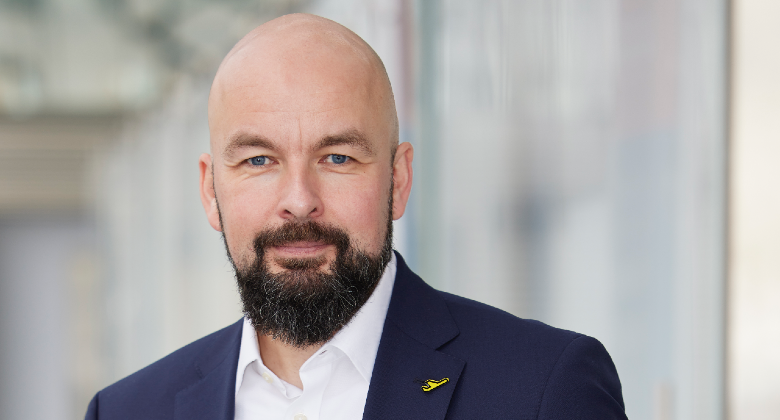 Ahead of the 150th IATA Slot conference in Seattle, Air Service One spoke with Thilo Schmid, CEO, Köln Bonn Airport. We wanted to understand how Köln Bonn Airport is rebuilding its network in the wake of the pandemic as well as find out more about the new face of the airport.
You joined Cologne Bonn Airport as CEO in March of this year. How have you found your first few months?
They have been extremely exciting months in which I have got to know my colleagues and the company very well indeed. It's great to be able to shape the future of Cologne Bonn Airport with this team.
Germany's air travel recovery rate has been among the slowest in Europe. How do you explain this?
It is correct that German air travel is recovering more slowly than that of other European countries. One of the key reasons for this is that the coronavirus regulations have been enforced in Germany for longer than in other countries.
Cologne Bonn's recovery in 2022 has been better than the German average. What are the reasons for this?
We are very pleased that our development has outpaced the market for around a year. We are a point-to-point airport with a high proportion of tourist flights. In addition, there are many travellers who, for example, fly to Turkey to visit friends and family there. These two segments have recovered more quickly than business travel or long-haul travel.
Düsseldorf Airport is less than 60 kilometres away from you. How would you describe the competition between the two airports? How do your airport charges compare? What are your airport's advantages?
I know both airports very well; I worked at Düsseldorf for around ten years before I came to Cologne. In addition to Cologne Bonn and Düsseldorf, the federal state of North Rhine-Westphalia has four other airports and is thus the biggest aviation market in Germany. And there is therefore room for the airports with their different business models. What is special about Cologne Bonn is that it operates 24 hours a day, seven days a week. What's more, our airport is one of the most important European airports in the cargo sector.
Apart from Lufthansa (to Munich), Cologne Bonn also welcomes four other European flag-carriers this summer; Aegean Airlines, Air Serbia (from Nis), Austrian Airlines and Turkish Airlines. Aegean and Air Serbia are new for this year. What are the key selling points of Cologne Bonn that make you attractive to full-service carriers?
Demand from passengers is high, the catchment area large. The airport is also characterised by its intermodal networking and its operational flexibility. There is an attractive fee structure for the airlines. And the interest from airlines is proof of the high locational quality in Cologne Bonn.
Despite being in the heart of one of Europe's most important industrial regions, neither you nor Düsseldorf have regular scheduled services to the US this summer. Why not?
That's true. But we see prospects for the future in this field, in particular with respect to the new planes such as the A321LR, which open up new opportunities for long-haul flights.
What changes are you seeing in the leisure market this summer? Which destinations are seeing strong demand and which are maybe underperforming compared with pre-pandemic times?
There is particularly strong demand for tourist destinations, especially in Spain. But we are also growing disproportionately in flights to Turkey and Greece.
Cologne Bonn is a key airport in Germany for cargo flights with FedEx and UPS both having a significant presence at the airport. How important has this been for the airport during the pandemic?
Cargo business was a major pillar during the pandemic. In 2021, our airport set a new annual record with 986,000 tonnes. The airport therefore once again demonstrated the outstanding role it played in supplying people and businesses in the Rhineland during the pandemic. The big logistics companies, FedEx, UPS, DHL and Amazon Air, are all active here. Our next goal is to break the one million tonne barrier in 2022.
Do you have specific goals in terms of route development?
In passenger traffic, we want to reach the pre-pandemic level as quickly as possible. In Cologne Bonn we always offer passengers a broad range — both holidaymakers and business travellers. In addition to the big European cities, it also includes insider tips, such as Biarritz or Nis. And, naturally, we are making every effort to constantly expand the broad portfolio with attractive destinations.
What infrastructure developments have you made in recent years and how important are these for attracting new services?
The new Moxy Hotel has been at Cologne Bonn Airport since last summer. A new lounge has also been opened, which we now want to extend. Furthermore, we are continually improving our flight operations infrastructure. We are especially busy in all matters relating to sustainability. We are investing heavily in renewable energies and want to be a climate-neutral airport by 2045.
Are there infrastructure project for the coming years that will benefit passengers?
We are planning innovative changes in our terminals, including in the non-aviation area. The focus is clearly on the satisfaction of our passengers. During the pandemic, we have developed new concepts and will continue to make innovative offers to our passengers.
Air Service Fun:
All-time favourite aircraft?
747.
Hardest to remember three-letter airport code(s)?
I've forgotten it (laughs). But I can tell you the one code that you should definitely remember: CGN for Cologne Bonn Airport.
Most remote airport ever visited?
JRO. (Kilimanjaro in Tanzania)
Favourite sport to watch/play?
I really like handball. And I'm a great football fan.
Favourite place in your local area?
Our terminals.
Favourite fact about Cologne or Bonn (the cities not the airport)?
You very quickly experience the famous open and friendly nature of the Rhinelanders in a very positive way.