Berlin airport traffic still down 35% versus 2019; Eurowings to double based fleet and aiming for #1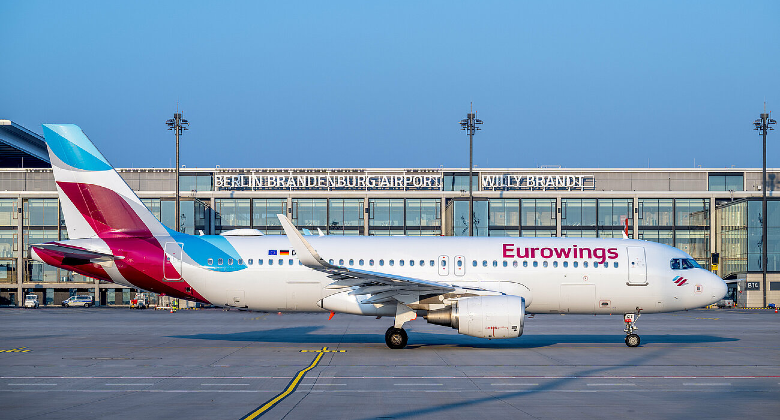 Berlin BER welcomed 2.1 million passengers in October, according to the airport's own statistics. It was its best month of the year so far. However, only 171,000 passengers were added between May and October, against 963,000 for Frankfurt FRA and 363,000 for Munich, based on traffic data collected by Air Service One and available to download in our European Airport Traffic Statistics (EATS) file on our homepage.
Berlin's recovery remains slow, with October passengers at 65% of the volume of October 2019. Berlin SXF and TXL were operational then, when the city had 3.2 million passengers. BER is now the sole airport serving the German capital.
Domestic passengers remain at 35%
According to Berlin's traffic reports, just over one in every five passengers in October 2019 was domestic, about 725,000 for the month. easyJet and Ryanair flew domestically, supplementing Eurowings, Lufthansa and Luxair. Three years later, domestic traffic totalled just 251,000 passengers, 35% of what it was. easyJet and Ryanair are long gone. Now it's almost entirely by Eurowings and Lufthansa, along with Danish Air Transport to Saarbrücken.
At 75%, international scheduled passengers have recovered better than domestic. However, in an absolute sense, international scheduled, by far the airport's single largest traffic source, remains the worst affected, with a shortfall of 626,000 passengers this October. Different geographies had stark changes.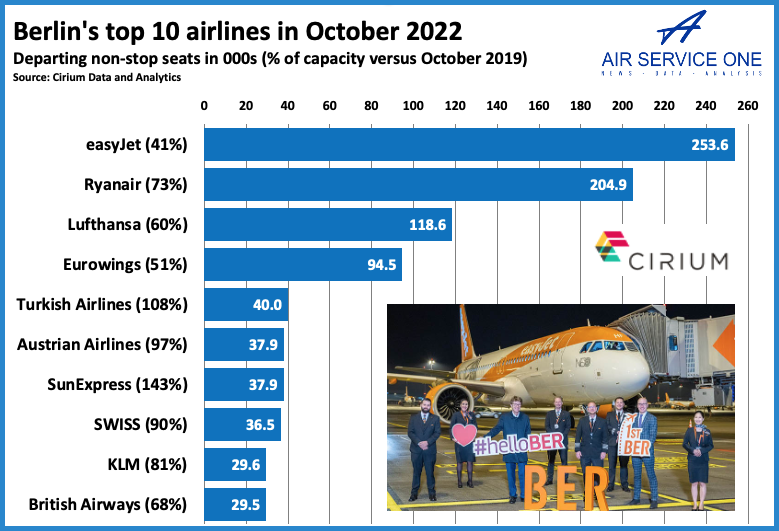 Middle East, Africa, North America capacity is up
Analysis of Cirium schedules data information reveals that, in a seat capacity sense, Berlin to the Middle East, Africa and North America in October exceeded 2019 figures. Africa had 81% more departing seats, particularly from the growth of easyJet (Hurghada, Marrakech), Air Cairo (Hurghada), and SundAir (Hurghada). Berlin-Hurghada had a record 10,400 departing seats in October, surpassing the previous record held last December.
Despite the loss of Delta in 2019, North America had 30% more capacity because of Norse Atlantic introducing Los Angeles and New York JFK in August 2022, although Los Angeles no longer remains. JFK will be joined by Fort Lauderdale in December (3-weekly), while Delta returns from JFK in May (daily), the same month that United will start Washington IAD (daily) for the first time.
While up by 'just' 3%, the Middle East was particularly helped by Qatar Airways, whose Doha-Berlin service has 10-weekly flights, its highest frequency yet, against daily in 2019. It benefits from Emirates not serving the German capital.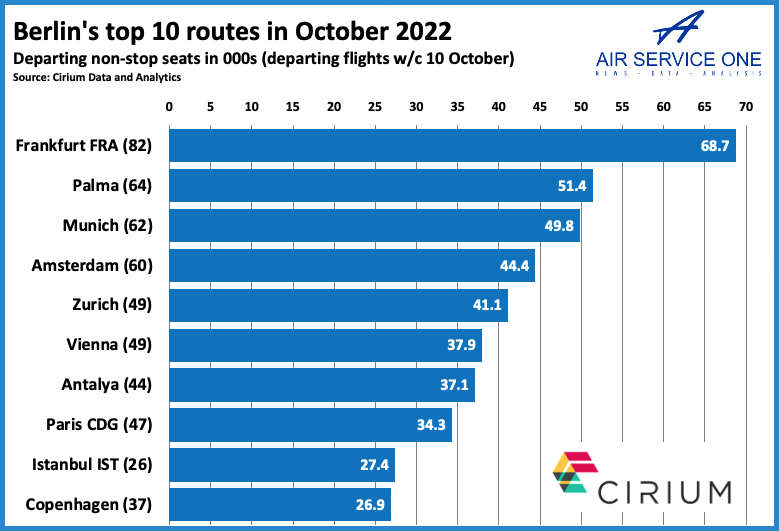 Europe remains at 62% capacity
While Europe represents 94% of Berlin's total capacity in October, the all-important region has just 62% of the seats of October 2019 when TXL/SXF existed. No more is there Aeroflot, Flybe, Onur Air, Pobeda, S7 and Ukraine International, but PLAY, Flyr and SundAir have joined Berlin's portfolio. Various carriers have grown capacity versus 2019, such as Corendon (+49%), SunExpress (+41%), Iberia Express (+21%), Vueling (+15%) and Pegasus (+14%).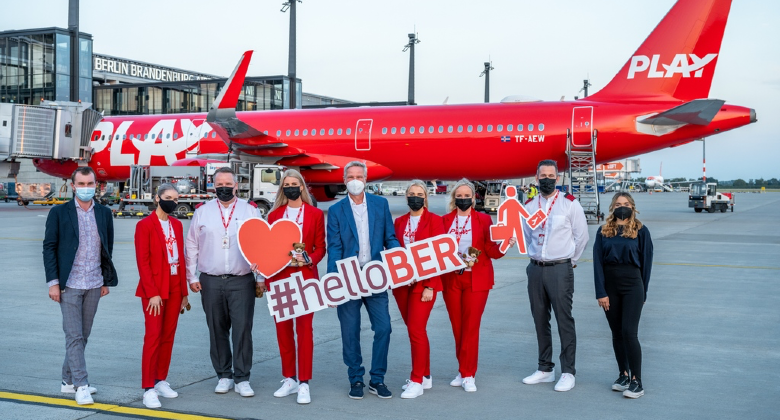 Berlin's European capacity remains at 62% because of its four largest airlines: easyJet (at just 41% after many cuts), Eurowings (51%), Lufthansa (60%) and Ryanair (73%). The four had 672,000 departing seats in October, down from 1.3 million in 2019. But Eurowings is looking ahead.
Eurowings to double based aircraft next summer
Eurowings, Berlin's fourth biggest airline in October, will double the number of based aircraft to six next summer. It will get closer to, and potentially exceed, what it had from German's capital in 2019. According to the airline it expects to become the leading airline in Berlin next summer, but that remains to be seen. Analysis of Cirium data suggests that much of the capacity growth will come from increasing frequencies on the airline's three main domestic routes to Cologne/Bonn, Düsseldorf and Stuttgart.
While Eurowings' summer 2023 full network, schedule and frequencies aren't available yet, it has said it will add new routes to Alicante, Antalya, Copenhagen, Gothenburg, Helsinki, Larnaca, Malaga, Rhodes and more. Of these, the carrier served only Alicante in 2019 from Berlin. All but Gothenburg will have direct competition, with the 590-kilometre route last served by easyJet in October 2022.