Brussels Airlines has 35 fewer destinations than in S19; sub-Saharan Africa remains vital with 17 routes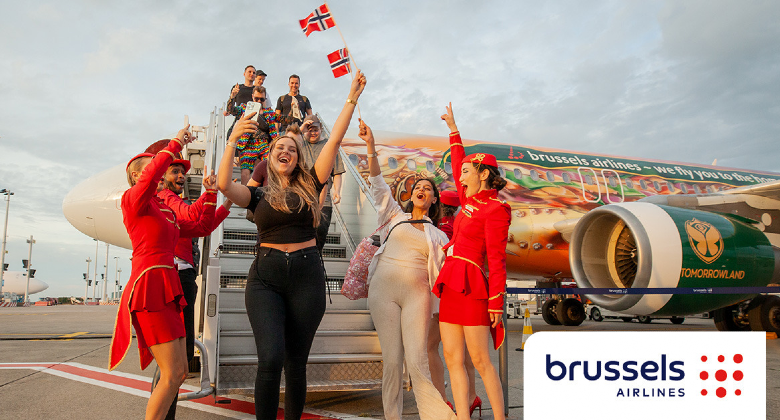 Brussels Airlines is the smallest carrier in the Lufthansa Group. According to the Group's quarterly statistics, it carried just over five million passengers between January and September 2022, equivalent to less than 7% of the Group's total passengers. It has undertaken a considerable network purge as a part of its reorientation towards stronger financial performance.
It has 20% fewer destinations than in S19
With a fleet of 41 aircraft, Brussels Airlines will serve 90 destinations in S23, according to Cirium schedules information data. Excluding Russia and Ukraine, which it couldn't fly to now even if it wanted to, that is down by a considerable 20% from 113 in S19, a net change of 23. This hides that 35 routes are no longer served. Many of these were acquired when the airline absorbed Thomas Cook Airlines Belgium in 2017.  They are summarised below ordered by country. Clearly, most cuts involve thinner and summer-seasonal markets:
Bulgaria: Burgas, Varna
Canada: Toronto
Croatia: Zagreb
Cyprus: Paphos
Egypt: Marsa Alam
France: Ajaccio, Bastia, Calvi, Figari, Nantes, Strasbourg
Germany: Hannover
Greece: Kalamata, Santorini, Thessaloniki
Italy: Comiso, Palermo, Turin
Montenegro: Tivat
Morocco: Agadir, Marrakech
North Macedonia: Ohrid
Poland: Krakow
Portugal: Funchal
Spain: Almeria, Fuerteventura, Girona, Jerez, Reus, Seville
Switzerland: Basel
Tunisia: Enfidha (replaced by Monastir)
Turkey: Antalya
UK: Bristol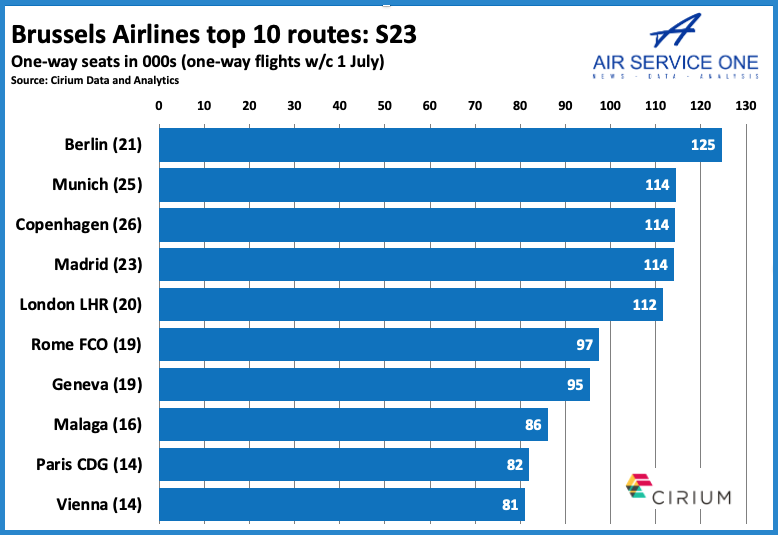 But 12 routes have been added – or are coming
While 35 routes are no longer served, 12 will operate this summer that did not in S19. They include Frankfurt (resumed 2021), Ljubljana (resumed November 2019 after Adria Airways's collapse), Mytilene (launched July 2022), Munich (resumed 2022), Nador (launched June 2021), Oujda (launched June 2022), Samos (launched May 2022), Tangier (launched June 2021) and Valencia (resumed S21). They will be joined by three more this year, as shown below. Of these, Brindisi is brand-new for Brussels Airlines, while Sabena last had mainline service to Zurich in 1996. Monastir was previously served in W18/19.
27 March 2023: Zurich (5-weekly, complementing SWISS's 3-daily service)
1 April 2023: Monastir (1- to 2-weekly)
29 April 2023: Brindisi (2-weekly)
20% of destinations are in sub-Saharan Africa
Of Brussels Airlines' 90-strong destinations in S23, 63 are within Europe, 17 in sub-Saharan Africa, six in North Africa, two in North America and one each in the Middle East and Caucasus. It means that 70% of the airline's destinations (and three-quarters of seats) are within Europe.
A significant fifth of destinations/seats are to sub-Saharan Africa. The region is fundamental to Brussels Airlines' widebody and long-haul operations. It only has two other long-haul destinations: New York JFK and Washington IAD. Generally, Brussels Airlines' sub-Saharan network is focused on the French language and former colonies, although there are exceptions.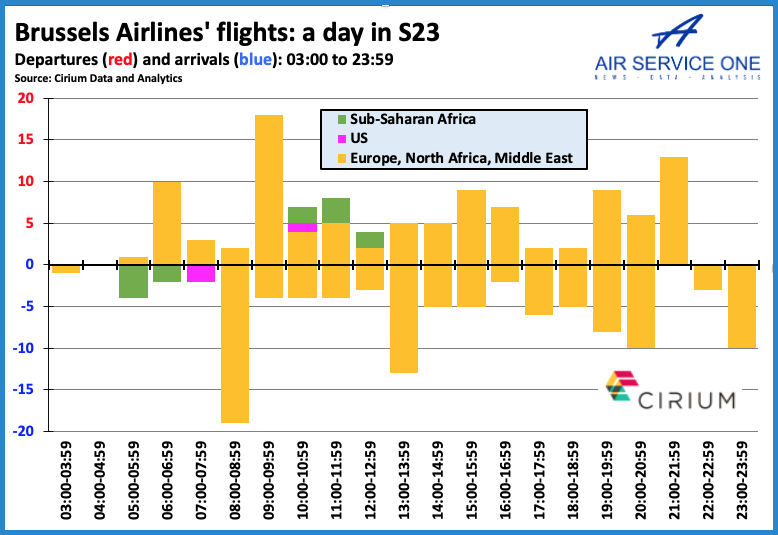 17 sub-Saharan Africa destinations
Like most carriers serving the region, one-stop routes are crucial for Brussels Airlines. It links the Belgian capital to Abidjan, Accra, Banjul, Bujumbura, Conakry, Cotonou, Douala, Dakar, Entebbe, Kinshasa, Freetown, Kigali, Lomé, Luanda, Monrovia, Ouagadougou and Yaoundé.
While none of the 17 are in its top 10 routes by seat capacity – it would be a different story if ASKs were used – these African routes play a key part in Brussels Airlines' hub-and-spoke operations (see the figure above). While about three-quarters of the carrier's 2022 passengers were point-to-point, sub-Saharan Africa to wider Europe was its single biggest source of connecting traffic. About half of its transit passengers were to/from the sub-Sahara. Flights arrive between 05:00 and 07:00 and feed the biggest departure bank across Europe (and to the US). Africa-bound services depart between 10:00 and 13:00, fed by the biggest arrivals bank from Europe (and the US).