Cincinnati traffic down just 8% versus 2019; British Airways flights from Heathrow starting next summer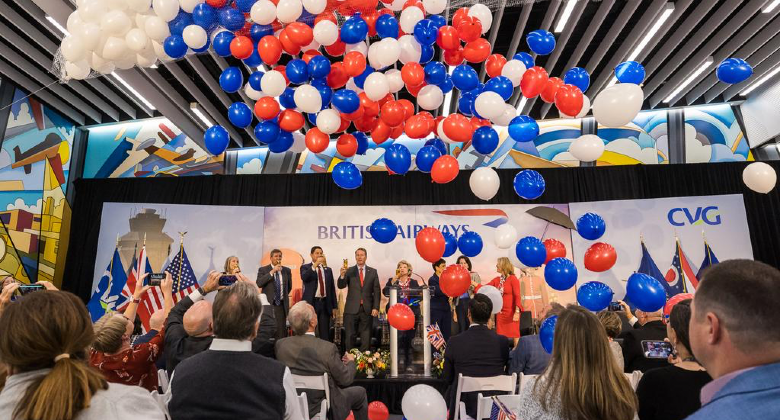 Cincinnati has the biggest metro population of any Ohio city. While the city is in Ohio, the airport serving it is in Kentucky. Hence the official name of the facility is Cincinnati/Northern Kentucky International Airport. According to the airport's own statistics, Cincinnati ended September (the most recent month with available data) with 664,000 total passengers. That was 20% more than September 2021 but was still 8% fewer than in 2019. It also had the least traffic since May 2022, somewhat returning to the historic traffic pattern.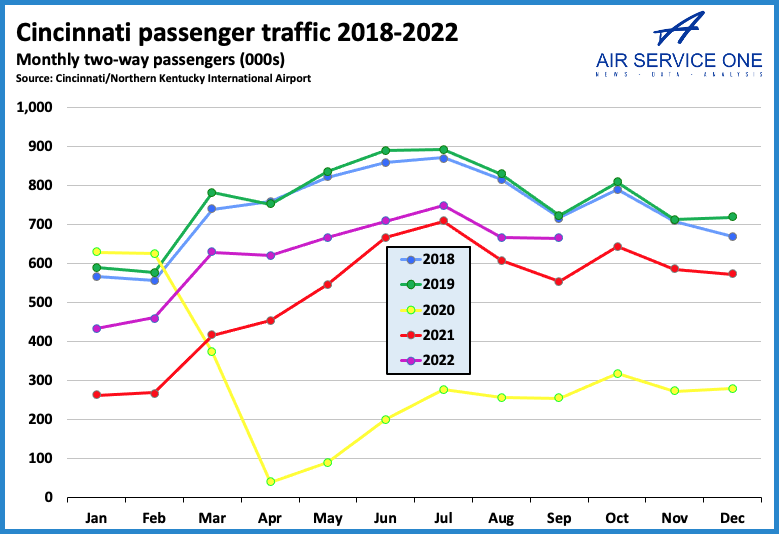 46 Cincinnati routes
Cincinnati is renowned as a freight hub, benefiting from its 24-hour operation and geographic position. But for passengers, the airport has 43 scheduled domestic routes to 22 states (including DC) this winter, based on Cirium schedules information data, along with international routes to Cancun, Paris CDG and Toronto YYZ.
Despite the predictable big city and hub routes in the figure below, Florida has 22% of Cincinnati's departing seas, with 13 airports served, including Key West, introduced by Allegiant last summer. Texas is next with three airports.
Mainly owing to the end of Delta's hub, Cincinnati no longer has non-stop flights to 114 airports that were served at some point since 2005. Regardless of this, Delta remains Cincinnati's main airline, with a third of the capacity.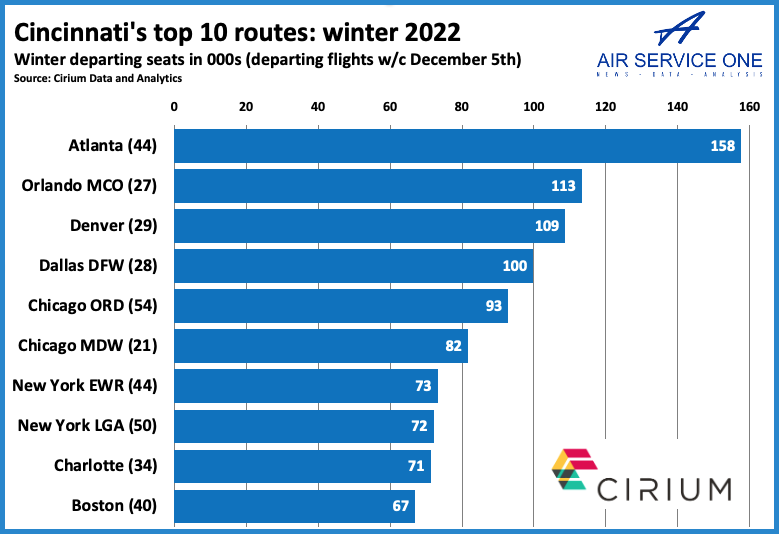 Three new routes starting in early 2023
The airport is set to welcome three new routes in the new year, including a new airline, Breeze. Only Charleston will have direct competition, with Breeze coexisting with Allegiant (2-weekly), a route it launched in April 2018.
10 January: American to Raleigh Durham (daily); last served by Frontier in November 2022
8 February: Breeze to San Francisco (2-weekly); see below
8 February: Breeze to Charleston (2-weekly)
San Francisco had Delta for many years until March 2020, joined by Frontier (April 2016-November 2019) and United (June 2017-January 2020). While there were at times three operators, it remains Cincinnati's largest unserved domestic market – attracting Breeze. But its 2-weekly flights are a far cry from a maximum of 3-daily in W19.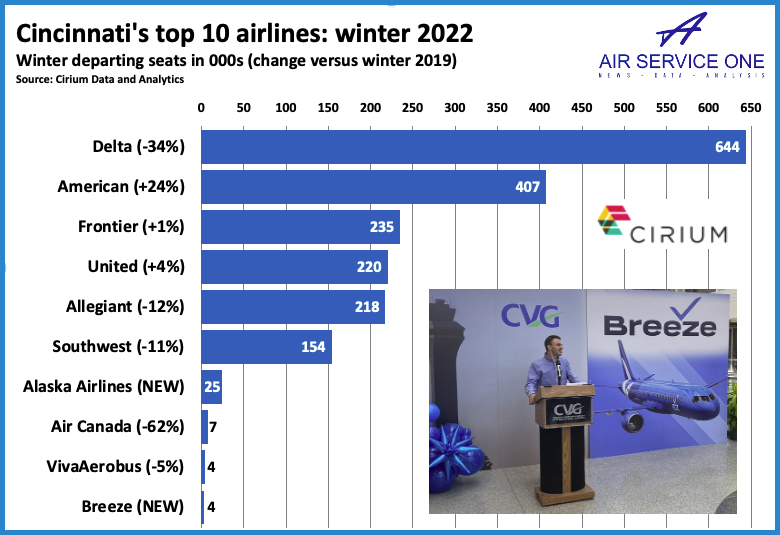 Second European service is coming
Cincinnati's most important route development is British Airways from London LHR, with 5-weekly flights beginning on 5 June. While Delta served London LGW until 2009, it is the first time that Cincinnati will have Heathrow flights, the most demanded unserved long-haul market from the Kentucky airport. It will join Cincinnati's existing Delta service to Paris CDG (3-weekly), which returned in August 2022.