easyJet ramps up UK domestic network; still long way behind Ryanair and Volotea for domestic routes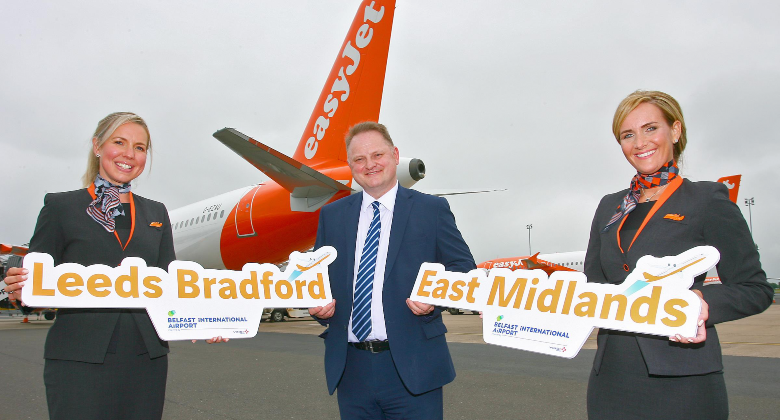 With domestic markets playing such a key role for Europe's airlines this summer, it is no surprise to see that easyJet has decided to ramp up the number of domestic routes it offers in the UK. Since 2013, the number of such routes has been very stable, at between 30 and 40. However, this summer the UK-headquartered carrier has added 21 new UK domestic routes to bring the number of such routes to over 50.
Isle of Man routes suspended last summer
Before looking at this summer's expansion, it is worth looking at what happened last summer during the pandemic. Compared with S19, easyJet dropped seven routes and added three routes, for a net loss of four routes. The seven dropped routes comprised five routes to the Isle Of Man (which imposed very severe travel restrictions) as well as two routes to Jersey, from Edinburgh and London SEN. The three new routes were Birmingham to Edinburgh, Birmingham to Glasgow and Manchester to Aberdeen. That brought easyJet's UK domestic network down from 37 to 33 routes.
Bournemouth and Newquay benefit in S21
Of the 21 new routes for this summer, five were routes suspended in 2020; four routes to the Isle Of Man (from Belfast BFS, Bristol, Liverpool and London LGW) and Edinburgh to Jersey. That left 16 genuinely new routes which launched between 1 May and 11 July:
1 May: London LGW to Aberdeen
24 May: Manchester to Newquay
26 May: Belfast BFS to Bournemouth
27 May: Edinburgh to Bournemouth
29 May: Glasgow to Newquay
8 June: London LGW to Newquay
2 July: Inverness to Belfast BFS
9 July: Bristol to Aberdeen, East Midlands to Belfast BFS, Leeds Bradford to Belfast BFS, London LGW to Belfast BHD
10 July: Birmingham to Newquay, Bristol to Jersey, Liverpool to Bournemouth
11 July: Birmingham to Jersey, Inverness to Newquay
Airports to particularly benefit from these 16 new routes are Newquay (five new routes), Belfast BFS (four new routes), Bournemouth and London LGW (three new routes) and Aberdeen, Birmingham, Bristol, Inverness and Jersey (two new routes each). A total of 16 UK airports were involved, including Belfast BHD, which welcomed its first ever easyJet service, and East Midlands, which had not seen easyJet flights for over a decade.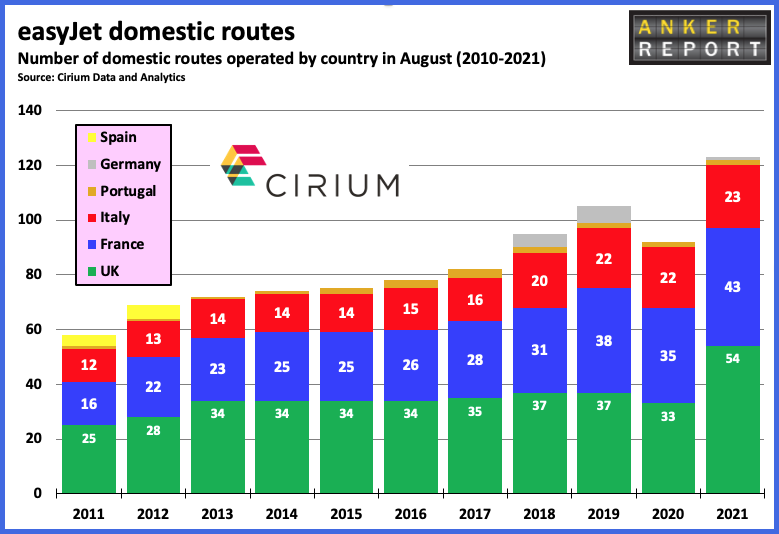 In 2019 and 2020, the UK was not the leading country for domestic routes operated by easyJet. That honour fell to France. However, despite easyJet adding an additional eight French domestic routes this summer (five of which were new routes linking regional French airports to airports in Corsica, as well as Paris CDG-Toulon, Toulouse-Rennes and Lille-Nantes), the UK took over first place.
Italian domestic market not as stable as it looks
The apparent stability in the Italian domestic market (which saw the number of routes increase by just one from 22 to 23), disguises the fact that seven routes were dropped (including five from Venice VCE) while eight were added (five from Olbia and three from Milan LIN). This included the airline's first ever route to Milan BGY (from Olbia).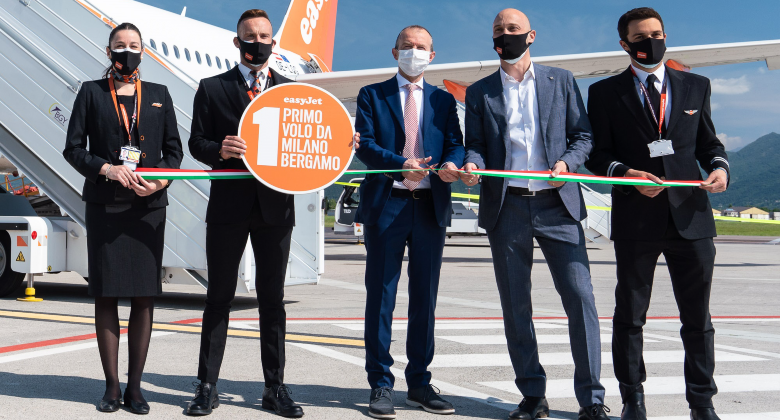 A decade ago, easyJet served a number of Spanish domestic routes from its then existing Madrid base, while the acquisition of a large number of slots in Berlin after the collapse of airberlin, resulted in easyJet starting a number of high-frequency domestic routes, all of which have since been suspended.
Ryanair and Volotea have more domestic routes than easyJet
easyJet is offering 123 domestic routes across Europe this August, all but three in either France, Italy or the UK. While no other (U)LCC can touch easyJet in the UK domestic market, in France and Italy it faces considerable competition from Ryanair and Volotea. Volotea is offering some 180 domestic routes across Europe this summer, with Italy (74 routes), France (63) and Spain (36) leading the way. Ryanair is offering over 200 domestic routes, led by Italy (102 routes), ahead of Spain (72). It also offers domestic flights in Bulgaria, France, Greece, Poland, Portugal and Romania. However, it no longer offers UK domestic flights despite having previously offered multiple-daily flights from its London STN base to Belfast BFS, Glasgow and Edinburgh. Ryanair has also previously tried a few German domestic routes with limited success.
Vueling offers almost as many domestic routes as easyJet, but these are nearly all in Spain, with a handful in Italy. Wizz Air, having abandoned the Norwegian domestic market it only entered last November, has now built up its Italian domestic network to 33 routes, which is 10 more than easyJet currently has. Eurowings and Transavia are not included in this analysis as their domestic routes are only in one country, Germany and France respectively.