easyJet still adding new routes from Amsterdam; has operated over 60 routes since launching first flight from Luton in April 1996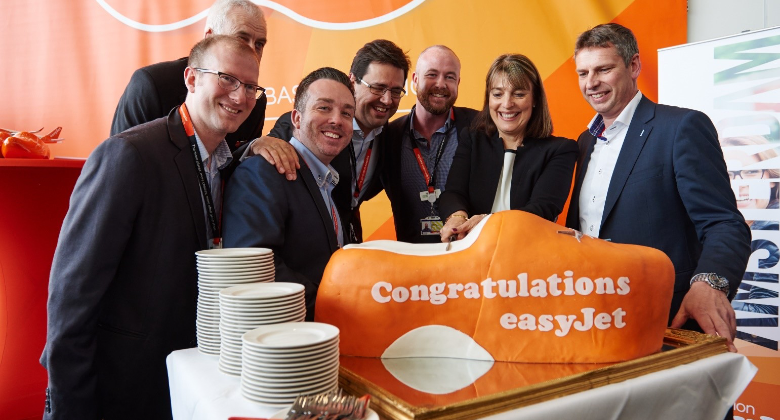 Amsterdam was easyJet's first international destination when it began service from London LTN in late April 1996, beating Nice and Barcelona by a few weeks. At that time the carrier had only been operating from Luton for just over five months. However, it took another 19 years before easyJet made the Dutch hub a base.
Network growth
After the initial Luton service, Liverpool became the airline's second Amsterdam route in 1997 followed by Geneva in 1999. In 2001 a further six new routes were added from four UK airports (Belfast BFS, Edinburgh, Glasgow and London LGW) as well as Barcelona and Nice.
In 2003 two more UK routes were added from Bristol and London STN. These two bases had been acquired by easyJet when it bought Go in 2002. It would be another three years before further Amsterdam routes were added in 2006 from Basel and Milan MXP. Another three years would pass before the next routes were added, this time from Madrid and Rome FCO.
As can be seen from the graph, easyJet's capacity at Amsterdam remained relatively stable between 2004 and 2009, before starting a sustained period of relatively rapid growth. Between 2009 and 2019 easyJet's seat capacity trebled at Amsterdam.
Route expansion in 2015
The decision to finally make Amsterdam a base in the summer of 2015 enabled easyJet to launch a raft of new routes to destinations other than its own bases. That summer saw the introduction of new routes to Corfu, Dubrovnik, Ibiza, Olbia, Palermo, Toulouse and Venice VCE. Of these only Toulouse was a base at the time the route was started. The winter season of 2015 saw further non-base routes to Grenoble, Lyon, Milan LIN, Salzburg, Tel Aviv, Tenerife TFS and Vienna.
The summer of 2016 saw easyJet add another six new routes; to Catania, Malaga, Marseille, Naples, Rhodes and Zurich. The following year Alicante, Budapest and Lanzarote services were added, with 2018 seeing Agadir and Fuerteventura being added to the airline's Dutch network. Another four routes were added in 2019 to Genoa, Hurghada, Pula and Verona.
Pandemic route additions
Despite the pandemic, easyJet added two more Amsterdam routes last summer to Copenhagen and Zadar, with Gran Canaria service commencing in December. Although weekly flights in August 2020 were down almost 60% compared with August 2019 (according to Cirium Data and Analytics schedule information), the number of destinations served only fell from 39 to 34 during the same period.
This summer, easyJet has added a number of leisure routes from Amsterdam; to Chania, Faro, Heraklion, Kos, Santorini and Valencia. Some of these services only operated for a few weeks. Two more new routes were launched on Monday 6 September, to Birmingham (initially 4-weekly increasing to daily in late September) and Milan BGY (initially 3-weekly, increasing to 4-weekly in October).
Looking slightly further ahead two more routes are on sale for this winter. A weekly service to Sharm El Sheikh in Egypt is set to start from 12 October, while Innsbruck in Austria will get a 2-weekly connection from mid-December.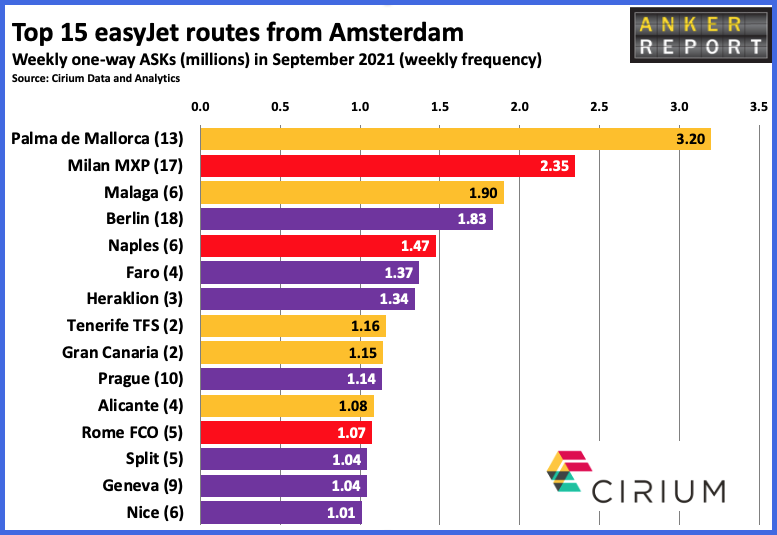 Routes to Italy and Spain dominate in September
Looking at easyJet's biggest routes from Amsterdam in September (as measured by weekly ASKs – Available Seat Kilometres), five of the top 15 routes are to Spanish airports, while a further three are to Italian airports. The remaining seven routes are to seven different countries; Croatia, Czech Republic, France, Germany, Greece, Portugal and Switzerland.
KLM remains the dominant carrier at Amsterdam with 52% of scheduled seat capacity in September, supported by its low-cost subsidiary Transavia, which accounts for a further 11%. easyJet ranks third with just under 7% of seat capacity. Back in 2019, pre-pandemic, easyJet accounted for just over 8% of all scheduled seats at Amsterdam. This made it easyJet's sixth biggest base that year. It currently ranks 10th in September 2021.