Europe to Mexico market welcomes several new European airlines and routes in last 12 months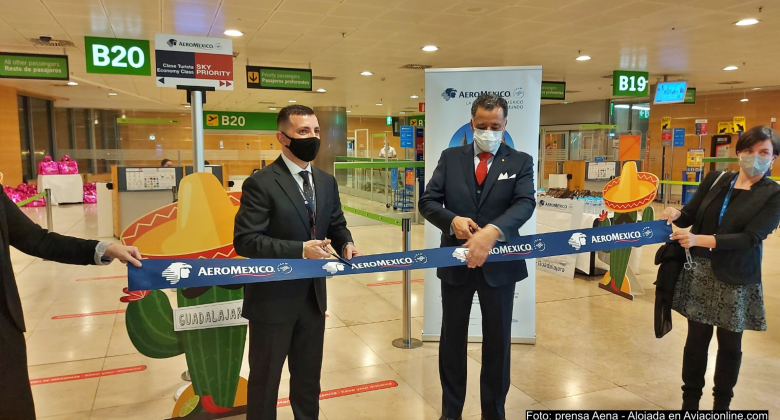 The Europe-Mexico market has seen considerable activity in the last few months with several airlines launching new routes, especially to Cancun, which is the gateway to Mexico's main tourism area. While seat capacity between Europe and Mexico City increased by 75% between 2006 and 2019, capacity to Cancun increased more than fivefold. As a result, total Europe-Mexico seat capacity grew by almost 150% during the period. Although across a whole year Mexico City is still the bigger market, the gap to Cancun has narrowed considerably.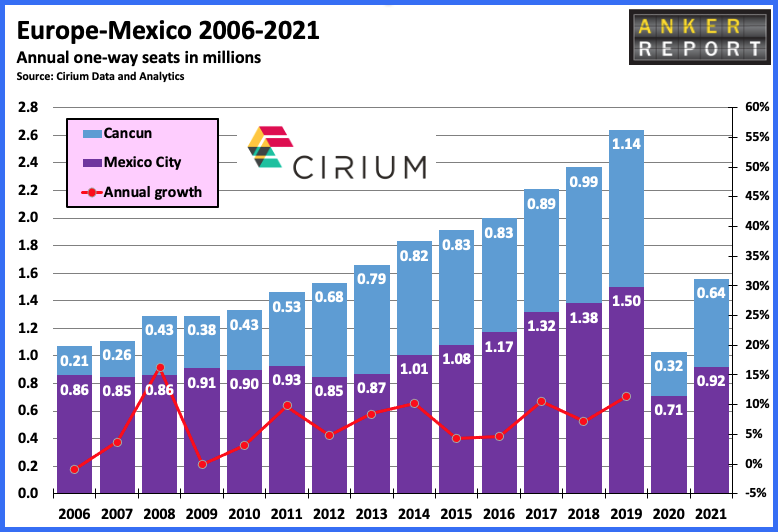 Since the start of the pandemic several carriers have launched new routes between Europe and Mexico. All but two were started by European carriers focussed on taking Europeans on holiday.
TAP Portugal: Lisbon – Cancun, launched 27 March 2021, 3-weekly
World2fly: Madrid – Cancun, launched 21 June 2021, 2-weekly
Iberia: Barcelona – Cancun, launched 2 July 2021, weekly
Austrian Airlines: Vienna – Cancun, launched 24 October 2021, 2-weekly
Eurowings Discover: Frankfurt – Cancun, launched 1 November 2021, daily
KLM: Amsterdam – Cancun, launched 2 November 2021, 4-weekly
Aeroflot: Moscow SVO – Cancun, launched 18 November 2021, 3-weekly
TUI Airways: London LGW – Puerto Vallarta, launched 25 November 2021, weekly
Aeromexico: Guadalajara – Madrid, launched 16 December 2021, 3-weekly
Aeromexico: Monterrey – Madrid, launched 16 December 2021, 3-weekly
TUIfly Netherlands: Amsterdam – Cancun, launched 23 December 2021, weekly
Analysis of Cirium data indicates that the Europe-Mexico market is expected to be 5% bigger in the first quarter of 2022 compared with the first quarter of 2020, at least in terms of available seats. Of course, the last part of 2020 Q1 was when the pandemic started.
Aeromexico is still #1 carrier
A total of 23 airlines are offering non-stop service between Europe and Mexico in the first quarter of this year. This includes six airlines who were not present in the market two years ago; Aeroflot, Austrian Airlines, Eurowings Discover, TAP Portugal, TUIfly Netherlands and World2fly.
However, Aeromexico is still the leading airline, currently offering five non-stop routes. From Mexico City there is service to Amsterdam, Madrid and Paris CDG, while Madrid is also now served non-stop from Guadalajara and Monterrey. Non-stop services from the Mexican capital to Barcelona and London LHR, which operated pre-pandemic, have not yet resumed.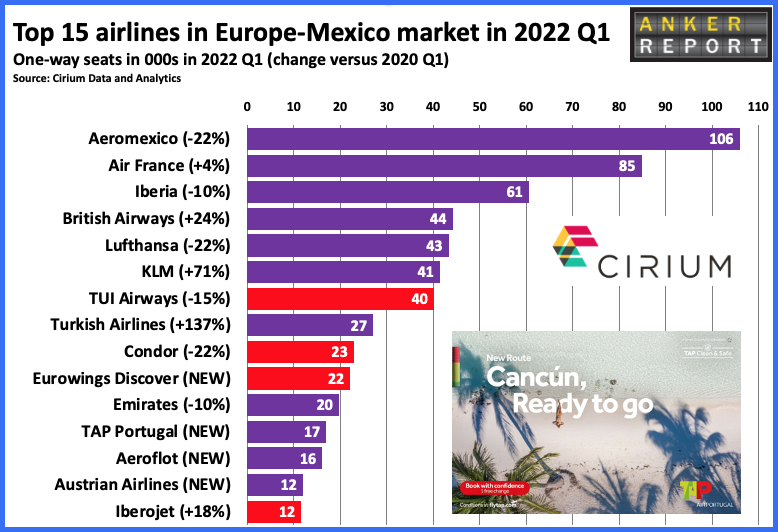 Among the top 15 airlines are four (shown in red) which can be considered pure leisure airlines. Emirates appears in the top 15 as it operates service from Barcelona to Mexico City. Looking ahead, Eurowings Discover will launch non-stop service to Cancun from Munich on 30 March, followed on 26 June by the start of Iberojet's service from Barcelona.