Europe to Saudi Arabia market set for major boost as Wizz Air announces 20 new routes for 2023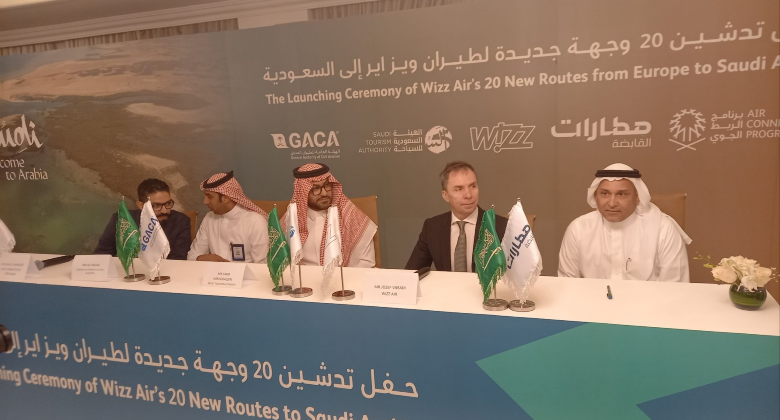 Wizz Air recently announced that it would be launching 20 new routes between Europe and Saudi Arabia between December and next July. Of these, 10 will serve Riyadh, seven will serve Jeddah and three will serve Dammam. A total of 11 European airports will see a Wizz Air service to Saudi Arabia, with Budapest and Larnaca the only airports to get non-stop service to all three Saudi airports.
Market was growing significantly pre-pandemic
Schedule data from Cirium shows that capacity had increased more than fivefold between 2005 and 2019 from around 600,000 annual, one-way seats to almost 3.5 million in 2019. Data for August 2022 shows that seat capacity is still down 12% versus August 2019, while flights are down 10%.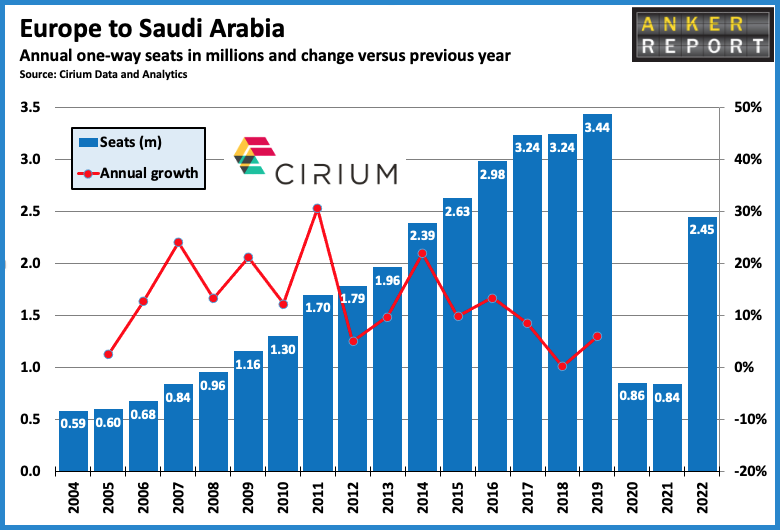 SAUDIA accounts for almost 50% of seats
Not surprisingly, flag-carrier SAUDIA accounts for over 40% of flights and almost 50% of non-stop seats between Europe and Saudi Arabia. Turkish Airlines is its closest rival. However, while SAUDIA has increased seat capacity by 2% since August 2019, Turkish Airlines has cut capacity by one-third. flynas, Pegasus Airlines and KLM have all increased their presence in the market since 2019.
The number of airlines in the market now stands at just eight. Back in 2019 there were 11 carriers connecting the two markets. However, three carriers (AtlasGlobal, FlyBosnia and Onur Air) have been lost as they all ceased all operations.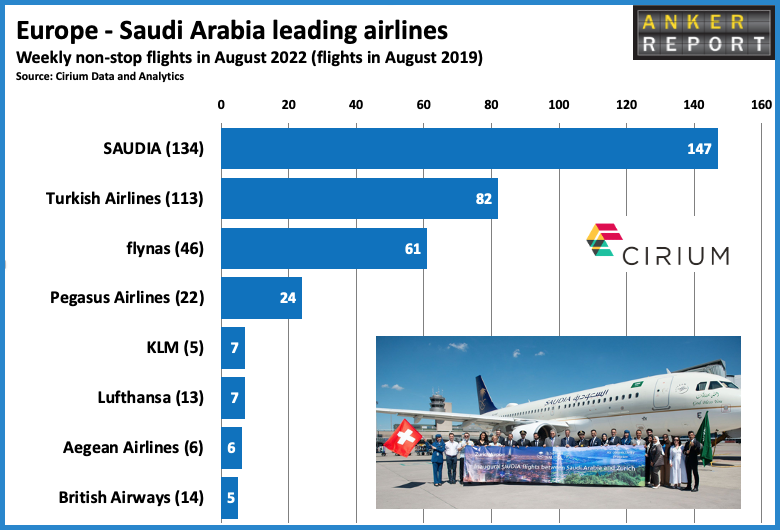 Since August 2019 several new routes have been launched between Europe and Saudi Arabia including:
flynas: Jeddah-Tirana (June 2022), Riyadh-Prague (April 2022), Riyadh-Salzburg (July 2021), Riyadh-Tirana (June 2021)
KLM: Amsterdam-Riyadh (June 2021)
Pegasus Airlines: Istanbul SAW-Medinah (January 2020)
SAUDIA: Jeddah-Amsterdam (January 2022), Jeddah-Athens (October 2019), Riyadh-Barcelona (June 2022), Riyadh-Mykonos (July 2022), Riyadh-Zurich (August 2022)
Saudi Arabia has been actively working to develop new services and has created the Saudi Air Connectivity Program. This organisation has played a key role in getting Wizz Air to commit to the market as well as assisting the new service to Zurich to happen. Looking ahead, flynas has announced it will start connecting Jeddah and Marseille with 2-weekly service from the beginning of November.