Europe's airports welcome over 200 new airline services in the first three days of July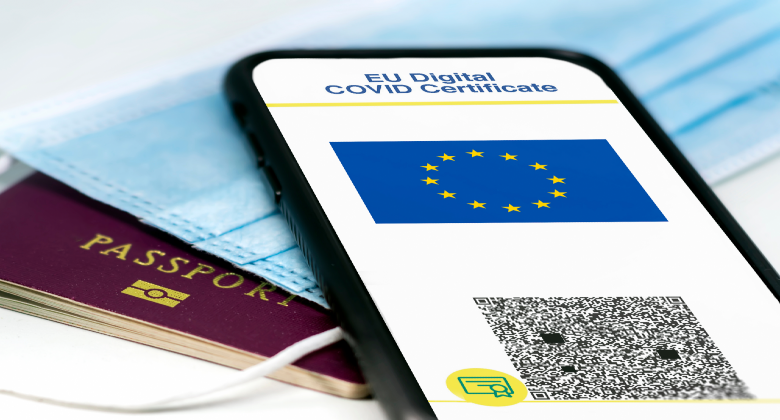 Coinciding with the start of the rollout of the EU Digital COVID Certificate on 1 July, the latest Eurocontrol flight data figures show that Europe's biggest airlines have seen a massive ramp up in operations during the last week. More than 200 million such certificates had apparently been issued by the beginning of July across 26 of the EU's 27 member states (the exception being Ireland) as well as in non-member states Iceland and Norway. These certificates will provide proof of vaccination, negative test results and recovery from illness and will be recognised regionwide.
Turkish Airlines and Wizz Air at 75% of 2019 flights
All of Europe's biggest airlines have seen a significant improvement in the recovery rate of flights (compared with the same period in 2019) compared with a week ago. Turkish Airlines and Wizz Air continue to lead the way among the biggest carriers, both now operating at over 75% of their flights compared with 2019. However, Pegasus Airlines is at over 92% while Norway's regional carrier Widerøe is close to 100%.
Ryanair (62.4%), Iberia (61.3%), KLM (61.3%), Vueling (59.9%) and Air France (58.7%) are now all evenly matched for flight recovery, well ahead of Lufthansa and SAS who are both between 40% and 45%. Lagging some way behind, but now also recovering quite quickly are easyJet (33.8%), Norwegian (24.6%) and British Airways (23.6%). The UK, as has been previously noted, may have done well regarding vaccine rollout, but continues to impose strict rules on international air travellers.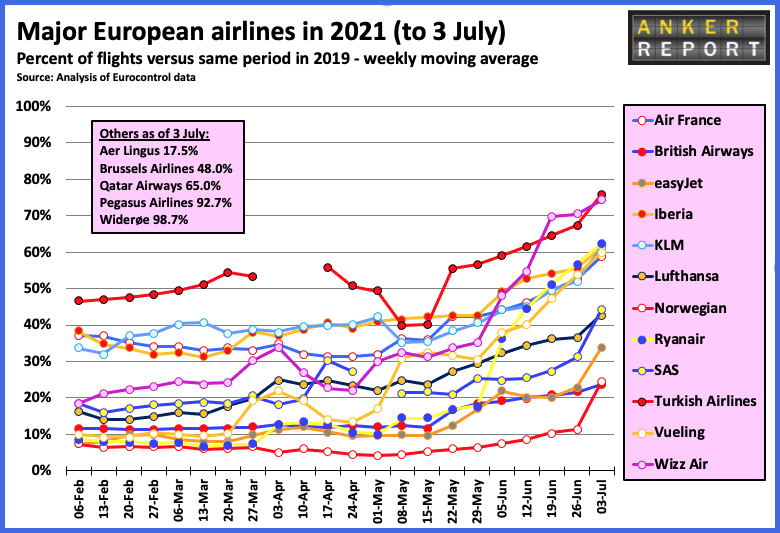 Over 200 new airline routes launched in three days
Also coinciding with this surge in flights is the fact that The ANKER Report has identified over 200 new airline services that launched in Europe during just the first three days of July. Many of these were from Europe's low-cost or leisure airlines, with Ryanair, Wizz Air, Eurowings and Corendon Airlines leading the way. Details of these will be made available in the next few days in the NERD (New European Route Database) file, which can be downloaded from this website.
However, Europe's flag-carriers were not idle. Aegean Airlines, Air France, Austrian Airlines, British Airways, Iberia, LOT Polish Airlines, Lufthansa, SWISS, TAP Portugal and Turkish Airlines, all had reason to celebrate new services. Recently launched carriers like Flyr and PLAY added new routes, while even US carriers introduced a handful of new European services to celebrate the start of July.
Looking ahead to the rest of July, The ANKER Report has details of almost 350 additional new airline services that are expected to start in the next four weeks. Some of these may be pushed back a week or two, but to capture the European holiday market in particular, new services really need to be up and running by mid-July to catch the peak holiday demand, which also coincides with school summer holidays.