Flybe returns on Birmingham-Edinburgh/Glasgow routes as easyJet loses monopoly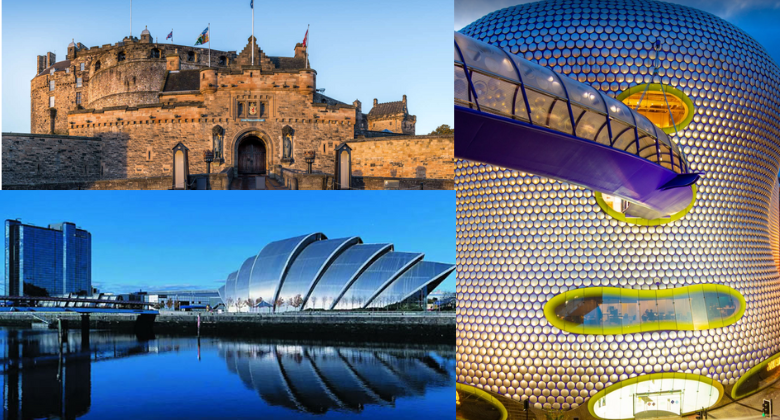 In 2004, the routes between Birmingham and Glasgow, and Birmingham and Edinburgh, ranked as the seventh and tenth busiest UK domestic routes. By 2019 neither ranked in the top 25. Capacity on both routes had fallen by at least 50%. Both routes are just over 400 kilometres in length, so it would be tempting to think that air travel had been shifted to a high-speed rail service. However, no such high-speed rail network exists between Birmingham and Scotland. Train travel time between Birmingham and Scotland's two biggest cities is currently around four hours according to a UK rail travel booking tool. Estimated drive time (from www.theaa.com) is four hours and 45 minutes to Glasgow and five hours and 20 minutes to Edinburgh, though this obviously depends on time of day, as well as traffic and weather conditions.
Flybe resumes service with leased aircraft
Last week saw the new Flybe start service on both of these routes. The original version of the airline had operated both these routes for many years before the airline suspended operation in early March 2020, just before the pandemic struck. Flybe will operate both routes 2-daily on weekdays, competing with easyJet. The LCC also offers 2-daily service on weekdays but using much larger aircraft.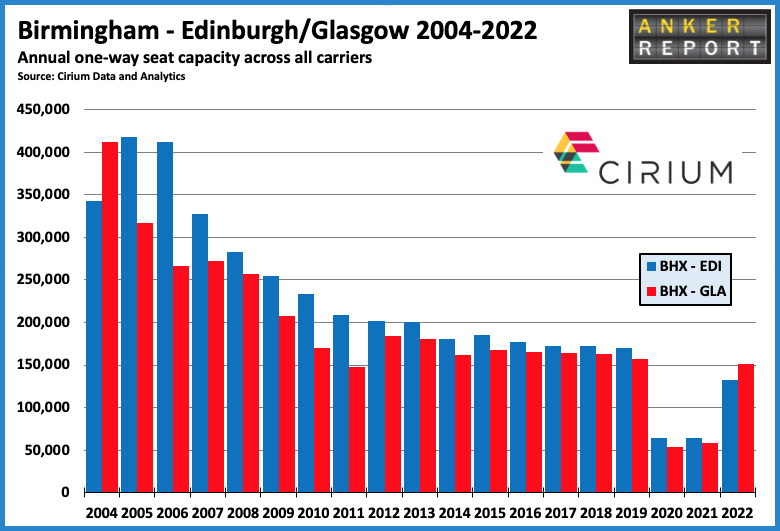 Flybe would have wanted to start service using its own 78-seat Q400s. However, due to issues acquiring these aircraft, it has started service using an ATR 72-500 (registration EC-KKQ) operated by Spanish carrier Swiftair. The aircraft's schedule on weekdays is currently as follows (the timings of the equivalent routes flown by easyJet are shown in brackets*):
06:45-08:05 BHX-EDI (08:20-09:35)
08:50-10:10 EDI-BHX (06:35-07:45)
10:45-12:00 BHX-GLA (08:45-10:05)
12:35-13:50 GLA-BHX (07:00-08:10)
14:45-15:40 BHX-EDI (21:35-22:50)
16:10-17:25 EDI-BHX (19:25-20:35)
18:10-19:25 BHX-GLA (22:00-23:20)
19:55-21:10 GLA-BHX (20:15-21:25)
*easyJet's schedule does vary more from day to day,
While Flybe uses a Birmingham-based aircraft to operate these flights, easyJet's schedule on these routes uses Scottish based aircraft, as Birmingham is not a base for the Luton-headquartered carrier.
Air France, bmibaby and British Airways have also connected these airports
Carriers that have operated between Birmingham and Edinburgh since January 2004 are:
bmibaby between January 2005 and March 2010
British Airways between January 2004 and March 2007
easyJet from 2 July 2020 onwards
Flybe between January 2004 and March 2020, and from July 2022 onwards
Carriers that have operated between Birmingham and Glasgow since January 2004 are:
Air France between January 2004 and March 2005
bmibaby between March 2007 and January 2010
British Airways between January 2004 and March 2007
easyJet from 1 July 2020 onwards
Flybe between January 2004 and March 2020 and from July 2022 onward