flydubai will add Cagliari, Corfu and Milan BGY routes next summer; will then have 33 European routes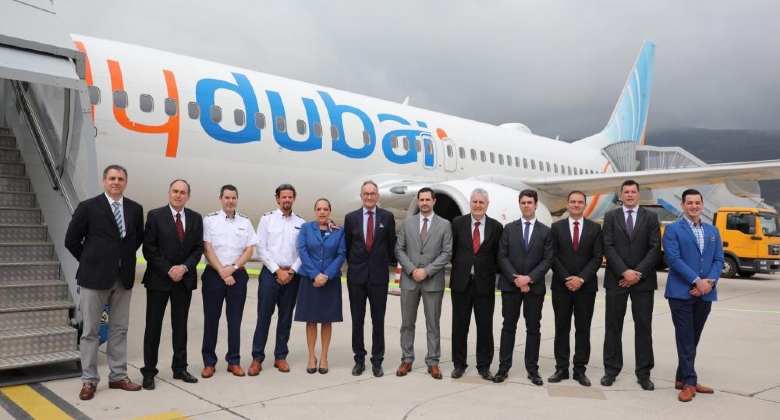 Europe has been part of flydubai's network since 2010, when it launched Samara, in European Russia. flydubai's Europe growth has been rapid, passing one million seats in 2015 when it served 21 destinations continent-wide, according to Cirium schedules data. The carrier has now added three more routes, marking its return to Greece and meaning its Italy network now comprises five airports.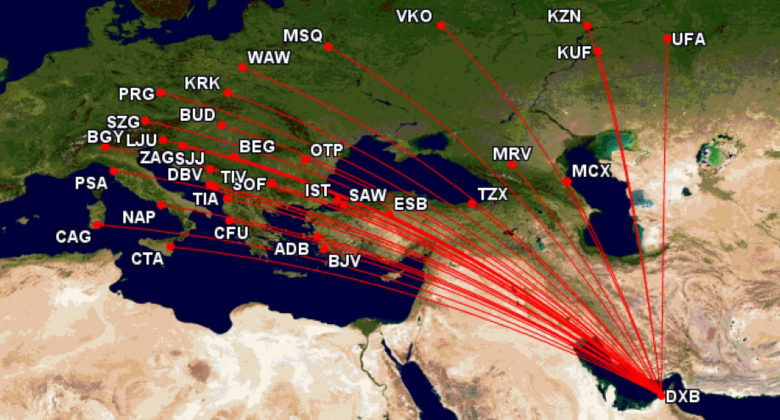 First there's Bergamo
On 10 March, flydubai will begin serving Milan BGY, Italy's third-busiest airport. While it is known as a major Ryanair airport, its airline portfolio has been expanding rapidly recently – and it has now secured flydubai. Initially, there will be 5-weekly flights on the 2,885-kilometre route, before rising to daily. Passengers will also benefit from Emirates' onward flights.
Perhaps the biggest surprise is that it won't be Bergamo's first scheduled UAE route. It will join Air Arabia, whose 4-weekly Sharjah operation begins on 7 December.
Then there's Cagliari and Corfu
As summer progresses, so does flydubai's route map. On 22 June in time for peak demand, flydubai will begin Dubai-Cagliari, Sardinia (3-weekly). When Bergamo is added, flydubai will serve five Italian airports, joining Catania (3-weekly),  Naples (5-weekly) and Pisa (4-weekly).
On 24 June, Dubai-Corfu will launch (2-weekly), its only Greek airport, although it has served three others before. flydubai has had an on-off relationship with Greece. It started with Thessaloniki, the country's second city, although it was very short-lived (June-October 2018). Then during coronavirus, it opened Mykonos and Santorini (June-September 2021, June-September 2022).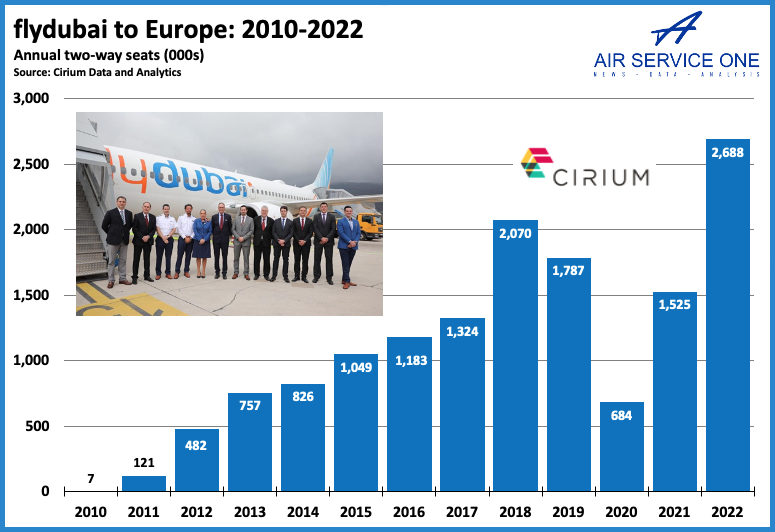 33 European routes in summer 2023
According to Cirium, a fifth of flydubai's seat capacity next summer will be to/from Europe on a network spanning 33 airports in 17 countries. Turkey has six routes (Ankara, Bodrum, Istanbul IST, Istanbul SAW, Izmir and Trabzon) as does European Russia (Kazan, Makhachkala, Mineralnye Vody, Moscow VKO, Samara (still served) and Ufa). But Moscow VKO will be its leading European route.