French airport traffic down 68.4% in 2020; airports in Corsica retain highest proportion of 2019 traffic along with ski resort gateways
A recently published statistical report for 2020 from UAF (Union des Aéroports Francais) revealed that across all French metropolitan airports (those in mainland France and Corsica) passenger numbers were down 68.4%, from 201.38m in 2019 to 63.67m last year. The number of airports that handled more than one million passengers fell from 17 in 2019 to 10, while a further 17 airports welcomed at least 100,000 passengers.
UAF includes EuroAirport Basel Mulhouse Freiburg (IATA codes BSL and MLH) in its figures, as the airport is jointly administered by France and Switzerland and lies completely in France. However, most airlines use the Swiss BSL code when operating flights to the airport, as the Swiss city is much closer to the airport than either Mulhouse or Freiburg. As a result, it is usually perceived more as a Swiss airport rather than a French airport.
Three airports in French territories also handled over one million passengers; Guadeloupe (1.27m, down 49%), La Réunion (1.04m, down 58%) and Martinique (1.02m, down 50%). Overall traffic at airports in the French territories fell by 50.5%, from 12.88m in 2019 to 6.37m last year.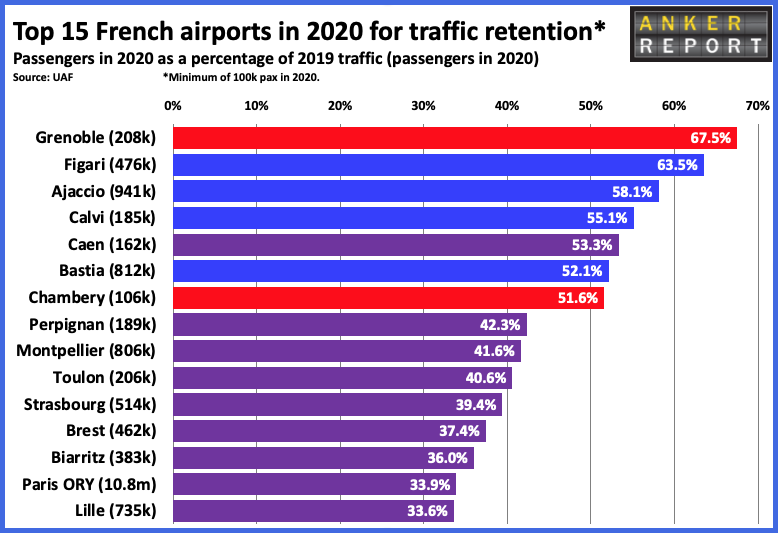 Corsican airports perform relatively well
Among airports that handled at least 100,000 passengers in 2020, the four airports serving the French island of Corsica (shown in blue on the graph) were among the best performers when it came to comparing 2020 traffic with 2019 traffic. These airports have highly seasonal demand profiles and are dominated by domestic traffic. In 2019, for example, international traffic made up only 18% of Bastia's passenger numbers, with the equivalent figure at Ajaccio being 12%.
As a result, between July and October last year, demand for flights from the French mainland was not far short of the levels seen in 2019. Overall, all four Corsican airports achieved passenger levels at least 50% of what they managed in 2019, with Figari (63.5%) leading the way ahead of Ajaccio (58.1%), Calvi (55.1%) and Bastia (52.1%). The less reliant the airport was on international traffic, the better they performed.
Two other airports that performed relatively well were Grenoble and Chambery. These are also airports with very seasonal demand, but this time focussed on the winter months, as they are gateways to popular ski resorts. Pre-pandemic, in January and February, demand was comparable with 2019. As a result, even with very little traffic for the rest of the year, these airports still recorded over 50% of the traffic volumes they witnessed in 2019.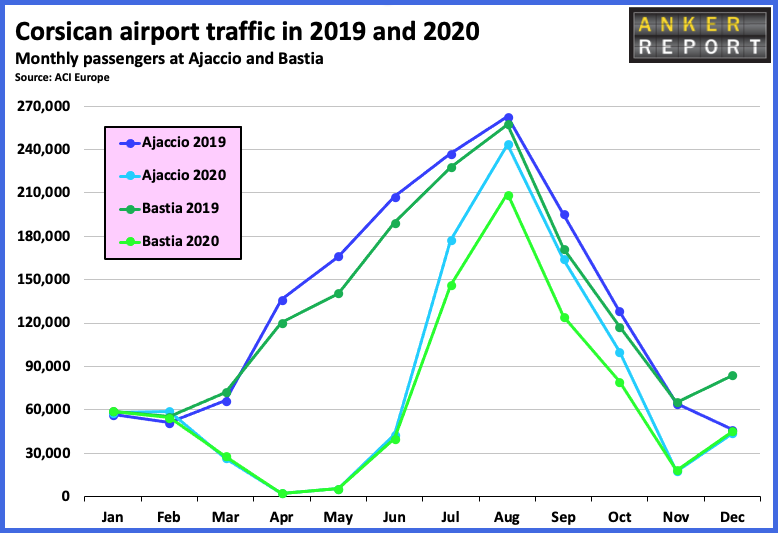 Paris airports retain around one-third of traffic
Among other French airports, it was also the smaller airports that relied primarily on domestic traffic that performed best. Caen was the only one to report traffic levels above 50% of 2019, while Perpignan, Montpellier and Toulon all recorded demand at least 40% of what they achieved in 2019.
Of the airports handling at least one million passengers in 2020, only Paris ORY made the top 15 for traffic retention, in 14th place. With its deliberate focus on domestic traffic this is not entirely surprising. Traffic here was just over one-third of what it was in 2019. For comparison, Paris CDG traffic was at just 29.2% of what it was in 2019. However, with 22.3 million passengers CDG was still, by far, France's busiest airport last year.