French seats down 13% in September versus 2019; Paris BVA, Figari, Transavia and Greece shine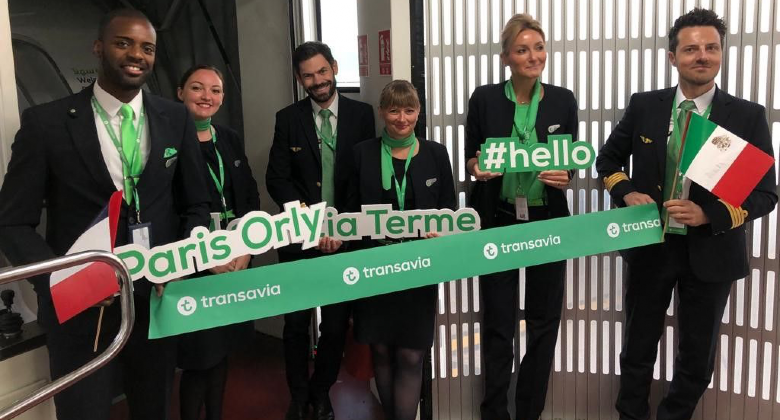 The latest traffic statistics from the busiest French airports for August 2022 show that four of the top 15 airports have seen traffic recover to beyond pre-pandemic levels. Overall, across all the top 15 airports, passenger numbers were down 13% versus August 2019. However, among Europe's busiest country markets by seat capacity in August, France ranked just 11th out of 15 for capacity recovery, just ahead of the UK, which has no major airports back at pre-pandemic levels just yet.
Analysis of Cirium schedule data for French airports reveals that capacity was also down 13% in August 2022 compared with 2019, which is consistent with the passenger figures. The data for September shows capacity again down 13% versus September 2019.
Paris BVA leads the way for French demand recovery
Among France's top 15 airports, four reported passenger numbers in August in excess of those witnessed in August 2019. Those four airports were Paris BVA (+24%), Figari (+14%), Paris ORY (+7%) and Ajaccio (+1%). Ryanair is the leading carrier at Paris BVA accounting for three-quarters of all seat capacity. It has grown its seats at the airport by 37% since August 2019. Wizz Air has increased capacity by 14%, mostly through the use of bigger aircraft.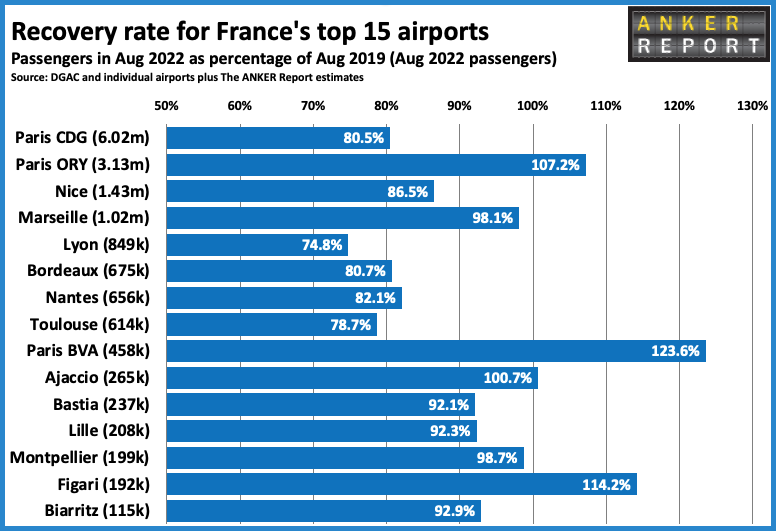 At Figari on the island of Corsica, the growth has come from Ryanair (seats up 150%) and easyJet (up 60%), with Air Corsica and Air France both cutting capacity. This summer Volotea passed Air Corsica to become the biggest carrier at the airport. In Paris ORY, Transavia's huge increase in capacity (+255,000 seats) has only just compensated for Air France's reduction in capacity (-238,000 seats). Vueling has increased its seat capacity by over 60%, while Air Corsica, easyJet, French Bee, Iberia, Volotea and Wizz Air have all added between 9,000 and 19,000 monthly seats since September 2019.
Air France down 26%, Transavia capacity doubled
Looking at the leading airlines in France, six of the top 15 have actually increased capacity compared with three years ago. The top four for growth (in terms of percentage growth) are all (U)LCCs; Ryanair, Transavia, Volotea and Wizz Air. Air France, still by far the biggest airline in France, is still down around 26% compared with pre-pandemic, while easyJet (the second biggest carrier in France) is down 9%. Clearly, much of Air France's seat capacity at Orly has been transferred to Transavia. When combined, capacity is down 13%, in line with the average for France as a whole.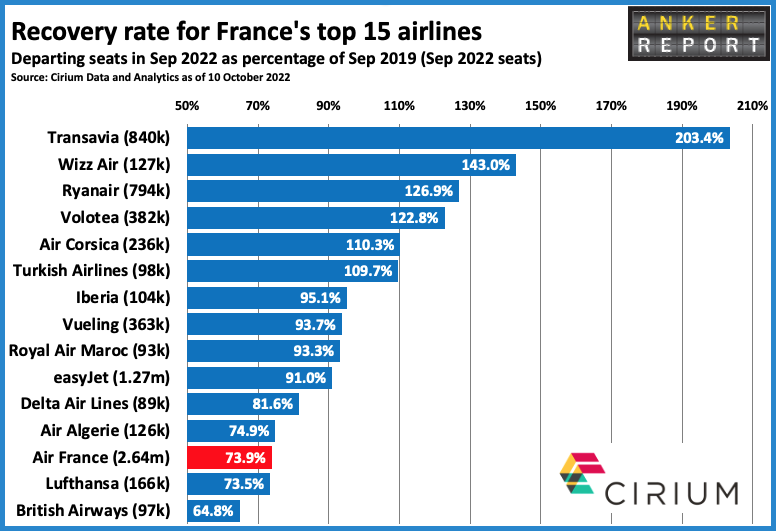 Domestic market is down 17%
When we examined the German market recently it was shown that it was the domestic market that was underperforming most significantly. The French domestic market (by far the biggest country market despite the TGV network) is showing a recovery rate of 83%. Five of the top 15 country markets were growing in September, though only Greece (+26%) by more than 8%. It is worth noting that three of the top six country markets for growth/recovery are in North Africa; Algeria, Morocco and Tunisia. Near neighbours Germany, Netherlands and the UK are still seeing capacity down around 25%.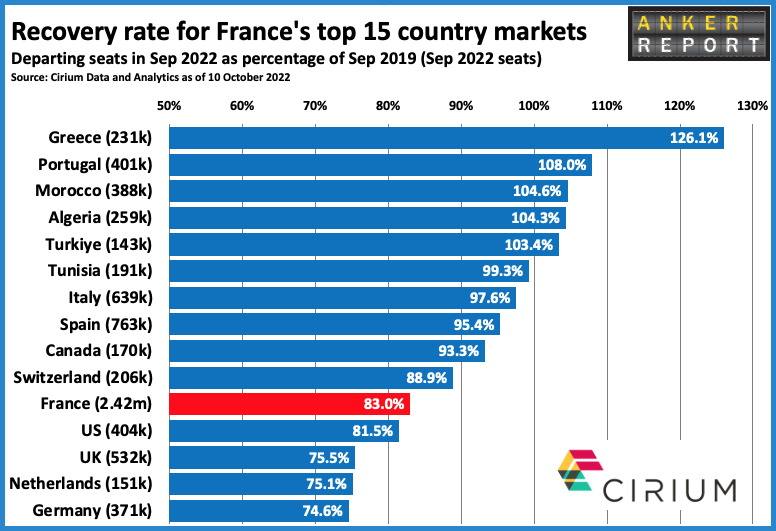 Looking at country markets outside of the top 15, Albania (+410%), Iceland (+75%), India (+38%), Senegal (+30%), Malta (+23%), Egypt (+21%), Ireland (+10%) and Croatia (+9%) have shown solid growth. The same can not be said for China (-97%), Japan (-57%), Czech Republic (-36%), Denmark (-20%) and UAE (-20%).