Germany the outlier as Europe's biggest (U)LCCs outperform flag-carriers for recovery this summer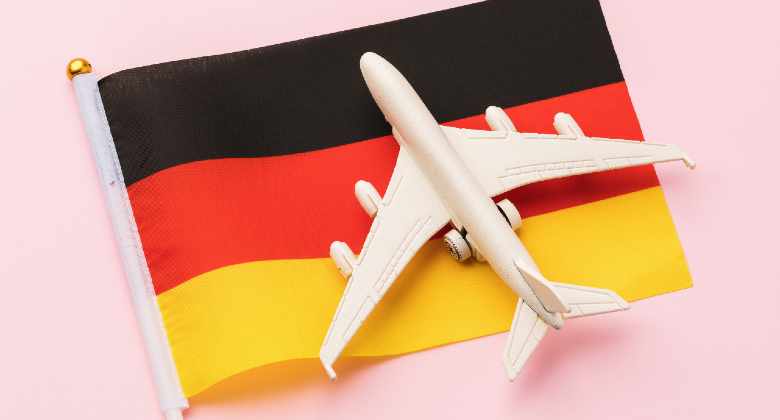 A couple of weeks ago we looked in some detail at the sluggish recovery of the German air travel market. This revealed that one of the main issues was the fact that neither Ryanair, nor easyJet, had recovered their German capacity as quickly as elsewhere in Europe. easyJet's German capacity for June was at less than 40% of its June 2019 level. Ryanair, at 65%, was also well below the national average of 75%.
To highlight how much of an outlier the German market is in Europe, Air Service One has looked at a range of other European countries/regions. Using Cirium schedule data for July 2022, the capacity recovery rate has been calculated (versus July 2019) for:
all airlines
just the national flag-carrier (and any locally-based low-cost subsidiaries such as Eurowings and Eurowings Discovery in Germany, Transavia France in France and Transavia in the Netherlands)
an amalgamation of Europe's three biggest pan-European (U)LCCs; easyJet, Ryanair and Wizz Air (referred to from now on as ERW)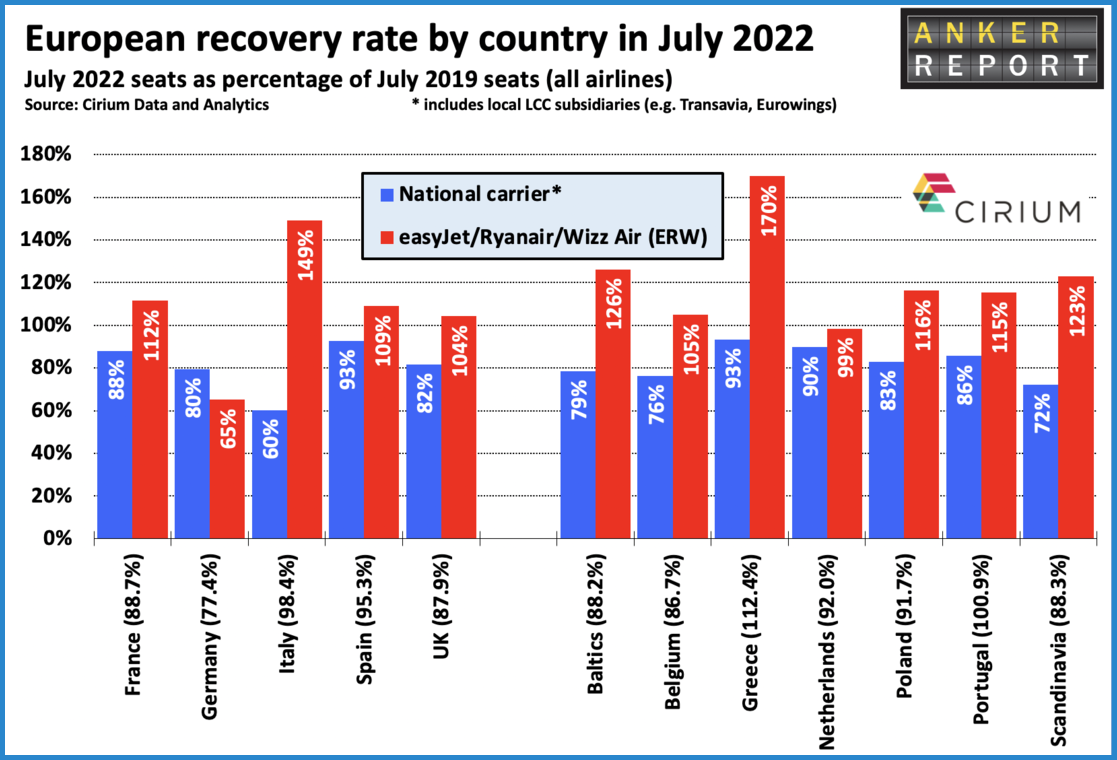 Among Europe's top five air travel country markets (on the left side of the graph), the overall recovery rate across all airlines varies between 77% (in Germany) and 98% (in Italy). The national flag-carrier recovery rate varies between 60% in Italy and 93% in Spain. In Italy, the new ITA Airways is compared with the old Alitalia. Not surprisingly, it has the lowest recovery rate. However, this has been more than compensated for by the recovery of ERW at 149%. ERW clearly sees massive opportunity to grab Italian market share while ITA Airways gets to grips with its new structure and operations.
ERW's recovery is also in excess of 100% in France (112%), Spain (109%) and the UK (104%). Only in Germany does its recovery (65%) fail to match the recovery of the national carrier (80%). Ryanair, having absorbed Laudamotion has rationalised its operations, while easyJet has massively reduced its presence in Berlin, which had become significant, after it chose to fill the gap left by the collapse of airberlin.
Compared with 2019 easyJet no longer has any flights from Dortmund, Dresden, Düsseldorf, Frankfurt or Stuttgart. Over 80% of its German flights this summer are from the new Berlin airport, with the rest spread between Cologne Bonn (just four routes including one domestic to Berlin), Hamburg (three routes to Basel, London LGW and Manchester) and Munich (three routes to Edinburgh, London LGW and Manchester).
ERW have increased Greek capacity by 70%
In seven other markets, representing a total of 11 countries, the overall recovery rate varies from 87% in Belgium to 112% in Greece. In every single case, the national carrier's recovery has not been as high as that of ERW. While the flag-carrier recovery rates range from 72% (SAS in Scandinavia) to 93% (Aegean/Olympic in Greece), ERW's recovery rate ranges from 99% in the Netherlands, to a massive 170% (70% growth) in Greece. Looking at the individual carriers in Greece, Ryanair's capacity is up 40%, easyJet's is up 54%, while Wizz Air's is up a staggering 452% (admittedly from a much lower base). However, easyJet and Ryanair both still have more than twice as many flights from Greek airports than Wizz Air does.
As has been demonstrated time and time again, difficult times for air travel ('9/11', the economic recession of 2008/09) tend to benefit strong and healthy low-cost carriers as the higher-cost, legacy, flag-carriers take longer to adapt to the changing reality in the market. In that sense, the COVID pandemic appears to be no different.