Istanbul's new airport still Europe's busiest in October; Heathrow climbs three places to eighth
For the fourth straight month, Istanbul's main airport was Europe's busiest in October, handling almost 4.4 million passengers. However, that is still 30% down compared with the same month in 2019. Its nearest rival last month was again another Turkish airport, Antalya. That airport again welcomed over 3.8 million passengers, a decline of just 7% compared with two years ago. Moscow SVO, which had led the way in June, has slipped from third place in September to fifth place in October, with Amsterdam and Frankfurt both climbing one place. Paris CDG and Madrid stay in sixth and seventh place for a second straight month.
The biggest gainer within the top 15 is again London LHR, which climbs three more places from 11th in September to eighth in October. For the first time since the pandemic started it handled over three million passengers in a month, though traffic was still down 57% compared with 2019. Lisbon is the only new entry in the top 15, replacing St. Petersburg.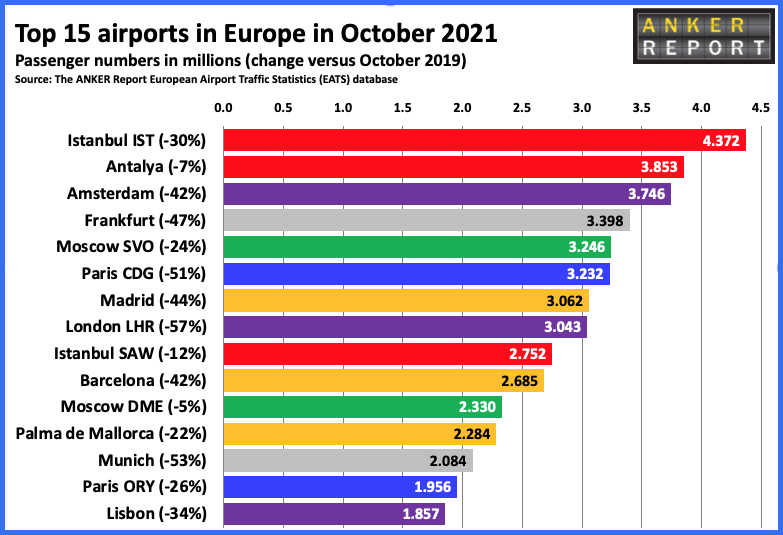 Among the top 15 airports last month, there were three each located in Spain and Turkey, plus two in France, Germany and Russia. The remaining three airports were in the Netherlands (Amsterdam), Portugal (Lisbon) and the UK (London LHR). Just outside the top 15 are St. Petersburg in 16th place (1.81m), just ahead of Moscow VKO (1.69m), Berlin (1.67m), Athens (1.62m) and Zurich (1.61m).
In September, the 15th busiest airport handled 1.83 million passengers. For October this has increased slightly to 1.86 million. In September there were 34 airports handling at least one million passengers. In October, this has increased to at least 35.
Traffic at around 62% of 2019 level in October
Across all the airports that handled at least one million passengers, traffic was down on average 38% in October compared with 43% in September. Among the top 15 airports, Moscow DME was down just 5%, Antalya down just 7%, and Istanbul SAW down 12%. At the other extreme, London LHR is still down 57%, Munich down 53%, Paris CDG down 51% and Frankfurt down 47%.
Among the other airports with more than one million passengers in October, London LGW had the biggest reduction in passengers at 71%, followed by Rome FCO (61%), Milan MXP (58%), Stockholm ARN (53%) and Manchester (52%). However, St. Petersburg, although it has dropped out of the top 10, reported a 6% increase in traffic compared with 2019.