Las Vegas traffic above 2019 levels this summer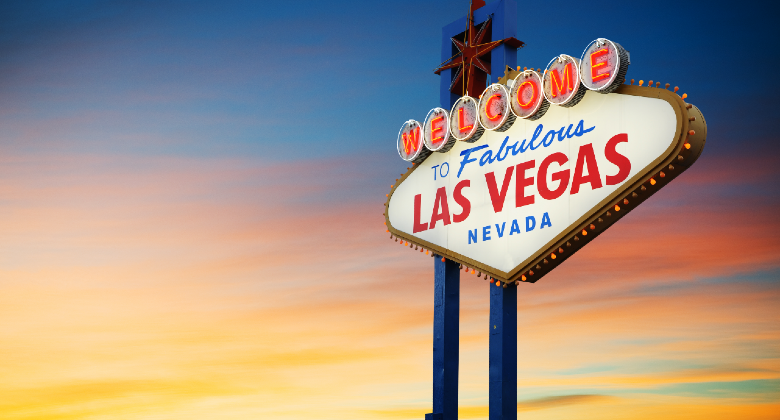 In 2019, Harry Reid International Airport in Las Vegas (then still known as McCarran International Airport) handled over 51 million passengers, making it the world's 30th busiest airport. Last year saw the airport welcome just under 40 million passengers. As a result of the pandemic significantly reducing traffic at many Asian and European airports, Las Vegas rose to 10th in the world rankings. Looking back, the airport reached almost 48 million passengers in 2007, before enduring three successive years of decline during and after the global recession. Traffic started picking up again in 2011.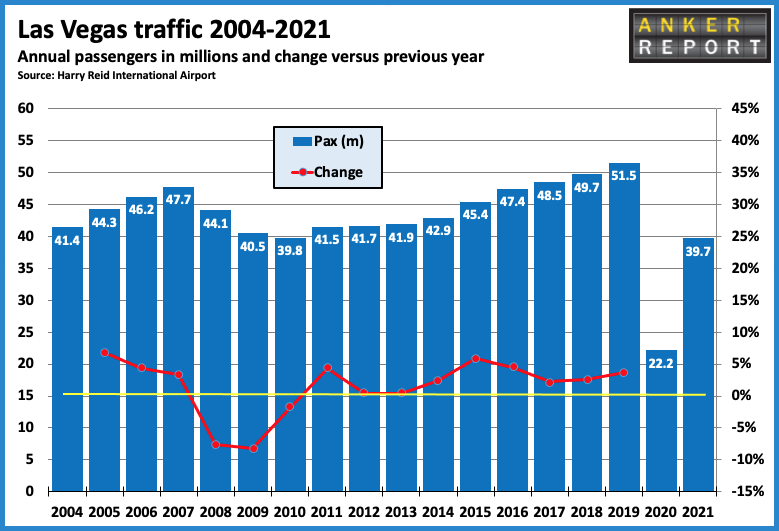 Almost five million passengers in July
Thanks to its year-round mild climate and entertainment attractions, seasonality is not a major issue at the airport. The latest traffic data shows that for the last two months (June and July), passenger demand was well above 2019 levels, suggesting that the airport may again see over 50 million passengers passing through its doors this year.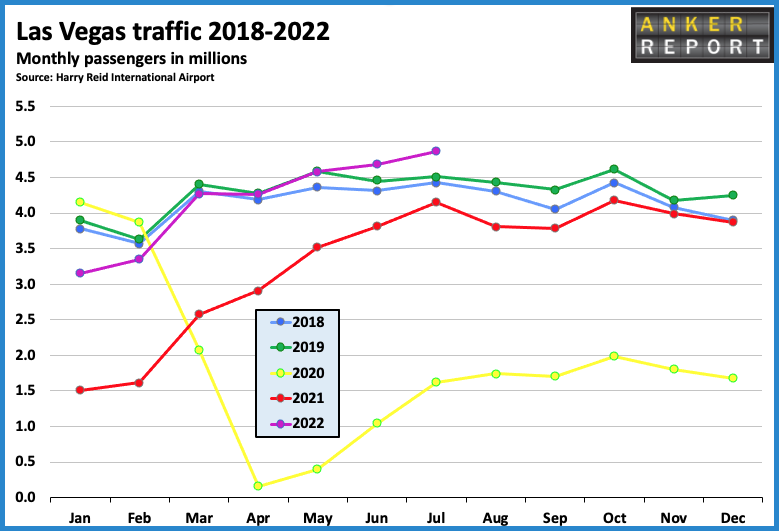 Southwest is leading airline
Analysis of Cirium schedules data for October 2022 and 2019 shows that capacity is expected to be up around 13% this month, while flights are up a more modest 8% thanks to the use of larger aircraft. Southwest remains the leading airline accounting for 35% of seat capacity. While it has grown capacity 11% since October 2019, its two nearest rivals have grown more quickly. Spirit now has just over 15% of seats and has seen capacity grow by 54% in the last three years. Frontier has almost 12% of seats and has grown even faster, now offering 74% more seats than back in October 2019.
The three US global carriers are ranked fourth to sixth. Between them they account for 21% of seats, down from almost 26% in 2019. Of the three, only American has increased its Vegas capacity (+4%), while Delta (-13%) and United (-10%) have both yet to fully recover their capacity at the airport.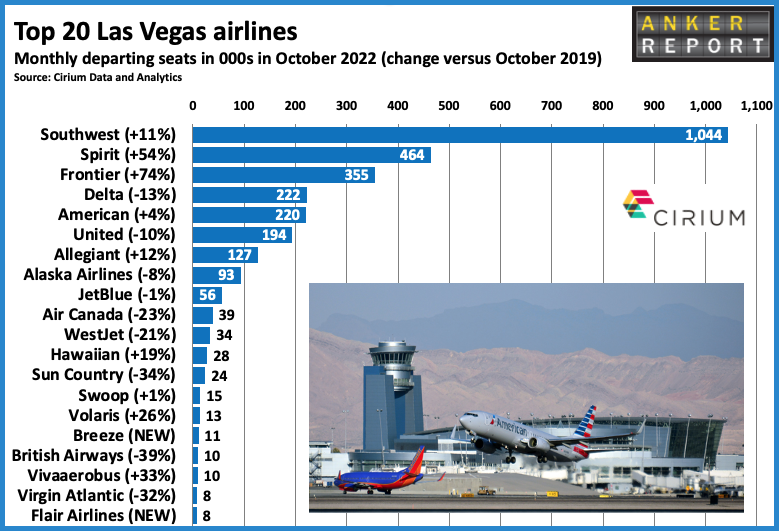 The leading foreign carriers are Air Canada and WestJet, ranked 10th and 11th. Mexico's biggest domestic airline, Volaris, ranks 15th. Among the top 20 airlines are two carriers that were not serving the airport three years ago. Breeze, which only launched service in 2021, is 16th and is already serving Las Vegas from 10 airports. Canada's Flair Airlines, which just creeps into the top 20 in 20th, is operating flights to the Nevada airport from Edmonton, Toronto Pearson and Vancouver.
LAX still #1 route
The leading route from Vegas remains the 380-kilometre connection to Los Angeles in California. However, while capacity has grown on 12 of the top 15 routes, the number of seats on flights to LAX has actually fallen by 13% since October 2019. Customers have a choice of seven airlines on the route, compared with eight in 2019. Frontier and Sun Country no longer link the two airports, but JetBlue started the route in October 2020.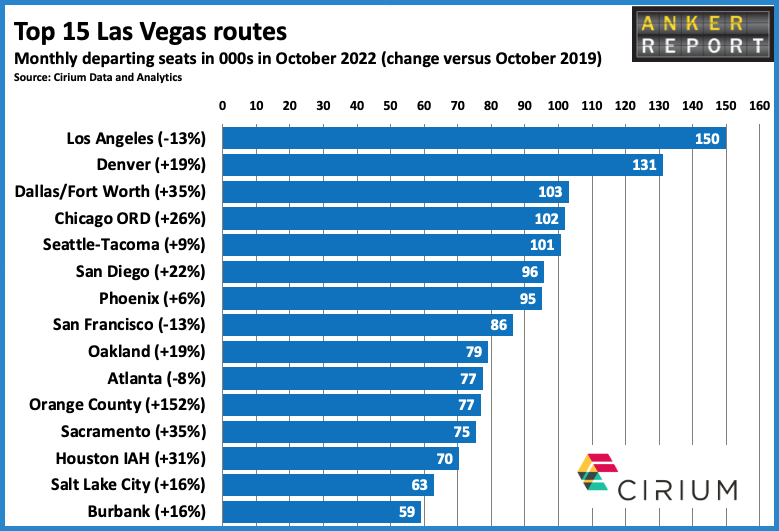 The leading New York airport, JFK, ranks 17th, while the leading international route is Toronto (ranked 31st). Vegas has non-stop links to seven destinations in Canada (down from 12 in October 2019) and four destinations in Mexico. There is currently only one non-stop service to Asia, a 3-weekly service with Korean Air to Seoul.
There are currently non-stop flights to just four destinations in Europe; Amsterdam with KLM (6-weekly), Frankfurt with Condor (3-weekly) and Eurowings Discover (4-weekly), London Heathrow with British Airways (daily) and Virgin Atlantic (daily), and finally Munich with Eurowings Discover (2-weekly). Some of these flights are seasonal, with only British Airways, KLM and Virgin Atlantic operating year-round service.