Last Week in Europe – Monday 30 May 2022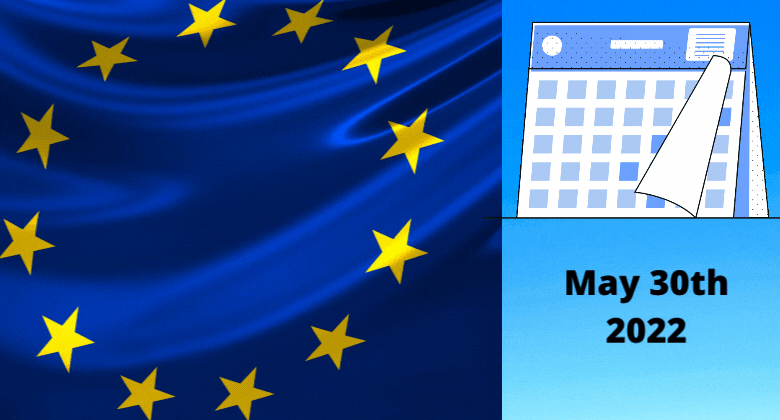 The ninth week of the summer 2022 (S22) season (covering the period Sunday 22 May to Saturday 28 May) saw the launch of 57 new routes involving European airports, up from 42 in the previous week. Highlights included new transatlantic routes from Condor, Delta, Eurowings Discover, Turkish Airlines and Virgin Atlantic, as well as new leisure services from northern Europe to southern Europe offered by AnadoluJet, Condor, Corendon, Eurowings, Freebird Airlines and Jet2.com. In addition, Volotea launched seven new routes between medium-sized airports in France, Greece, Italy and Spain.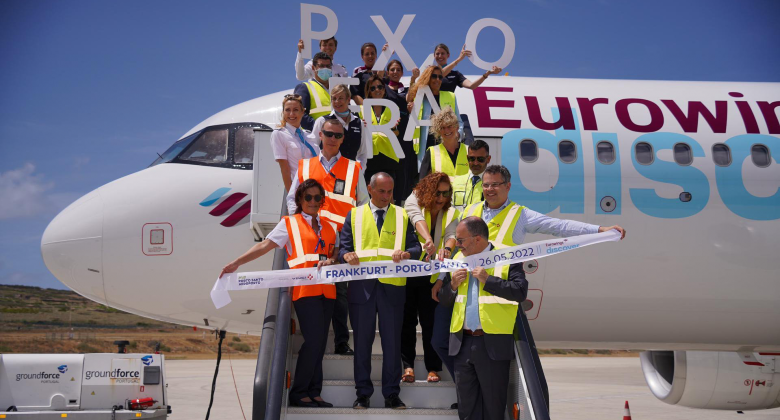 Meanwhile, according to analysis of Eurocontrol data, the 7-day average recovery rate for European flights (comparing 2022 movements with those during the same period in 2019) increased by one percentage point during the last week from 85.0% as of Saturday 21 May, to 86.0% as of Saturday 28 May. Among the 12 airlines tracked in more detail in our graph only Wizz Air (120%) and Ryanair (112%) are currently recording a recovery rate above 100% in terms of flights. However, Iberia, Turkish Airlines and Vueling are at 90% or above.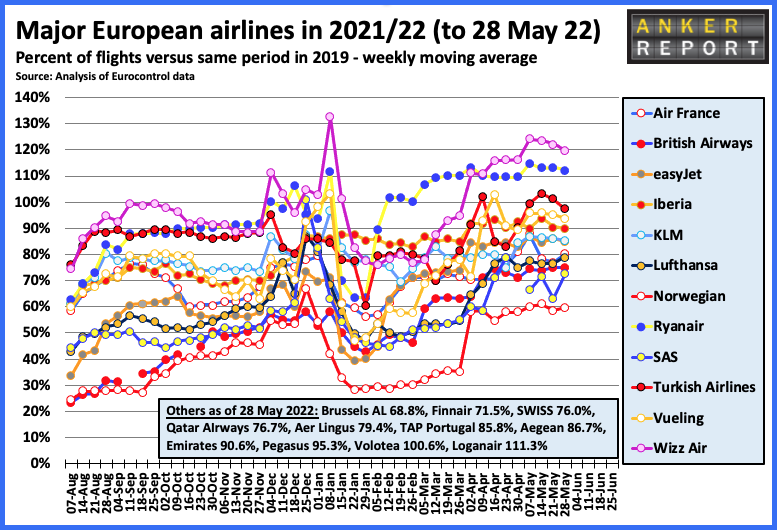 Five-way fight to be Europe's #1 airport continues
On Saturday 28 May the leading airline for flights in Eurocontrol airspace was Ryanair (2,896 flights) followed by easyJet (1,493), Turkish Airlines (1,372) and Lufthansa (1,239). Then came Air France (949), KLM (791), Wizz Air (737), British Airways (690) and Vueling (591). In the close battle among Europe's leading hub airports, it was Paris CDG's turn to be #1 last Saturday with 1,268 flights. This was just ahead of Istanbul IST (1,224), Frankfurt (1,187), Amsterdam (1,174) and London LHR (1,132).
Want more information on:
European seat capacity changes made since last week for June, July and August?
The 57 new routes launched in Europe during the last seven days?
If so, then check out our weekly Last Week in Europe report which can be downloaded here.