Last Week in Europe – Monday 31 January 2022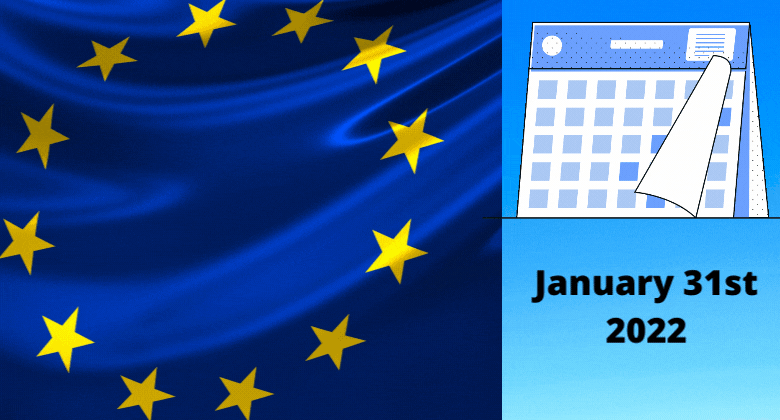 Analysis of Eurocontrol data shows that the recovery rate for European flights has fallen for a third straight week. On 15 January the 7-day average had been at 68.5%, while a week later this had fallen to just 65.0%. As of 29 January, the recovery rate stood at 62.9%. Some of this continued downturn can be attributed to the unexpectedly bad weather in some parts of south-east Europe, notably Greece and Turkey, where there was heavy snow which impacted operations. Apparently, Antalya registered its first snow in almost 30 years. As a result, Pegasus Airlines saw its recovery rate fall by five percentage points during the last week, while Turkish Airlines' recovery rate slumped from almost 80% to only just over 60% in the space of a week.
Iberia continues to lead the way for recovery rate among Europe's leading airlines, operating almost 86% of flights compared with the same week in 2019. Wizz Air which had been at over 100% two weeks ago is now at just under 80%, while Ryanair, which had been at 112% three weeks ago is now at 64%. Vueling has gone from 103% to just 48% in the space of three weeks. Norwegian has dipped to below 30% for the second week in a row, something it last achieved in early August. Among the 12 airlines shown in the graph, four showed a small improvement in their recovery rates compared with a week earlier; easyJet, KLM, Norwegian and Vueling.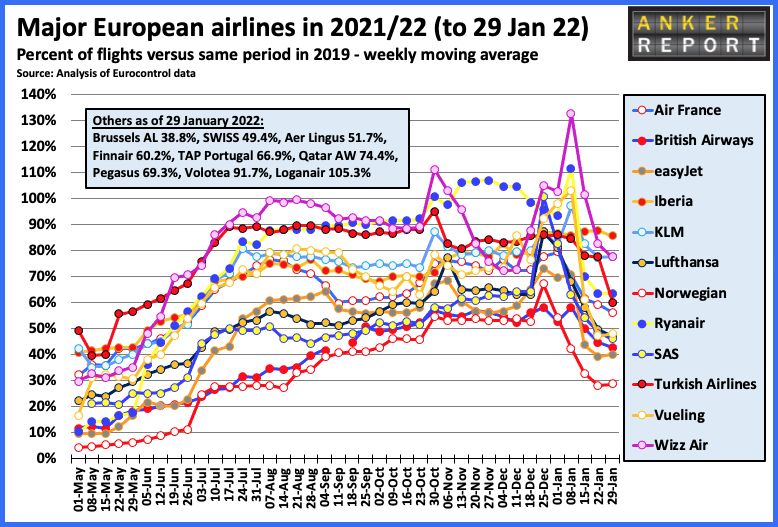 Ryanair still #1 for flights
On Saturday 29 January the leading airline for flights in Eurocontrol airspace was Ryanair (1,297 flights), well ahead of Turkish Airlines (1,031), Lufthansa (727) and Air France (572). Then come KLM (535), easyJet (473), Wizz Air (394) and British Airways (381). However, as last week, Turkish Airlines actually operated more flights than Ryanair on a Thursday.
Want more information on:
European seat capacity changes made since last week for January, February and March?
New routes launched in Europe during the last seven days?
Latest airport passenger statistics for European airports for December?
Latest European airline route announcements?
Planned seat capacity by country in January 2022?
If so, then check out our weekly Last Week in Europe report which can be downloaded here.