Last week of August shows European flights still down 30% versus 2019
Analysis of Eurocontrol data for the fourth week of August shows only modest changes in terms of the rate of recovery compared with the previous week. Overall, the number of aircraft movements is at 70.6% of the 2019 figure, up from 70.0% the previous week and virtually the same as in the first two weeks of August when flights were at 70.5%. Among our basket of 12 airlines in the analysis, five increased their recovery while six reported a drop in their recovery rate. Turkish Airlines' recovery rate remained unchanged at 89.5%.
Lufthansa's rate of recovery has fallen for a third straight week, after peaking at 56.7% in the first week of August. It is now at 51.8%. However, this is still significantly better than its in-house LCC Eurowings, whose rate of recovery is at just 42.3%, having peaked at 44.4% in early August.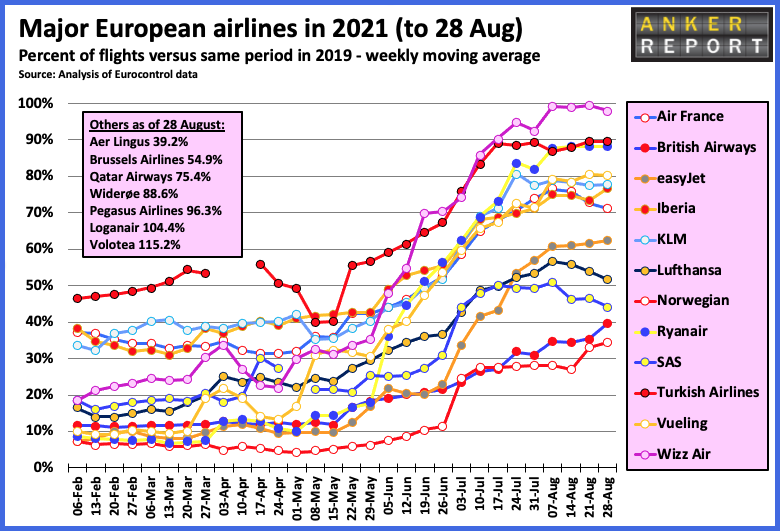 British Airways still just outside top 10
As measured by actual flights operated, Eurocontrol data shows that Ryanair was again by far the busiest airline in terms of flights operated on Monday 30 August. The carrier had 2,366 flights, over 1,000 more than Turkish Airlines (1,344) with easyJet third (1,256), Air France  fourth (899) and Lufthansa fifth (793). Rounding out the top 10 airlines for flights, just as they have in each of the four previous weeks, are KLM, Wizz Air, Vueling, Pegasus Airlines and SAS. British Airways, which moved up to 11th place last week, stays there this week (with 420 flights), again ahead of Widerøe (396) and Aegean Airlines (343).
Istanbul IST closing in on Amsterdam
Looking at airports, Amsterdam with 1,081 movements on Monday 30 August, was just ahead of Istanbul IST (1,048), with the gap between the two airports narrowing to just 33 flights. Meanwhile, Frankfurt and Paris CDG are now tied in third place with 928 flights. Madrid (786) is still leading its Spanish rival Barcelona (759) in the battle for fifth place. Rounding out the top 10 are London LHR (703), Palma de Mallorca (681), Athens (679) and Istanbul SAW (628).