Latest Route News + May 2021 Part 3
Routes Launched between Saturday 17 April 2021 and Friday 14 May 2021 – Part 3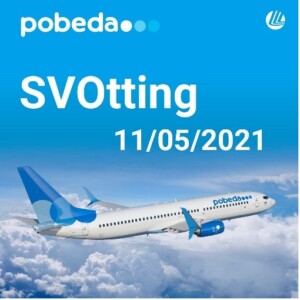 Pobeda (IATA code DP) now operates from a second airport in Moscow. Having developed a major presence at Moscow VKO since it launched operations in December 2014, Aeroflot's in-house LCC is now joining its parent company in offering flights from MoscowSVO. The first three destinations to be served are Perm (from 2 May), Cheboksary and Makhachkala (both from 11 May). All three routes will be flown daily using the carrier's 737-800s and the Makhachkala and Perm routes will face competition from Aeroflot. Nordwind Airlines also operates on the 1,160-kilometre Perm route. Pobeda is planning to launch a further six routes from Sheremetyevo at the start of June (including international routes to Latvia and Turkey) and two more at the beginning of July.
Ryanair (IATA code FR) launched four new domestic routes at the beginning of May, three in Italy and one in Spain. The three Italian routes were Cagliari–Perugia, Lamezia Terme–Perugia and Palermo–Trieste. All three will be served 2-weekly, on Mondays and Fridays, and face no direct competition. All three routes did operate briefly over Christmas and New Year. The fourth new route is between Malaga and Valencia. The 470-kilometre route will operate on Tuesdays and Saturdays and faces competition from Iberia, which currently flies weekly between the two airports (increasing to 2-weekly in June) using ATR 72s operated by Air Nostrum.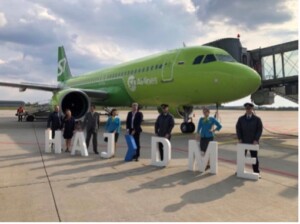 S7 Airlines (IATA code S7) has grown its Moscow DME network further with the addition of six new routes during the last four weeks. Two of these were to airports in Germany. Hannover welcomed a weekly (Monday) service on 3 May, followed on 6 May by the addition of a weekly (Thursday) service to Cologne Bonn. Both routes will be flown utilising the airline's A320 fleet and neither route faces direct competition. The airline's other new routes from Domodedovo, all operated with just a single weekly flight, were Bologna (from 3 May), Casablanca in Morocco (from 30 April), Dubai (from 30 April) and Tamchy in Kyrgyzstan (from 4 May). At 4,260 kilometres the Casablanca route becomes the airline's longest international route from Moscow, though three domestic sectors to Russia's far east are actually longer. The Dubai route is already served by Emirates (daily) and Ural Airlines (weekly), while Royal Air Maroc competes on the Casablanca route with 2-weekly flights.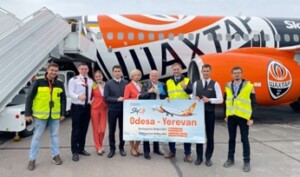 SkyUp Airlines (IATA code PQ) has launched several routes between its various bases in Ukraine and airports in the Caucasus. From Odessa the airline now serves Batumi and Tbilisi in Georgia as well as Yerevan in Armenia, with all services operating 2-weekly with the airline's 737-800s. Links to Batumi and Tbilisi have also been added from Lviv, with Batumi welcoming a third new service from Kharkiv as well. The end of April also saw the carrier add new links from Kharkiv to Istanbul IST (3-weekly, competing with Turkish Airlines) and from Kiev KBP to Tivat in Montenegro. As a result of these new services Batumi, Istanbul and Tivat will be the only airports served by SkyUp Airlines from all five of its bases in Ukraine this summer.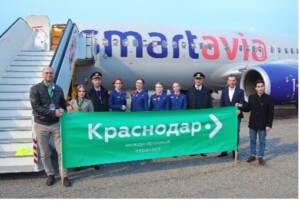 Smartavia (IATA code 5N) at the end of April began four new domestic routes from its base at St. Petersburg. Krasnodar (competing with Aeroflot, Azimuth Airlines, Pobeda and Redwing) and Volgograd (competing with Pobeda) will both be served daily using the airline's mix of 737-800s and 737-700s. Orenburg (already served by Aeroflot) and Tyumen (already served by Aeroflot and Utair) will both be served 3-weekly. In addition, Smartavia also launched daily service between Moscow DME and Krasnodar, a route already operated by Alrosa Airlines, S7 Airlines and Ural Airlines.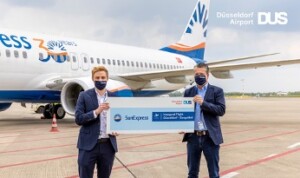 SunExpress (IATA code XQ) on 2 May launched service between Düsseldorf and Zonguldak in northern Turkey. Initially operating weekly, frequency is set to increase to 2-weekly by the end of May, travel restrictions permitting. Pre-pandemic, Zonguldak welcomed just 28,837 passengers in 2019, of which just under 8,000 were on international flights. The SunExpress website is currently offering flights to 23 destinations from Düsseldorf this summer; 20 in Turkey, plus Beirut in Lebanon, Erbil in Iraq and Hurghada in Egypt.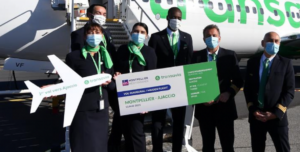 Transavia France (IATA code TO) has begun serving Corsica for the first time, with the addition on Thursday 13 May (a public holiday in France) of five routes split between Ajaccio and Bastia. Montpellier welcomed service to both Ajaccio and Bastia, as did Nantes, while Brest celebrated service to Ajaccio (with Bastia service starting in June). Frequency on these routes varies between weekly and 4-weekly, depending on the route and the month. Volotea competes on all five routes while easyJet is also present on the Nantes–Bastia route. Transavia France also recently began two new routes from Toulon. On 25 April, the LCC began 2-weekly service between Toulon and Nantes, with Toulon–Brest service (also 2-weekly) commencing the following day. The latter route is already served 2-weekly (Fridays and Sundays) by TUI fly Belgium. The 755-kilometre Toulon–Nantes route was previously served by Voloteabetween June 2012 and September 2013. Transavia France launched its first domestic route from Toulon in March when service to Paris ORY was introduced. Finally, Transavia France has added a 3-weekly service on 13 May to Palma de Mallorca from both Lyonand Nantes. The Lyon route will also be served this summer by easyJet (up to 6-weekly flights), Volotea (2-weekly) and Vueling (2-weekly) while the Nantes route is also already served by Volotea and Vueling.
Turkish Airlines (IATA code TK), with apparently very little fanfare, launched a new long-haul service on 2 May between Istanbul IST and Vancouver. The 9,610-kilometre route will be flown 3-weekly using the Star Alliance carrier's 787-9s. This becomes the carrier's third route to Canada as it already serves Toronto and Montreal. Due to the restrictive bilateral agreements between Canada and the UAE and Qatar, none of the three global Middle East carriers (Emirates, Etihad Airways and Qatar Airways) serves Vancouver. However, Qatar Airways recently began serving Seattle-Tacoma (around 200 kilometres south of Vancouver) from Doha.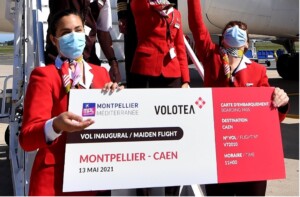 Volotea (IATA code V7) has also been adding new domestic connections in France recently. Lyon–Nantes and Montpellier–Caen will both operate 2-weekly on Mondays and Fridays during the summer season using A319s. However, both routes were launched on Thursday 13 May, which is a public holiday in France (Ascension Day). Originally, both routes had been scheduled to start in early April. The Lyon-Nantes route is already served by Air France (up to 4-daily flights) and easyJet (up to 2-daily flights). According to Cirium Data and Analytics schedule information, this brings to 45 the number of French domestic routes being offered by Volotea at the end of May.
Vueling (IATA code VY) joined easyJet in connecting London LGW with Valencia when it began 2-weekly service between the two airports on 3 May. easyJet has been operating the route with up to 3-daily flights since March 2005. However, due to the current travel restrictions from the UK it is not currently flying the route, though service is set to resume on 28 May according to the airline's on-line booking tool. Service will return to at least daily by the end of June. Vueling also plans to increase frequency to daily during the summer period. British Airways also connected these two airports until March 2019 when it moved service to London LHR. In the pre-pandemic summer of 2019 other services between London and Valencia included easyJet from Luton (3-weekly) and Ryanair from Stansted (10-weekly).
Wizz Air (IATA code W6) has again been busy launching an interesting selection of new routes across Europe during the last four weeks. In chronological order they were; Larnaca to Tel Aviv (3-weekly from 20 April competing with three other carriers), Bacau to Turin (weekly from 24 April, increasing to 3-weekly by July), Kiev IEV to Rome FCO (3-weekly from 28 April, previously served by Alitalia and Ernest Airlines), Milan MXP to Olbia (2-weekly from 29 April, competing with easyJet), Chisinau to Eindhoven (weekly from 30 April, increasing to 2-weekly from mid-June), Warsaw WAW to Palma de Mallorca (weekly from 30 April) and Larnaca to Kharkiv (weekly from 2 May, increasing to 2-weekly in mid-June and competing with SkyUp Airlines). Finally, on 14 May, Wizz Airbegan two new routes from its Albanian base in Tirana to Malmö in Sweden (2-weekly initially, then 3-weekly in June) and Rome CIA (2-weekly initially, increasing to 5-weekly by mid-summer). Another four new routes are set to launch from Tirana in the next few weeks to Ancona, Genoa, Pescara and Stockholm NYO.