Latest Route News + April Part 1
Routes launched between Saturday 13 March 2021 and Friday 16 April 2021
During non-pandemic times, the start of the summer season (last Sunday in March) would often see the launch of between 300 and 400 new air services involving European airports in the first couple of weeks. This year, The ANKER Report has identified around 90. The following new services do appear to have launched during the last five weeks, but with the dynamic nature of government lockdowns and travel restrictions there is no guarantee that these routes are still operating at the time of publication, and, if they are, the frequency may have been reduced. The competition information is provided by Cirium Data and Analytics and relies on airlines providing timely and accurate schedule data, which, at present, is, regrettably, not always the case.
Aeroflot (IATA code SU) brought over 350 tourists from Moscow SVO to Mahe in the Seychelles on the airline's inaugural flight on 2 April. The route will be served 2- weekly (Fridays and Sundays) using 777-300ERs. The Russian flag-carrier has also been expanding its route network from St. Petersburg. At the end of March, it launched three new routes; weekly flights to Bishkek and Osh in Kyrgyzstan, and 4-weekly service to Makhachkala on the Caspian Sea. Avia Traffic Company and Ural Airlines already serve the two international routes, while Aeroflot will be competing with its own in- house LCC Pobeda, as well as Yakutia Airlines, on the 2,210-kilometre domestic sector. This summer, Aeroflot is planning to operate 42 routes from Russia's second biggest city, of which 24 are domestic routes which account for most of the flights. The carrier has included weekly flights to several destinations in western Europe (including Berlin, Paris and Rome), plus a 2-daily service to Antalya. Aeroflot is currently responsible for around 40% of scheduled capacity at St. Petersburg, with Pobeda accounting for a further 20%. Smartavia (IATA code 5N) is next with just over 10%.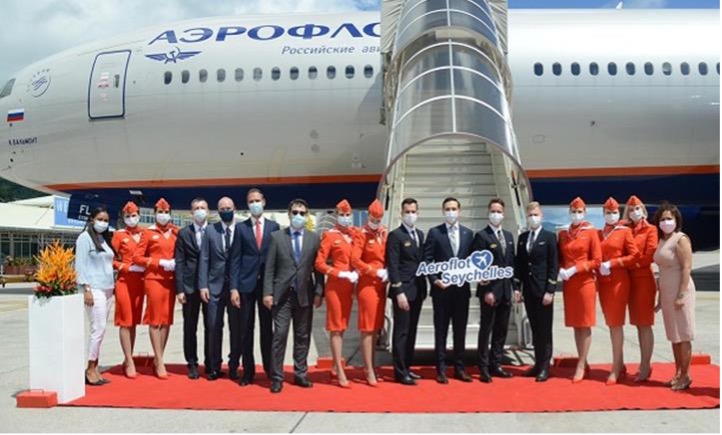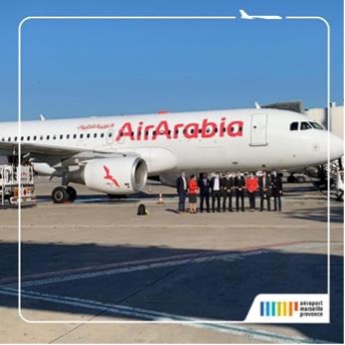 Air Arabia Maroc (IATA code 3O) used the start of the summer season to add a number of new routes to France and Spain. However, while Flightradar24.com confirmed that nearly all of the inaugural flights took place, subsequent services were cancelled due to the introduction of new travel restrictions. The new routes connect Fez with Malaga and Marseille; Marrakech with Barcelona; Oujda with Marseille, Paris CDG and Toulouse; and Tangier with Bilbao and Valencia. All routes are scheduled to operate either 2-weekly or 3- weekly using the LCC's A320s. Competition on the two Fez routes comes from Ryanair.
Albawings (IATA code 2B) began weekly (Sunday) service between Tirana and Milan BGY on 14 March. The 940- kilometre route will be flown by the airline's 737-400s. Blue Panorama and Wizz Air also connect the two airports. The airline's website currently shows no flights from 9 April to 30 April, with service resuming 4-weekly from 4 May. According to the airline's on-line booking tool, Albawings plans this summer to operate between Tirana and 11 destinations in Italy, as well as London STN. Last summer it also served three destinations in Germany; Düsseldorf, Frankfurt and Hamburg. The airline's fleet currently comprises three 737-400s with an average age of 30 years.
American Airlines (IATA code AA) has added a new transatlantic connection, despite the severe on-going travel restrictions between the US and Europe. On 30 March, the oneworld carrier began 3-weekly service on the 7,730-kilometre route between Seattle-Tacoma and London LHR using 777-200ERs. Three other carriers are also currently serving this route; British Airways (4- weekly), Delta Air Lines (3-weekly, see below) and Virgin Atlantic (daily). This new route was influenced by Alaska Airlines, which has a major presence in Seattle-Tacoma, joining the oneworld alliance on 31 March. American Airlines plans to serve Heathrow non-stop from 11 US airports this summer, compared with nine in S19. Apart from Seattle-Tacoma the carrier also plans to add service from Boston in June, which is a response to the likely entry of JetBlue into that market. This, despite the fact, that last July the two carriers entered a strategic partnership.
Austrian Airlines (IATA code OS) resumed service on 25 March on the 690-kilometre route between Vienna and Hannover in northern Germany. Last served by the carrier in 2009, the new route launched with 2-weekly service, operated mainly by E195s, though the inaugural service utilised a Q400. Frequency is set to increase to 6- weekly in the coming weeks. This April, Austrian Airlines will link its Vienna hub with eight German airports, the same as in April 2019. Having added Hannover and Nuremberg (in January 2020) it has dropped Cologne Bonn and Leipzig services. Vienna and Hannover were previously connected by airberlin (from May 2004 to February 2017) and germanwings/Eurowings (from April 2010 to September 2020).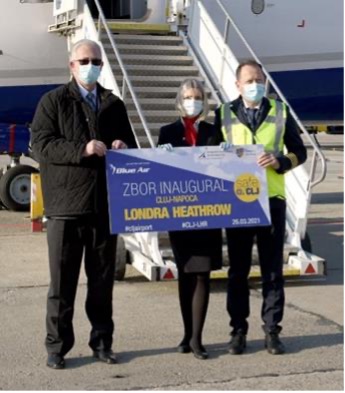 Blue Air (IATA code 0B) has added new routes from three of its bases during the last five weeks. At the beginning of April, the carrier began service from its main base in Bucharest to Frankfurt and Vienna. The airline is planning for both routes to operate daily during the summer, though frequency is currently less than that. TAROM already serves both routes while Lufthansa also competes on the Frankfurt route and Austrian Airlines on the Vienna route. From its base at Cluj- Napoca, Blue Air has added new routes to Barcelona (2- weekly) and London LHR (4-weekly). Wizz Air competes on the Spanish route, while there is no direct competition on the Heathrow route. However, Ryanair offers 4-weekly flights from Cluj-Napoca to Stansted, while Wizz Air offers 4-weekly flights to Luton. This is believed to be the first time that Heathrow has ever been connected to the Romanian city with direct flights. Finally, Blue Air also began a new Italian domestic route between Turin and Palermo on 31 March. The 900- kilometre sector is already flown by Ryanair (5-weekly) and Volotea (2-weekly). Blue Air will operate the route 4 -weekly using its 737-800s.
British Airways (IATA code BA) on 30 March shifted its Bermuda service from Gatwick to Heathrow. The 5,530- kilometre route will initially be served weekly (Tuesdays) though Cirium Analytics and Data suggests that the carrier plans to increase frequency to 5-weekly by the peak summer season. In February, British Airways was serving 50 destinations from its Heathrow hub, down from 132 in W19. The number of weekly departures was down 90%, from almost 2,200 in February 2020 to just over 200 in February 2021.
Delta Air Lines (IATA code DL) joined rival American Airlines in launching a new transatlantic service between Seattle-Tacoma and London LHR. The SkyTeam carrier chose 1 April as its launch date and will also operate the 7,730-kilometre route 3-weekly using its 767-400s. It will join American Airlines (3-weekly, see above), British Airways (4-weekly) and partner Virgin Atlantic (daily) on the route, which is not yet available to passengers wanting to travel for leisure. By August, Delta Air Lines hopes to be offering six non-stop routes from the US to the UK, down from seven in August 2019. Despite having added Seattle-Tacoma, it has dropped service from Portland and Salt Lake City, at least for now.
easyJet (IATA code U2) enhanced its offering from bases in France and Italy with the introduction of three new routes. On 3 April, the carrier began a weekly service from Milan MXP to Sharm El-Sheikh in Egypt. The 2,990- kilometre route was previously served by the airline in W15. It currently faces no direct competition, though in S19 both Air Italy and Neos served this market. Frequency is set to double to 2-weekly from July. In France, easyJet has added a new domestic route connecting its base in Nantes with Figari in Corsica. Weekly (Sunday) flights on the 1,060-kilometre route began on 3 April, with frequency set to increase to 3- weekly in July and August with the addition of Wednesday and Thursday flights. Finally, from Bordeaux, easyJet has added a weekly service to Ajaccio in Corsica from 11 April, which increases to 2-weekly from 20 May, and then to 4-weekly in July and August. These two airports are also connected by flights from Air France and Volotea.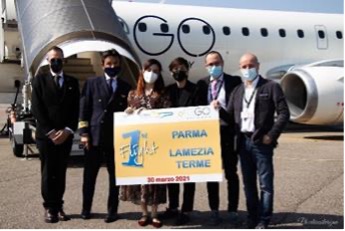 EGO Airways (IATA code E3) is a new Italian carrier which currently operates a single E190 (I-EGOA). On 30 March it began scheduled services and during the first week of operation it began the following routes; Catania –Florence, Catania–Forli, Catania–Parma, Parma–Bari and Parma–Lamezia Terme. According to Cirium Data and Analytics the only route already served is the one between Catania and Florence, which is already served by Air Dolomiti (2-weekly) and Vueling (weekly). EGO Airways plans to add further aircraft and routes in June. Its website currently allows bookings from 11 airports; nine in Italy, as well as Ibiza in Spain and Mykonos in Greece.