Luxembourg traffic almost trebled between 2009 and 2019 as easyJet and Ryanair make their mark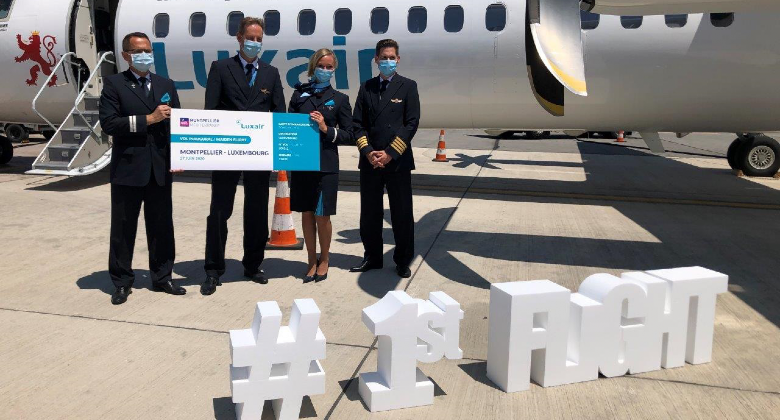 Luxembourg is a small country in the heart of Europe which shares a border with Belgium, France and Germany. Covering an area of 2,600 km2 it is smaller than Hong Kong and every US state, and can easily be driven around in less than a day. However, with a population of over 600,000 and a GDP per capita that ranks among the highest in the world, the country's airport has seen traffic almost treble from 1.55 million in 2009 to over 4.4 million in 2019, with traffic growing by more than 5% for 10 straight years.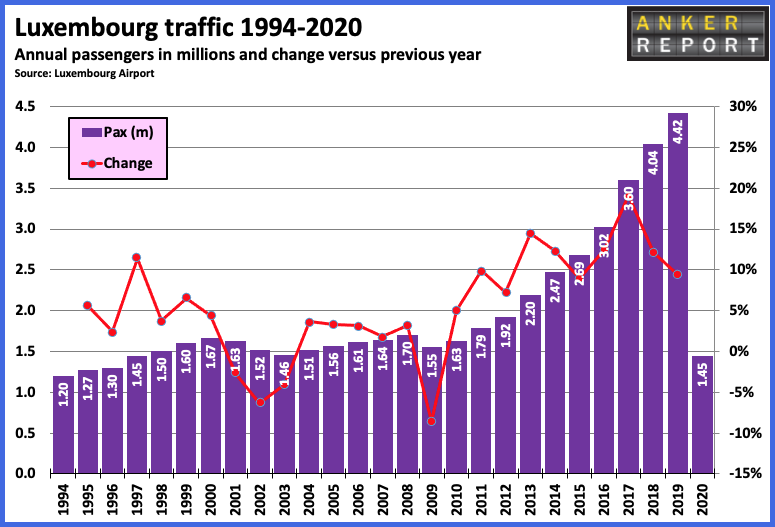 Luxair still #1 but share of market is shrinking
In 2009 Luxair accounted for 73% of the airport's flights and 70% of seats. Back then the only other carriers with at least 1% of flights were Air France, British Airways, KLM, SAS, SWISS, TAP Portugal and VLM. There were no LCCs operating at the airport. Fast forward to 2019 and Luxair is still the leading carrier, but now only accounts for 55% of flights and 47% of seats. According to Cirium Data and Analytics figures, while the number of flights had increased just 53% in 10 years, seat capacity had grown by 156%, as the average aircraft size surged from 68 seats per flight in 2009 to 114 seats in 2019.
LCCs finally arrive in 2012
Of the top 14 airlines at Luxembourg in 2019, nine were not serving the airport in 2009. In terms of seat capacity the biggest airlines after Luxair in 2019 were Ryanair (14.3%), Lufthansa (9.1%) and easyJet (7.4%). easyJet arrived in 2012 with service from London LGW. By 2019 it was also serving Luxembourg from Berlin SXF, Bordeaux, Lisbon, Milan MXP and Porto. This summer a 2-weekly service to Faro was added, while Berlin appears to have been dropped and Gatwick service is set to resume next summer.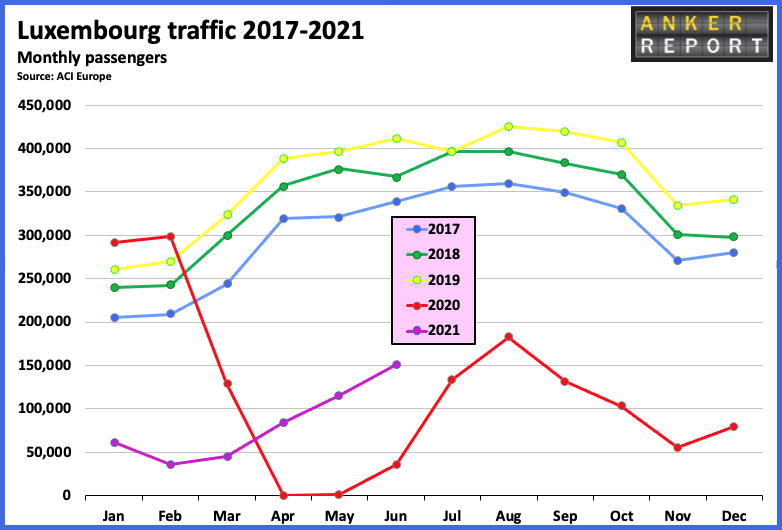 Ryanair now offering flights to 12 destinations
Ryanair's first services to Luxembourg began in October 2016 from London STN followed by Porto in November. Barcelona, Lisbon, Madrid and Milan BGY services followed in 2017. In 2018 there were more new Ryanair routes from its bases in Dublin, Palma de Mallorca and Seville, while 2019 saw Luxembourg celebrating the arrival of more new services from Berlin TXL, Budapest, Edinburgh, Malta and Toulouse. So far in 2021 only three routes have not resumed; Edinburgh, Seville and Toulouse. The good news is that a new Ryanair route to Marseille, operating 3-weekly, is currently set to launch at the end of October.
More flag carriers welcomed
Other new carriers to have started service since 2009 include:
Aegean Airlines (2016)
Alitalia (2017)
Flybe (2016)
LOT Polish Airlines (2016)
Turkish Airlines (2013)
Volotea (2017)
Flybe collapsed in 2020 while Alitalia has not operated to Luxembourg in 2021. SAS has also not served Luxembourg this year.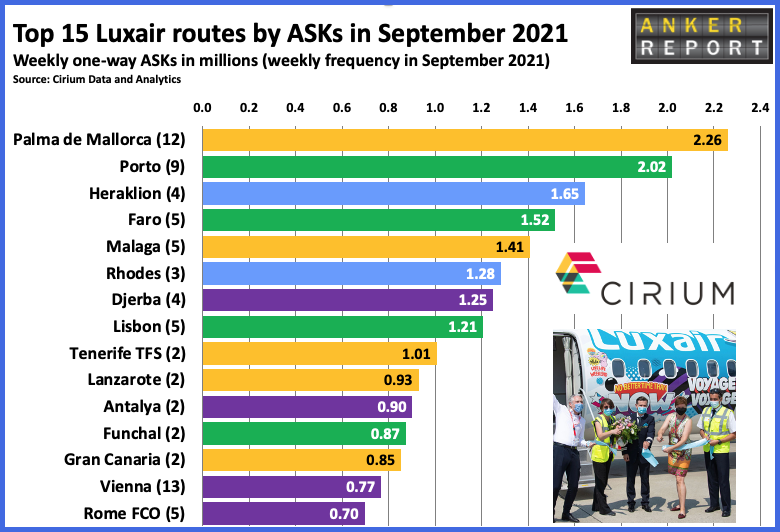 Luxair experimenting with lots of new routes
According to planespotters.net, Luxair currently has a fleet of 19 aircraft; four 186-seat 737-800s, four 737-700s and 11 76-seat Q400s. Since the pandemic hit, the airline has shown a considerable enthusiasm for trying new destinations. In 2020 it launched service to Bologna, Bordeaux, Brindisi, Bucharest, Budapest, Florence, Innsbruck, Krakow, Marseille, Montpellier, Stockholm ARN and Valencia. Most of these have continued into 2021.
This year has seen Luxair continue to launch new non-stop services to over a dozen destinations including Belgrade, Cape Verde, Heringsdorf, La Rochelle, Monastir, Mykonos, Oslo, Podgorica, Thessaloniki, Toulon and Tunis. Many of these are seasonal routes. Across all of 2021, the airline's biggest routes by seat capacity look set to be Palma de Mallorca and Porto. However, in terms of flights Luxair's busiest routes are Vienna, Milan MXP and Paris CDG based on current data.