New Route of the Day (12 August 2021): Lufthansa between Frankfurt and Yerevan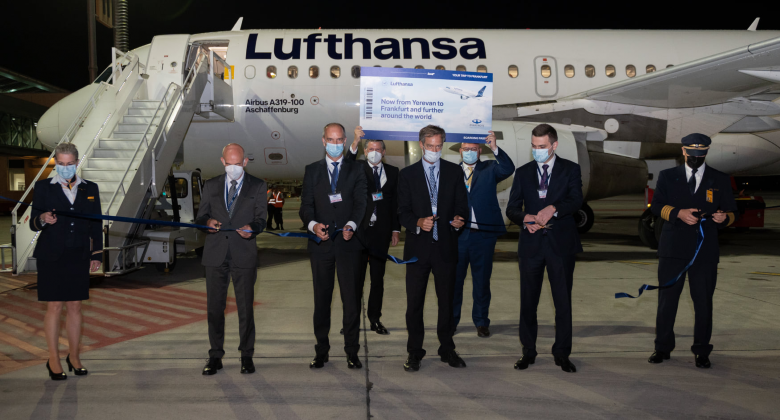 Almost one week after its low-cost subsidiary Eurowings launched weekly service from Cologne Bonn to Yerevan, Lufthansa began its own service to the Armenian capital with a 3-weekly service from Frankfurt, with the first departure being on Thursday 12 August. The inaugural service on the 2,990-kilometre route (flight number LH 1560, operated by an Airbus A319 registration D-AILK) departed Frankfurt at 21:26 local time and arrived in Yerevan almost four hours later at 03:05 local time, the following day. The return flight (LH 1561) departed the Armenian capital at 04:38 local time on Friday 13 August and arrived back in Germany four hours and one minute later at 06:39 local time. The airline's other departures from Frankfurt are scheduled for Tuesdays and Sundays. Lufthansa has previously served Yerevan from its Munich base between June 2005 and February 2009, with between two and four weekly flights.
Connected to various European and Middle Eastern hubs
Other airlines currently serving Yerevan from airports in western Europe include Aegean Airlines, Air France, Austrian Airlines, Brussels Airlines and Wizz Air (from Vienna). According to Cirium Data and Analytics schedule information the biggest airlines serving Yerevan this September are Aeroflot, Aircompany Armenia, Ural Airlines, Nordwind Airlines and Red Wing Airlines. Yerevan is also linked to the Middle East hubs of Abu Dhabi, Doha and Dubai by Air Arabia Abu Dhabi, Qatar Airways and flydubai respectively.
A notable absentee from the airport is Turkish Airlines, or any flights to Turkey. This is due to the on-going hostile relations between Armenia and Turkey which show little sign of easing.
In 2019, Yerevan's airport welcomed 3.049 million passengers according to government statistics. Due to the pandemic, this fell to 790,827 passengers in 2020.