New Route of the Day (13 June 2022): Eurowings Discover between Frankfurt and Anchorage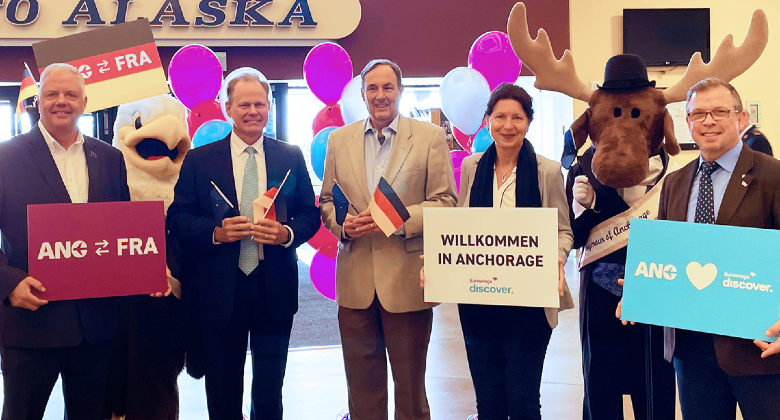 Eurowings Discover added Anchorage in Alaska to its network portfolio, when it began 3-weekly service from Frankfurt on 13 June. Flights on the 7,530-kilometre route will depart the German city on Mondays, Thursdays and Saturdays until 10 September using the airline's A330-300s and A330-200s. Competition on the route comes from Condor, which also operates a 3-weekly service, using 767-300s until 24 September.
Anchorage becomes the airline's fifth US destination from Frankfurt this summer, joining Fort Myers (3-weekly), Las Vegas (4-weekly), Salt Lake City (3-weekly) and Tampa (6-weekly). In addition, parent company Lufthansa serves a further 18 US destinations non-stop from its main hub this summer.
The only other international service from Anchorage this summer is provided by Air Canada, operating a daily service to Vancouver. Prior to the pandemic Icelandair was serving Anchorage from Reykjavik KEF with 2-weekly flights using its 757-200s.
What they said
Craig Campbell, Airport Director, Ted Stevens Anchorage International Airport, said: "It is exciting to see Eurowings Discover initiating non-stop service between Germany and Anchorage this summer. Alaska offers a fantastic tourist destination, and we are pleased Eurowings Discover will be providing opportunities for tourists, business travellers, and Alaskans with a direct connection between Alaska and Europe. This new passenger service provides expanded opportunities for economic growth in Alaska and brings us all closer together by providing greater access to the world."
Wolfgang Raebiger, CEO at Eurowings Discover, added: "With Anchorage, Alaska, we add a dream destination in the United States to our vacation destination portfolio. The region's diverse wildlife and stunning landscape offer a unique combination of nature exploration and recreation for German and European travellers. It is my special pleasure to captain our inaugural flight from Frankfurt to Anchorage, representing not only the first flight for Eurowings Discover to the destination, but for the entire Lufthansa Group. Anchorage is a great addition to our Eurowings Discover flight schedule and to the entire Lufthansa Group network."