New Route of the Day (15 June 2022): Etihad Airways between Abu Dhabi and Nice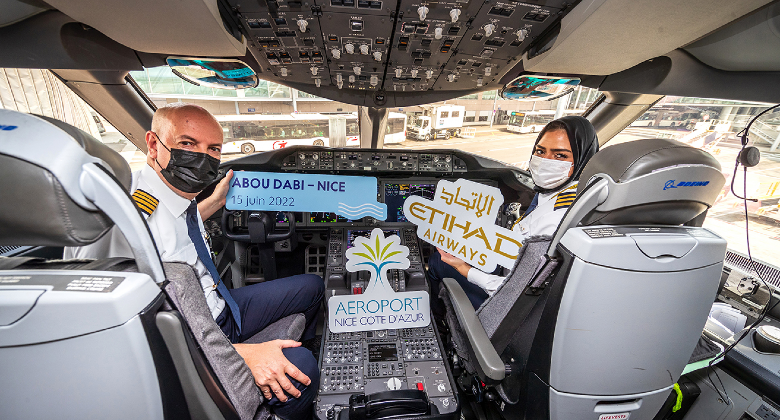 Etihad Airways (IATA code EY) has added Nice in the south of France to its route network. On 15 June the Abu Dhabi based carrier began 2-weekly service on the route, using its 787s. The outbound flight operates via Rome FCO, but the return journey (from Nice to Abu Dhabi) is non-stop. The same day also saw Etihad Airways begin 2-weekly service to Heraklion using its A320s. On this route, the return journey operates via Athens.
Etihad has not restored all European routes just yet
Last summer, Etihad Airways added Malaga, Mykonos, Santorini and Vienna to its European route network. Analysis of Cirium schedule data for August 2022 and August 2019, reveals which European destinations are no longer being served by the carrier. These are Belgrade (now served by Wizz Air Abu Dhabi), Düsseldorf, Minsk and Moscow DME (moved to Moscow SVO).
Nice connections to Middle East
In terms of destinations in the Middle East, Nice is still connected to Dubai with a daily Emirates service, which is flown by the airline's 777-300ERs. However, Qatar Airway has not yet resumed its non-stop Doha service, while Kuwait Airways has not resumed its 2-weekly service to Kuwait City. On a positive note, Gulf Air recently began 2-weekly service to Bahrain (via Milan MXP) and easyJet and El Al both serve Tel Aviv in Israel. In addition, Middle East Airlines offers 3-weekly service to Beirut.
What they said
Martin Drew, Senior VP, Global Sales for Etihad Airways, said: "Summer adventurers have plenty to discover with Etihad Airways this year. From the stunning beaches of the Costa del Sol to the picture-perfect French Riviera, Etihad's summer network offers even more opportunities to get away and experience the wonder of travel in 2022."