New Route of the Day (16 September 2021): Blue Air between London LHR and Nice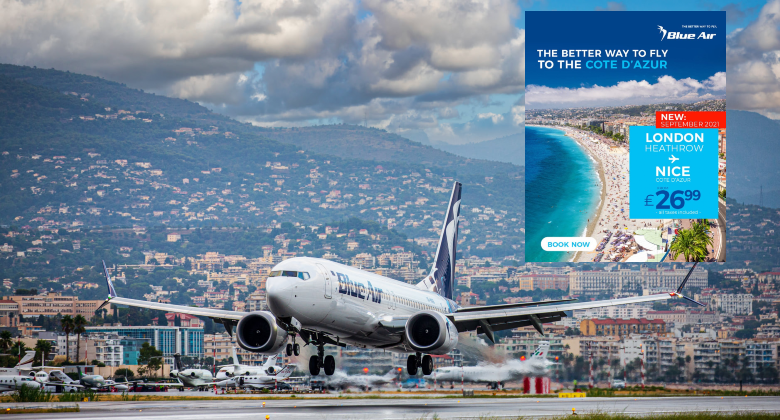 Blue Air began a new 4-weekly service between London LHR and Nice on Thursday 16 September, although frequency is only 2-weekly until the beginning of October. The inaugural service on the 1,040-kilometre route (flight number 0B 4131 operated by one of the airline's recently delivered Boeing 737 MAX 8s, registration YR-MXB) departed Nice at 14:31 and touched down in London one hour and 40 minutes later at 15:11 local time. The return flight (0B 4132) departed Heathrow at 16:20 and arrived back in the south of France one hour and 50 minutes later at 19:10 local time in somewhat rainy conditions. Since neither airport is a base for Blue Air, the aircraft serving the route operates from Bucharest, flying OTP-NCE-LHR-NCE-OTP. Blue Air began serving London LHR from Bucharest last December and has since added service from the UK's busiest airport to Cluj-Napoca (in March 2021) and Iasi (in May 2021).
Nice was 27th most popular international destination from the UK in 2019
According to UK CAA data, Nice ranked 27th in 2019 among international destinations from the UK with 1.92 million passengers. A total of 12 UK airports had at least 20,000 passengers that year on flights to the southern French airport, with Heathrow (511,000 passengers) ranking second behind Gatwick (621,000). In terms of seat capacity, easyJet led the way accounting for 48% of seats ahead of British Airways (43%) with Ryanair and Jet2.com each with 4.5% of the market.
Blue Air will face considerable competition on its new Heathrow service as British Airways is currently operating the route 5-daily, even with the UK's travel restrictions in place. Nice is also served from other London airports. easyJet is currently operating 17-weekly from Gatwick and 3-weekly from Luton, while BA CityFlyer is offering 9-weekly service from London City.
For Blue Air, this is their second non-stop service to Nice. The other connection is from Bucharest, which has been operating since July 2009. In the past, Blue Air has also served Nice direct from Cluj-Napoca (S17 to S18).