New Route of the Day (17 March 2022): TUS Airways between Düsseldorf and Tel Aviv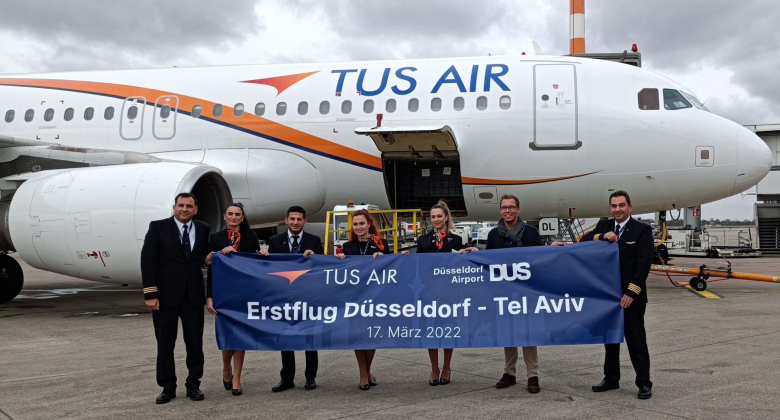 TUS Airways (IATA code U8) has launched service between Düsseldorf and Tel Aviv in Israel. The 2-weekly service on the 3,140-kilometre route will be operated on Mondays and Thursdays using the airline's fleet of A320s, of which it currently has three. The third aircraft was welcomed on 11 February, with a fourth aircraft due soon. The inaugural flight on Thursday 17th March was operated by 5B-DDL. According to flightradar24.com the aircraft arrived in Düsseldorf at 13:46 local time having left Tel Aviv 51 minutes late at 10:01 local time. The flight time was four hours and 45 minutes. After celebrating the arrival of the first flight, the return flight left the German airport at 15:12 and arrived in Israel three hours and 49 minutes later at 20:01 local time.
During the last decade the two airports have previously been connected by airberlin (June 2010 to November 2015), Lufthansa (November 2012 to January 2014), Germania (November 2015 to February 2019) and Corendon (May 2019 to August 2019).
TUS Airways has its headquarters in Larnaca, Cyprus and began operations in 2016 with Fokker 100s. Last September it had the honour of flying the President of Cyprus on his official visit to Bahrain. During the last week the airline has operated scheduled flights from Tel Aviv to both Paphos and Larnaca, as well as between Paphos and Athens. Other new routes the airline plans to start soon, include:
Hamburg – Tel Aviv from 27 March
Toulouse – Tel Aviv from 12 April
Toulouse – Larnaca from 21 April
Paris CDG – Larnaca from 22 April
Lyon – Larnaca from 27 April
Brussels – Larnaca from 2 May
Strasbourg – Larnaca from 14 May
Kos – Tel Aviv from 4 June
Corfu – Tel Aviv from 6 June
Rhodes – Tel Aviv from 7 June
Preveza – Tel Aviv from 8 June
Heraklion – Tel Aviv from 10 June
Volos – Tel Aviv from 13 June