New Route of the Day (18 June 2021): Jazeera Airways between Kuwait City and London Heathrow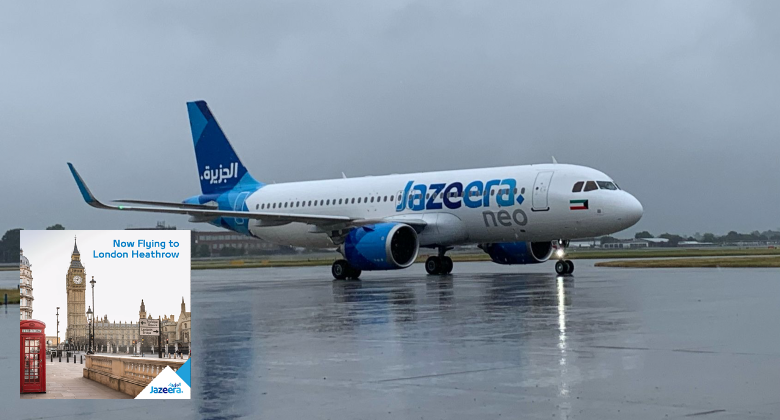 Kuwaiti carrier Jazeera Airways made its first ever appearance at London LHR on Friday 18 June. The route from Kuwait City will operate just weekly initially, though frequency could increase as pandemic travel restrictions ease. The airline used one of its A320neos on the new route. According to flightradar24.com the inaugural service (flight J9 7 operated by 9K-BCF) departed Kuwait at 10:28 and arrived at a very wet Heathrow at 14:27, after a flight of just under six hours. Jazeera Airways had previously served Gatwick in London between October 2019 and August 2020 according to Cirium Data and Analytics schedule information.
Will compete with British Airways and Kuwait Airways
Kuwait Airways also currently operates a weekly (Thursday) service between Kuwait and Heathrow utilising a much larger 777-300ER. It served the route with up to two daily flights pre-pandemic and hopes to increase frequency back to 5-weekly before the end of the summer season. Prior to the pandemic British Airways connected the two airports with daily service. It resumed service with 3-weekly flights last September and maintained service at reduced frequency until January 2021. It now plans to resume service in early July, but that could still change.
Jazeera Airways serves four airports in Turkey
Privately-owned Jazeera Airways began flying in October 2005. It operates a fleet of 14 A320-series aircraft and carried 2.4 million passengers at a load factor of 77.5% in 2019, according to its investor relations page. In 2020 that fell to 700,000 passengers and a load factor of 64.3%. Apart from London, the airline's other European services are currently to Bodrum, Istanbul IST, Istanbul SAW and Trabzon in Turkey, and Sarajevo in Bosnia & Herzegovina.