New Route of the Day (19 July 2021): Eastern Airways between Southampton and Dublin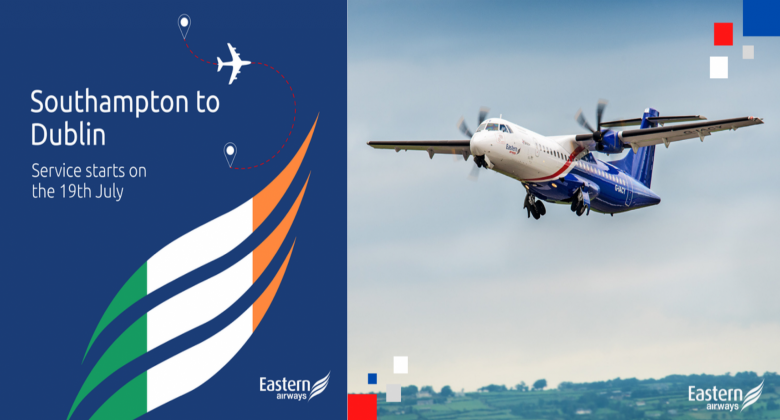 Eastern Airways on 19 July launched service between Southampton on the UK south coast and Dublin in Ireland, operating 4-weekly (on Mondays, Thursdays, Fridays and Sundays). The 435-kilometre route faces no direct competition at present. The inaugural service (flight number T3 864 operated by an ATR 72-600 registration G-IACY) departed Southampton at 16:00 local time and touched down in the Irish capital 81 minutes later at 17:21 local time.
In the early 2000s this route was operated by British Airways using 50-seat ERJ-145s with up to 3-daily flights. Then, in April 2003, Flybe took over the route and operated it typically 2-daily with BAe 146s. Q400s then replaced the 146s, with the airline's Embraer E195s also being used on the route from time to time. Flybe continued to operate the route, sometimes with up to 4-daily flights until its collapse in early 2020. Eastern Airways is set to face competition on the route from the end of August when Blue Islands begins daily service, also using ATR 72s.
French routes delayed
With this new Dublin service Eastern Airways will be serving five destinations from Southampton this summer. The other destinations served are Belfast BHD, Gibraltar, Leeds Bradford and Manchester. International flights to Nantes and Rennes, which were originally set to launch in July, have now seen their start dates pushed back to early September according to the airline's on-line booking tool.