New Route of the Day (19 June 2021): HiSky between Satu Mare and Frankfurt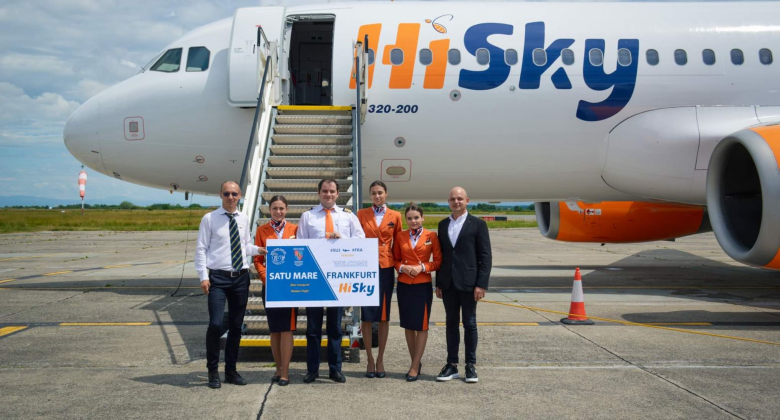 On Saturday 19 June, HiSky began weekly service between Satu Mare in north-west Romania and Frankfurt. Service on the 1,770-kilometre route will increase to 2-weekly with an additional Monday service from the end of July, according to the airline's on-line booking tool. The inaugural flight (H4 401 operated by the airline's A320 registration YR-BEE), departed Satu Mare at 14:47, arriving at the German hub at 15:23 according to flightradar24.com. The return flight left Frankfurt at 16:51, arriving back in Romania at 19:19.
Satu Mare also has direct flights to Bucharest, London, Paris and Rome
Satu Mare is quite close to the Romanian borders with both Hungary and Ukraine. In 2019, the airport handled over 84,000 passengers. However, this fell to 25,000 last year. HiSky also operates from Satu Mare to Paris BVA, a route it launched on 28 April, while TAROM operates domestic flights to the capital, Bucharest. Wizz Air launched service from London LTN on 31 October 2016 and plans to begin 2-weekly service to Rome FCO from 17 July.
HiSky operating from Chisinau in Moldova and three airports in Romania
HiSky operates a fleet of three A320-series aircraft (ER-SKY, YR-SKY and YR-BEE) and offers scheduled services primarily from Chisinau, as well as routes from Cluj-Napoca (Dublin and Lisbon), Iasi (Dublin) and Satu Mare in Romania. The airline's website shows the following routes as currently being on sale from Chisinau; Dublin, Frankfurt, Istanbul IST, Lisbon, Moscow DME, Paris BVA and St. Petersburg. It is also currently operating a number of charter services.