New Route of the Day (23 July 2021): flynas between Riyadh and Salzburg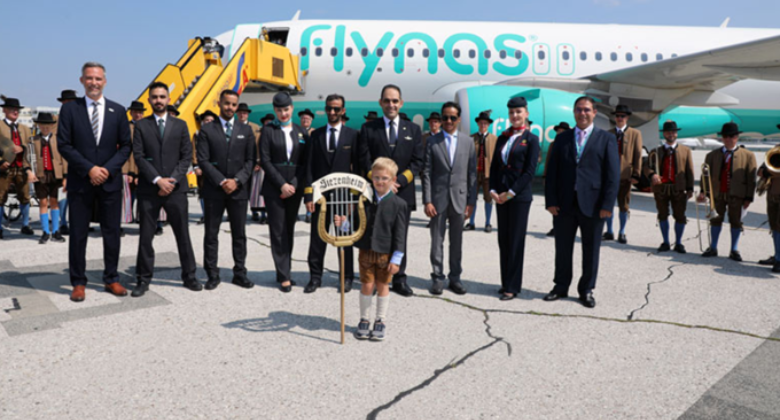 Friday 23 July was the launch date for Saudi Arabian carrier flynas's new 3-weekly service from Riyadh to Salzburg in Austria. The 3,890-kilometre route will operate on Mondays, Wednesdays and Fridays and faces no direct competition. The inaugural service (flight number XY 351 operated by an Airbus A320neo, registration HZ-NS29) departed Riyadh at 06:27 local time and touched down in the Austrian city five hours and 22 minutes later at 10:49 local time. The return flight, XY 352, departed Salzburg at 12:07 local time and arrived back in Saudi Arabia at 18:29, with the flight again taking five hours and 22 minutes.
Salzburg also recently welcomed another new route to the Middle East, when it celebrated the start of 4-weekly service to Dubai operated by flydubai. These are the only two scheduled routes currently being offered from Salzburg to destinations outside of Europe.
flynas operates nine routes to Europe from Saudi Arabia
Saudi carrier flynas, formerly known as Nas Air, and formed in 2007, currently operates a fleet of almost 40 A320s, a mix of classics and neos. According to Cirium Data and Analytics schedule information, flynas is operating nine routes between Saudi Arabia and Europe this August. From Riyadh, apart from Salzburg, it is also operating non-stop to Hatay in Turkey, Kiev and Lviv in Ukraine, Sarajevo in Bosnia & Herzegovina, and Tirana in Albania. Kiev and Sarajevo are also served non-stop from Jeddah, while Lviv is served 2-weekly from Gassim.