New Route of the Day (26 May 2022): British Airways between London LHR and Perugia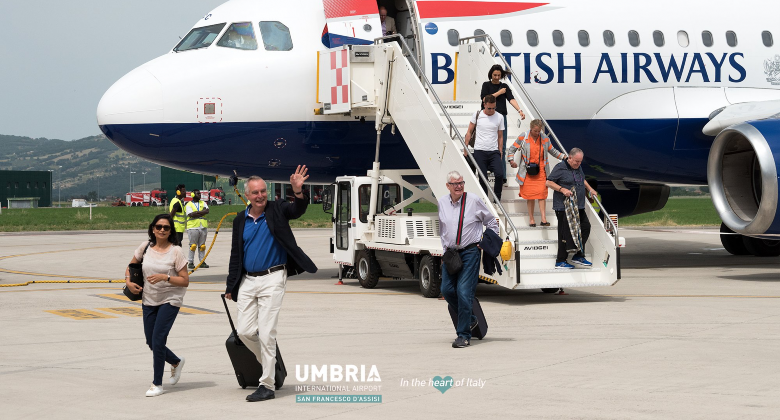 British Airways has added the central Italian city of Perugia to its London LHR network, with the introduction of service on Thursday 26 May. Initially there will be 3-weekly flights (Thursdays, Saturdays and Sundays) increasing to 5-weekly in August (with the addition of Monday and Wednesday service). The airline's 144-seat A319s will be used on the seasonal route, which is scheduled to end on 2 October. No other carrier connects these two airports. However, Ryanair serves Perugia from London STN (launched in December 2006) with a daily service during the summer and also offers 4-weekly service in winter.
Airport preparing for record year of traffic
Known locally as Umbria International Airport San Francesco D'Assisi, the facility was handling between 200,000 and 250,000 passengers annually prior to the pandemic. It reported handling 37,356 passengers in May 2022, 74% more than in 2019, and 31% more than in 2015 (the previous busiest May at the airport). Since 2019 the airport has welcomed new Ryanair services to Barcelona, Brindisi, Bucharest, Cagliari, Palermo and Vienna (starting in July). Albastar has started service to Lamezia Terme (starting in mid-June) and Trapani, while Transavia has initiated flights from Rotterdam. Wizz Air will also be adding Perugia to its network for the first time when it introduces 2-weekly service from Tirana on 6 July.
BA now serves 12 Italian airports from Heathrow
For British Airways, Perugia becomes the airline's 12th Italian destination from Heathrow. This August the UK flag-carrier is set to offer 180 weekly departures to Italian airports from its home hub, compared with 156 in August 2019. However, at Gatwick the number of weekly departures has fallen from 101 to 47 during the same period.
With Heathrow once again reclaiming its crown as Europe's busiest airport in April, it is worth noting that the number of European destinations served non-stop by all airlines has increased from 94 in August 2019 to 105 in August 2022. Apart from Perugia, other new European destinations now served include Bergen, Dubrovnik, Naples, Nuremberg, Porto, Pristina, Thessaloniki and Tirana.