New Route of the Day (3 August 2021): Ryanair between Memmingen and Rhodes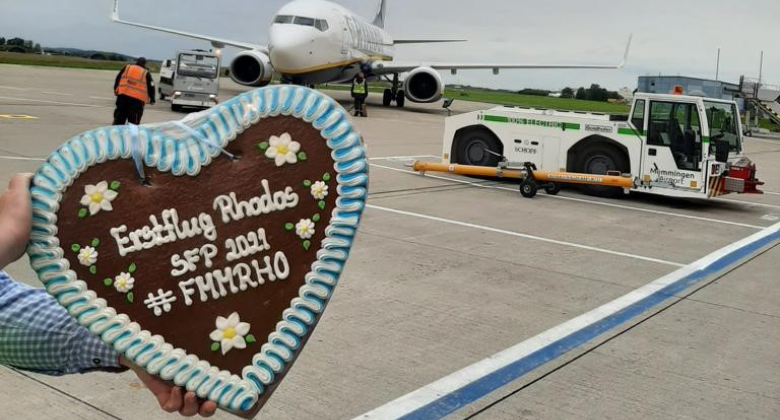 Flights to Greek holiday destinations have been proving popular this summer. Ryanair added a new 2-weekly service on Tuesday 3 August between Memmingen in southern Germany and Rhodes, where it has opened a summer-only base. The inaugural service on the 1,950-kilometre route (flight number FR 7501, operated by a Boeing 737-800 registration EI-EVM) departed Rhodes punctually at 17:25 local time and arrived in Memmingen just under three hours later at 19:21 local time. The return flight (FR 7502) departed the German airport at 20:21 and arrived back in Greece at 23:48 local time according to flightradar24.com.
Ryanair now serves five airports in Greece from Memmingen
Memmingen, which lies around 110 kilometres west of Munich, has been a Ryanair base since September 2017, although its first flights to the airport began back in the summer of 2009. This summer, the ULCC is serving more than 20 destinations with its non-stop services. In addition to Rhodes, a new service to Corfu was launched the previous day on 2 August. This brings to five the number of destinations served in Greece, as Ryanair also flies to Athens, Chania and Thessaloniki from Memmingen.
In the second week of August, Ryanair is planning to operate 56 weekly flights from Memmingen, making it the airline's fifth busiest airport in Germany. Before the end of the year Memmingen will be celebrating the launch of at least four more new Ryanair routes; to Zagreb (3 September), Billund (1 November), Riga (also 1 November) and Lappeenranta in Finland (2 November).