New Route of the Day (5 January 2022): Amelia between Paris ORY and Brive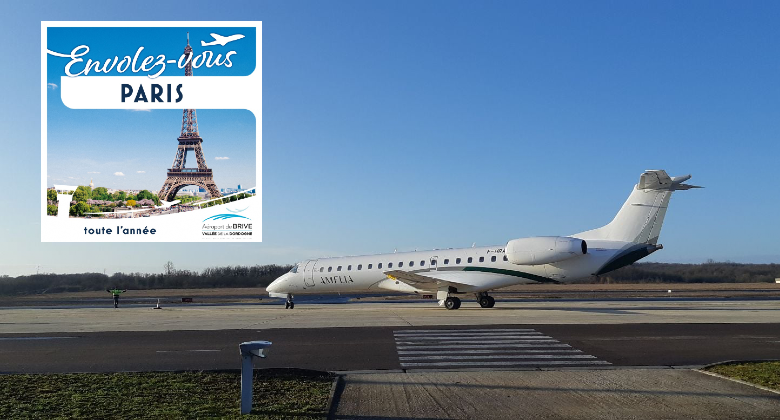 Amelia (IATA code 8R), a small French regional carrier, has begun connecting Paris ORY with Brive in the Dordogne Valley. The 400-kilometre route will be served 2-daily on weekdays with an additional flight on Sundays. The airline is operating the route, which launched on 5 January, with a single ERJ-145 (registration F-HRAM) and faces no direct competition. Up until the start of the pandemic, Air France had been operating the route using HOP!'s ERJ-145s. Amelia then took over operating the route on behalf of Air France using its ERJs. Now it operates the service under its own brand, but continues to codeshare with Air France.
Also serves Clermont-Ferrand and Rodez
Apart from Brive, Amelia is also operating flights from Orly to Clermont-Ferrand (launched in September 2020) and Rodez. The Rodez route had been operated by Air France/HOP! until January 2016, when UK regional carrier Eastern Airways took it over. For W17/18 Flybe took over the route, although it was still flown by Eastern Airways. Then Flybe ceased operations in early 2020 and Amelia took over the route just before the pandemic hit. It now operates the route 11-weekly with ERJ-145s.
Amelia is the brand name for the Regourd Aviation Group, which was formed in 1977 and is active in a number of areas of aviation. According to planespotters.net, its commercial fleet currently comprises eight ERJ-145s, three ERJ-135s, two ATR 72s and one ATR 42.
Brive also has international flights to the UK and Portugal
Brive Airport opened in 2010 and has a 2,100-metre runway. While services to Paris ORY have dominated, the airport has also welcomed a variety of other scheduled services.
Air France to London LCY (2010-2014)
Air France/HOP! to Ajaccio (2011-2019)
Jet2.com to Manchester (2011)
Air France to Amsterdam (2012-2013)
Ryanair to Maastricht (2013)
Ryanair to London STN (2014-now, summer seasonal)
CityJet to London LCY and Amsterdam (2014-2015)
ASL Airlines France to Porto (2014-2015)
Air France/HOP! to Lyon (2016-2018)
Ryanair to Porto (2019-now, summer seasonal)
Looking ahead, the airport is preparing to welcome another new international route this summer. Ryanair plans to operate a 2-weekly service from its Brussels CRL base starting on 28 March.