New Route of the Day (6 July 2021): Air France between Paris CDG and Helsinki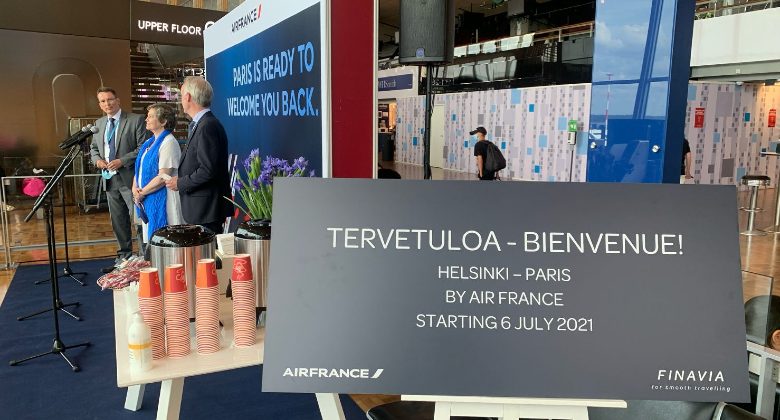 Air France returned to Helsinki after an absence of 20 years (it last served the airport in October 2001) when it began service from Paris CDG on Tuesday 6 July. Initially operating 4-weekly using an A319, frequency is set to increase to daily by the end of July. The inaugural service (flight number AF 1070 operated by an Airbus A319 registration F-GRHY) departed the French capital at 13:24 local time and touched down in the Finnish capital at 16:45 local time, after a flight of two hours and 21 minutes.
Two capitals previously connected by other carriers
Competition on the 1,900-kilometre route comes from Finnair, which currently operates 9-weekly between the same two airports. According to Cirium Data and Analytics, other carriers have also tried their luck in the Paris-Helsinki market. This includes Blue1 (operated between CDG and Helsinki between March 2006 and August 2011), easyJet (flew between CDG and Helsinki from February 2010 to June 2011), Norwegian (operated from Paris ORY to Helsinki from April 2012 to October 2019) and SAS (briefly offered 2-weekly service between CDG and Helsinki in S13).
Air France already serves Denmark, Norway and Sweden
Apart from Helsinki, Air France also serves several other airports in the Nordic states. This month it is offering non-stop service from Paris CDG to Bergen (4-weekly) and Oslo (21-weekly) in Norway, Billund (8-weekly) and Copenhagen (28-weekly) in Denmark, and Gothenburg (11-weekly) and Stockholm ARN (21-weekly) in Sweden. At present it does not serve any of the Baltic states of Estonia, Latvia and Lithuania.