New Route of the Day (7 April 2022): Flyr between Oslo and Prague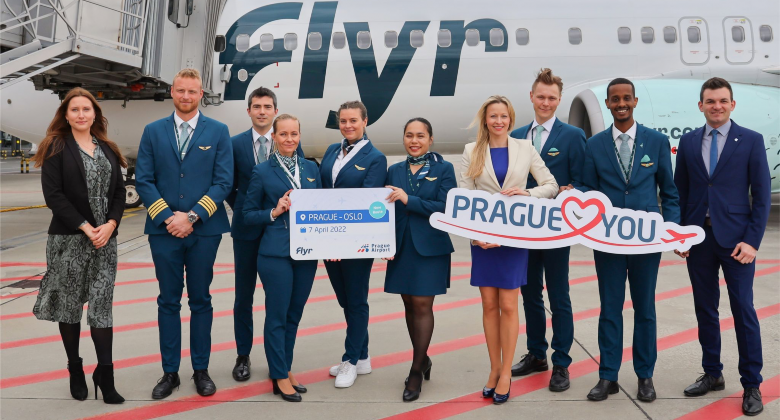 Flyr (IATA code FS) continues to expand its international network from Oslo. On Thursday 7 April the carrier began 2-weekly service to Prague. The 1,140-kilometre route will initially be operated on Thursdays and Sundays with an additional Tuesday service set to start on 14 June. Competition on the route comes from Norwegian which currently connects the airports on a daily basis. According to Cirium data this will increase to 9-weekly in July and August.
SAS has in the past also served the route between April 2003 and November 2006, between September 2012 and November 2014 and also in summer 2018 and summer 2019. However, in both of those years the route did not operate in the peak summer months of July and August. Looking ahead, schedule data indicates that SAS will resume service between Oslo and Prague on 1 September with 5-weekly service using its 737-700s.
In addition, Norwegian (between November 2008 and May 2010) connected Oslo RYG with Prague, while Wizz Air offered service from Oslo TRF to Prague between July 2009 and October 2011.
Flyr one of several new airlines to serve Prague this summer
According to a press release, Prague Airport will this summer offer passengers a selection of 147 destinations, including 25 on charter flights. A total of 58 air carriers will provide air connections with Prague. New routes, such as New York and Riyadh, will be added.
Jiří Pos, Chairman of the Prague Airport Board of Directors, said: "Compared to last summer season, we will offer passengers 19 more destinations, even though all Russian and Ukrainian connections are completely left out at this point. To compare, during the record year of 2019, 190 destinations were serviced from Prague. The 147 destinations, reached in 2022, represent 77% of the pre-crisis year offer. Despite the aviation industry's uneasy situation, we are still able to continue expanding the network of direct air connections from Prague."
This summer, the new destination list comprises regular flights such as Riyadh, Alicante and Almería in Spain, Faro and Porto in Portugal, the Greek islands of Mykonos and Santorini, and Tivat in Montenegro. Several new carriers will also be introduced, such as Air Montenegro (serving Tivat), flynas (serving Riyadh), Flyr, Play (serving Reykjavik) and SunExpress (serving Antalya). During the upcoming summer operating season, airlines of the Smartwings Group (75), Ryanair (29), Eurowings (19), Wizz Air (12) and easyJet (11) will offer flights to the greatest number of destinations.