New Route of the Day – Americas (11 August 2022): aha! between Reno and Idaho Falls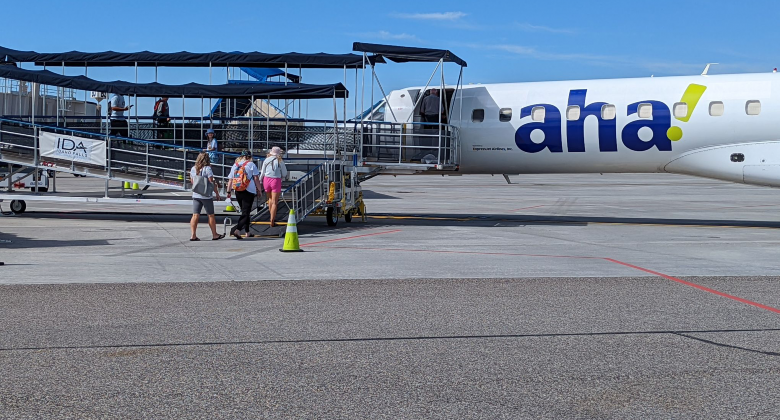 US regional aha! has added another route from its home base in Reno, Nevada. On Thursday 11 August the carrier began 2-weekly service on the 780-kilometre route to Idaho Falls in Idaho. The service will be flown every Thursday and Sunday using the airline's ERJ-145s. No other carrier connects these two airports.
According to flightradar24.com, the inaugural flight, EV 7136, operated by N846HK departed Reno just two minutes behind schedule at 07:42 and arrived in Idaho Falls one hour and six minutes later at 09:48 local time. The return flight, EV 7137, departed Idaho 45 minutes late (possibly due to all the celebrations at the airport?) at 11:40 local time, arriving back in Reno one hour and 16 minutes later at 11:56 local time.
Now serves 10 destinations non-stop from Reno
With the addition of Idaho Falls, aha! is now serving 10 destinations non-stop from Reno. Another new route to Boise in Idaho is set to begin on 31 August, with Santa Rosa in California having been added on 14 July. All routes are served either 2-weekly or 3-weekly. As a result, in September the airline will be offering 27 weekly flights across 11 routes from Reno:
Boise: 3-weekly
Eugene: 3-weekly
Fresno: 2-weekly
Idaho Falls: 2 -weekly
Medford: 2-weekly
Ontario: 3-weekly
Palm Springs: 2-weekly
Pasco: 3-weekly
Redmond/Bend: 2-weekly
Santa Rosa: 2-weekly
Spokane: 3-weekly
Curiously, the airline operates no scheduled flights on Tuesdays and Saturdays. On all other days aha! has either five or six departures from Reno. It is worth noting that service to Bakersfield in California, launched last October was suspended at the end of June, according to Cirium schedule data, while flights to Arcata/Eureka in California only operated between November 2021 and the end of March 2022.