New Route of the Day – Americas (19 February 2023): Southwest between Burbank and Eugene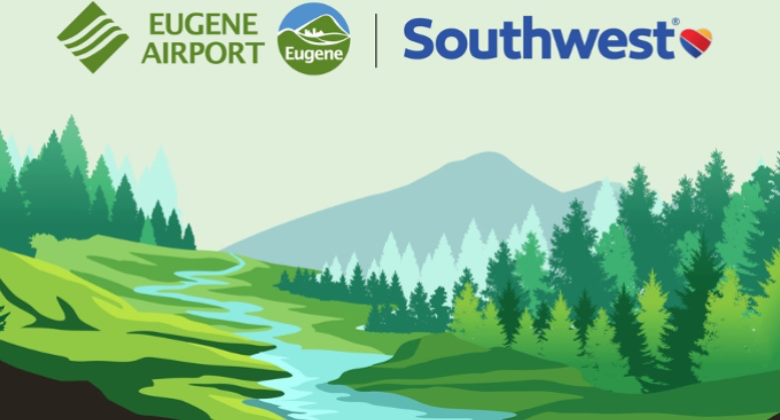 Southwest has started daily flights between Hollywood/Burbank in California and Eugene in Oregon. The inaugural service on the 1,180-kilometre route was on Sunday 19 February using the airline's B737-700. Southwest competes directly against Avelo's 6-weekly service  (daily except Tuesdays) between the two airports.
What they said
Cathryn Stephens, Director of Eugene Airport, said: "The addition of service to Hollywood Burbank Airport provides more nonstop travel options for the people in our region. We have a strong partnership with Southwest Airlines and are excited for the new flight between Eugene and Burbank."
Southwest continues Eugene expansion
The launch of the new Burbank – Eugene service is the latest addition to Southwest's growing network into the Oregon airport, The airline now serves five cities out of Eugene and will add a new seasonal route, to San Diego, on 11 March.
Located on the Willamette River, 80 kilometres from the Pacific Coast and some 180 kilometres south of Portland, Eugene has a population of around 170,000. Eugene Airport lies in the north-west corner of the city, around 11 kilometres from downtown. Between 2010 and 2019 passenger numbers at the airport grew by 61% from 755,000 to just over 1.2 million. Last year was the airport's busiest, handling almost 1.6 million passengers.
Southwest is Burbank's number one airline
Located at the northern end of the Los Angeles metropolitan area, Hollywood Burbank Airport is a Southwest stronghold. The airline's market share stands at over 60%. With the addition of Eugene to its network, the airline serves 14 year-round destinations from Burbank with another two seasonal routes. In recent years, Avelo has established a strong presence in Burbank, however, Eugene is the first destination on which it competes directly against Southwest.