New Route of the Day – Americas (25 December 2021): ZIPAIR between Tokyo NRT and Los Angeles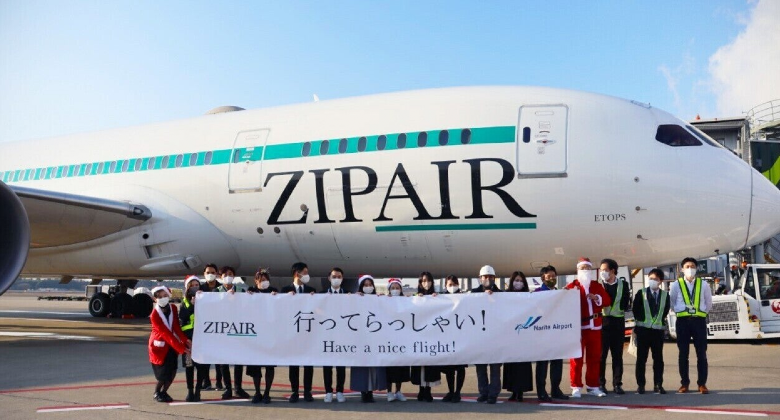 With significant travel restrictions in place, new intercontinental routes to/from destinations in Asia have been few and far between since the start of the pandemic. So congratulations to ZIPAIR (IATA code ZG), the low-cost medium/long-haul subsidiary of Japan Airlines for starting service, on Christmas Day no less, between Tokyo NRT and Los Angeles. The 3-weekly service will operate on Tuesdays, Thursdays and Saturdays using the airline's small fleet of three 787-8s. These former Japan Airlines aircraft are all configured with 290 seats. For comparison, Japan Airlines has between 186 and 206 seats on its 787-8s when flown on international routes.
Competition on the 8,770-kilometre route is provided by All Nippon Airways (ANA), Japan Airlines, and United. All three carriers are serving the route with daily flights in January. According to Cirium data, ANA uses 212-seat 777-300ERs on the routes, Japan Airlines 244-seat 777-300ERs and United 257-seat 787-9s. According to local news reports, the first ZIPAIR flight left Japan with just 63 passengers on board. The day before the first flight launched, ZIPAIR issued a press release saying that frequency on the new route would increase to 6-weekly from 14 January.
Already serves Hawaii
Having initially operated cargo only flights due to the pandemic, ZIPAIR launched passenger operations in October 2020 to Seoul ICN in South Korea. The airline's first US service, to Honolulu, began in late December 2020, but only operated initially until the end of January 2021. Flights to Hawaii then resumed in July 2021 according to Cirium data and currently operate 3-weekly. ZIPAIR's other three routes being operated in early 2022 are Bangkok (daily), Seoul ICN (3-weekly) and Singapore (3-weekly).