New Route of the Day – Americas (3 January 2022): aha! between Reno-Tahoe and Palm Springs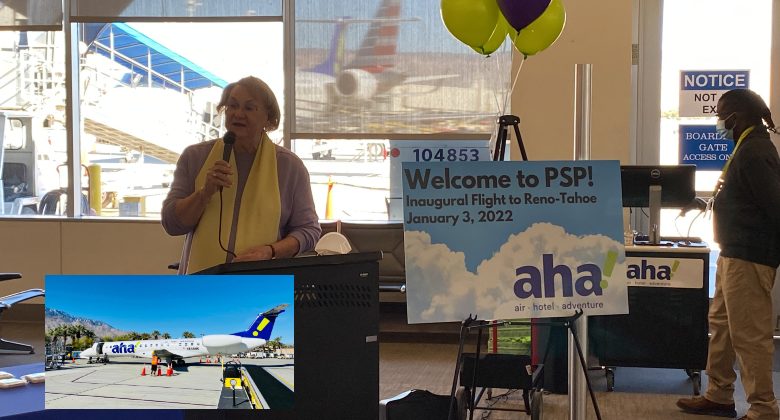 aha! (IATA code EV) started the new year by adding a new route on 3 January from its Reno-Tahoe base in Nevada to Palm Springs in California. The 695-kilometre service will operate 3-weekly (on Mondays, Wednesdays and Fridays) using the airline's ERJ-145s and faces no competition. A leisure brand of ExpressJet Airlines, aha! launched services from Reno-Tahoe last October, initially to eight destinations. A ninth route to Spokane was added in mid-December. All ten routes operate 3-weekly, making a total of 30 weekly departures from Reno-Tahoe. There are five departures per day on weekdays and also on Sundays. There are no flights on Saturdays.
Fourth new airline for Palm Springs since the start of the pandemic
Cirium data shows that airlines are offering 374 weekly departures from Palm Springs in January 2022, 8% more than in pre-pandemic January 2020. Although it has lost Frontier (which offered a 3-weekly service to Denver), it has welcomed four new airlines in that time, of which aha! is the latest.
The biggest success was attracting Southwest, who began flights to Palm Springs in November 2020. It now offers a total of 56-weekly flights to five destinations (Denver, Las Vegas, Oakland, Phoenix and Sacramento) according to Cirium data. In mid-December, two Canadian carriers began serving Palm Springs. Swoop began service from Edmonton on 16 December, while Flair launched the same route the following day. In addition, Flair also started flying from Toronto YYZ and Vancouver, though the Vancouver route is not operating between 8 January and 27 February.
Over 2 million passengers in 2021
In 2019, Palm Springs International Airport welcomed 2.56m passengers, an increase of 10.2% over 2018. While demand fell in 2020 to just 1.25m, the airport handled more than two million passengers in 2021. In November, the last month for which detailed figures are available, the airport had 271,944 passengers. This is 15.4% more than in pre-pandemic November 2019.
What they said
Lisa Middleton, Mayor of Palm Springs, said: "It's great to see yet another airline recognize the opportunity in Palm Springs. Our airport, which was recently named Best Small US Airport, continues to add more travel options making it easier for our community to choose to fly PSP. aha!'s flights to Reno are a welcome addition, and they will provide residents in northern Nevada an easy way to visit our desert paradise."
Tim Sieber, head of ExpressJet's aha! business unit, added: "We see a huge demand for a direct route connecting these two popular vacation destinations. We are thrilled that aha! can help Reno-Tahoe travelers escape to the desert and for Coachella Valley residents to get up to the mountains to take advantage of world-class skiing with an affordable, convenient nonstop flight."