New Route of the Day – Americas (7 July 2022): Flair Airlines between Montreal and Windsor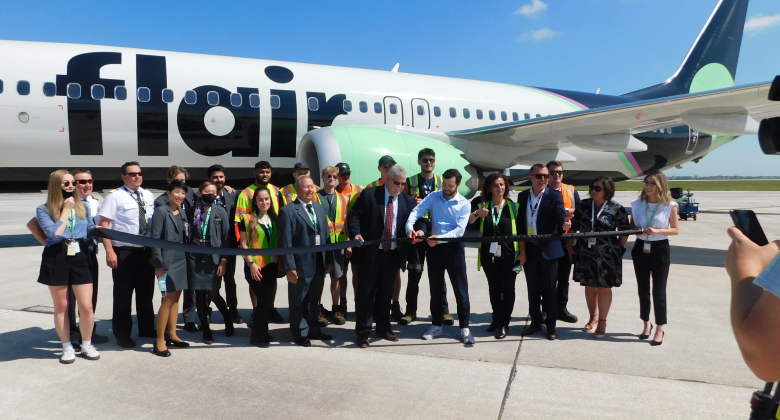 Flair (IATA code F8) had added Windsor International Airport (IATA code YQG – which the airport brands as meaning 'Your Quick Gateway') in southwestern Ontario to its network. On Thursday 7 July it began 2-weekly service (Thursdays and Sundays) on the 820-kilometre route from Montreal. Two days later, on Saturday 9 July, it added 2-weekly service from Halifax in Nova Scotia. That 1,590-kilometre route will also be flown 2-weekly, normally on Mondays and Fridays. Neither faces direct competition at present. Prior to the pandemic, Air Canada operated the Montreal route daily.
According to planespotters.net, Flair's fleet of 737s currently stands at 18; 15 737 MAX 8s and three -800s. With just under 500 weekly domestic flights, Flair is Canada's third largest domestic carrier, now accounting for 7.5% of domestic seat capacity. Air Canada (41%) and WestJet (28%) are still much bigger. Flair now operates from 18 Canadian airports, six US airports and one in Mexico (Cancun).
Air Canada and Porter Airlines both serve Toronto
Apart from Flair's two new routes, Windsor also welcomes the following services this summer:
Calgary with WestJet (3-weekly)
Toronto YTZ with Porter Airlines (12-weekly)
Toronto YYZ with Air Canada (3-daily)
Based on analysis of Cirium schedule data for August 2022, Windsor currently ranks as Canada's 39th busiest airport for weekly seats, just behind Terrace (in British Columbia) and just ahead of Goose Bay (in Newfoundland).
Windsor lies on the Detroit River with Detroit on the other side. The two cities are connected by the Detroit-Windsor Tunnel (completed in 1930) and the Ambassador Bridge (completed in 1929). There is also a railroad tunnel. Windsor is the southernmost city in Canada with a population of around 230,000.