New Route of the Day – Europe (1 July 2021): airBaltic between Riga and Valencia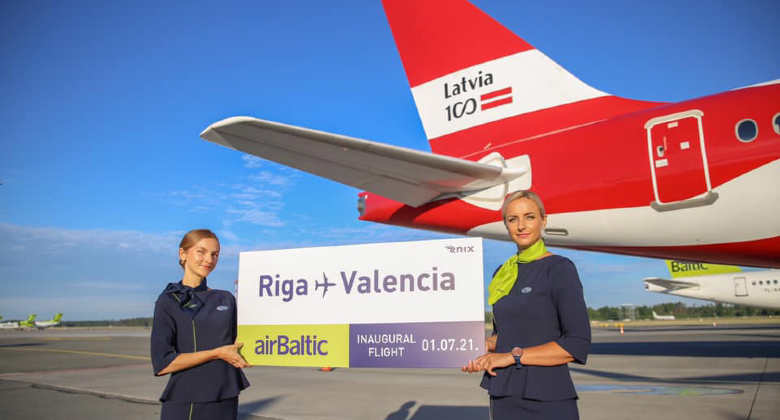 Thursday 1 July saw airBaltic launch a new 2-weekly service between its main base in Riga and Valencia, on the east coast of Spain. The 2,630-kilometre route will be flown Thursdays and Sundays using the airline's fleet of A220-300s. This brings to five the number of routes served in Spain by airBaltic from Riga, joining Barcelona, Madrid, Malaga and Palma de Mallorca. Ryanair competes with airBaltic on the Barcelona route. Later this month, Wizz Air will launch its only service between Riga and Spain when it starts 2-weekly flights to Alicante.
For Valencia, this will be the airport's only non-stop service to an airport in either the Baltic or Nordic nations. Pre-pandemic, Ryanair offered a 2-weekly service from Valencia to Copenhagen. airBaltic becomes the fourth new airline to serve Valencia since the summer of 2019 joining Air Arabia Maroc (Tangier service launched on 29 March this year), Air France (Paris CDG flights began on 4 July 2020) and Brussels Airlines (Brussels flights started on 17 February 2020 before being halted by the pandemic, resuming in May 2021).
Ryanair base opening in Riga this winter
While Ryanair announced back in April that it would be opening a two aircraft base in Riga this winter, only two of the 33 routes currently on sale on the airline's website will be to Spanish destinations; the airline's existing Barcelona service and a new 2-weekly service to Malaga starting on 30 October.