New Routes of the Day (13 September 2021): Eurowings between Germany and Austria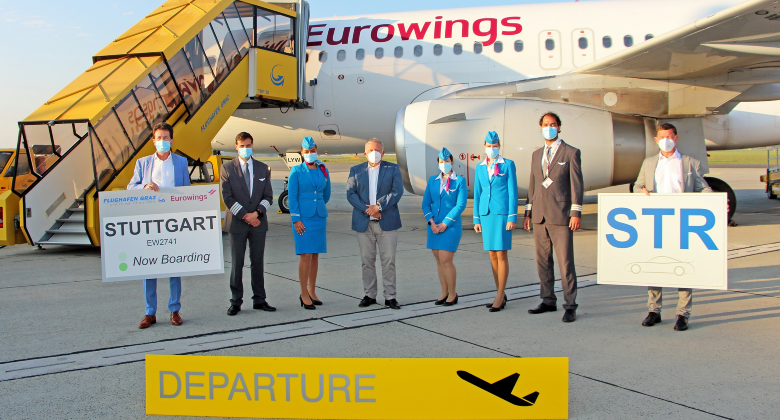 Eurowings launched two new routes between Germany and Austria on Monday 13 September. The Lufthansa subsidiary began connecting Düsseldorf and Linz with 5-weekly service, and Stuttgart and Graz with 4-weekly service. Both routes will be operated using the airline's A319s and A320s. Before the pandemic, both routes were served by fellow Lufthansa Group member Austrian Airlines, the Linz route between eight and 14-weekly with Q400s and the Graz route between six and 11-weekly using Q400s. Curiously, come the start of the winter season at the end of October, Austrian Airlines will once again take over operating both routes.
This is the first time Eurowings has served either of these Austrian airports from Germany. The airline's only previous routes to Graz and Linz were from its base at Palma de Mallorca in Spain, plus a season of offering Corfu flights from Linz and Heraklion flights from Graz, both in the summer of 2018, according to Cirium Data and Analytics.
Lufthansa Group dominates the market
This September, on routes between Germany and Austria, Austrian Airlines accounts for 52% of all flights (173 weekly departures) and 54% of seats (just under 27,000 one-way seats). Next comes Eurowings (22% of flights and seats) and then Lufthansa (17% of flights and 13% of seats). The biggest non-Lufthansa Group member in the market is Ryanair, which operates 15-weekly flights between the two countries, 8-weekly between Cologne Bonn and Vienna, and 7-weekly between Dortmund and Vienna. Wizz Air operates the same two routes with 3-weekly flights on the Cologne Bonn route and 4-weekly to Dortmund. Another Lufthansa Group carrier, Air Dolomiti, operates 6-weekly between Frankfurt and Linz. Finally, easyJet offers 2-weekly service (on Fridays and Sundays) between its Berlin base and both Innsbruck and Vienna. Overall, Lufthansa Group carriers account for over 90% of the market in terms of both flights and seats.
Not surprisingly the busiest route between the two countries is the trunk route connecting the main hubs of Lufthansa and Austrian Airlines, the 620-kilometre route between Frankfurt and Vienna. In September, this route is flown 49-weekly. The next busiest routes are all to Vienna; from Hamburg (36-weekly), Berlin (35), Düsseldorf (31), Cologne Bonn (30), Stuttgart (28) and Munich (26). All currently served routes are between 350 kilometres and 800 kilometres.
All routes will have resumed by November
Comparing schedule data for September 2021 with September 2019, flights between Germany and Austria are down 56% while seat capacity is down by 53%. While no new city-pairs have been added during that time, two routes served two years ago are not currently operating. They are Munich-Graz, which was served by both Lufthansa and Air Dolomite with a total of 5-daily flights in 2019 and Nuremberg-Vienna, which Eurowings served 11-weekly. According to Cirium, the former 310-kilometre route will be restarted on 31 October by Air Dolomiti with 2-daily service using E195s, while Austrian Airlines is set to take over the latter 430-kilometre route from 1 November with 12-weekly service using its E195s.