New Routes of the Day – Americas (3 March 2022): United expands at Newark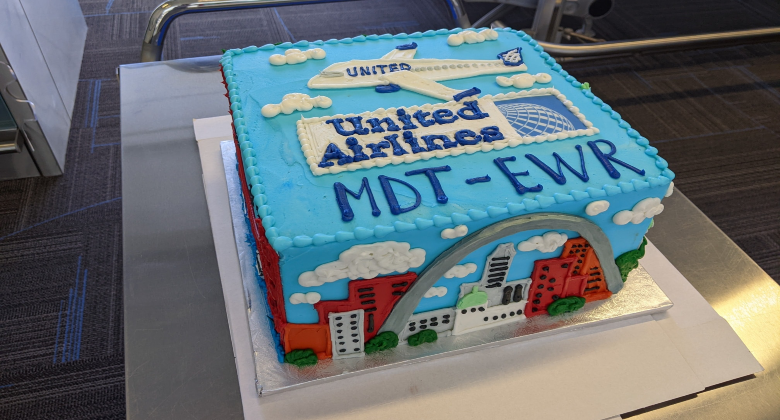 United on 3 March commenced the first of five new domestic routes from New York EWR, all of which are being operated on its behalf by GoJet using three-class, 50-seat CRJ-550s. While 13-weekly Harrisburg (IATA code MDT) flights from Newark started on 3 March, new routes from Ithica (12-weekly), Philadelphia (18-weekly), State College (12-weekly) and Wilkes-Barre/Scranton (12-weekly) began on 4 March. All these airports were connected non-stop by United to Washington IAD until 3 March using a combination of its own mainline aircraft, as well as flights operated on its behalf by Air Wisconsin, GoJet and Republic Airlines. United has explained this decision as being driven by a shortage of pilots in its regional operators.
The cake baked to celebrate the new route from Harrisburg to Newark (see above) features a representation of the St. Louis arch. This is in honour of the fact that GoJet, the airline actually operating the route, has its headquarters on the outskirts of the city.
Newark is United's biggest airport for European flights
These new services will help feed United's biggest hub for flights to Europe. According to Cirium data for August 2022, the Star Alliance member plans to offer 265 weekly flights to Europe from Newark, compared with 133 from Washington IAD, 105 from Chicago ORD and 63 from San Francisco. In addition, United offers non-stop flights to Europe from Houston IAH, Denver, Boston and Los Angeles. Overall, United is planning 643 weekly flights to Europe in August, 23% more than in August 2019.