Norfolk International Airport had almost four million passengers in 2019; Breeze one of seven carriers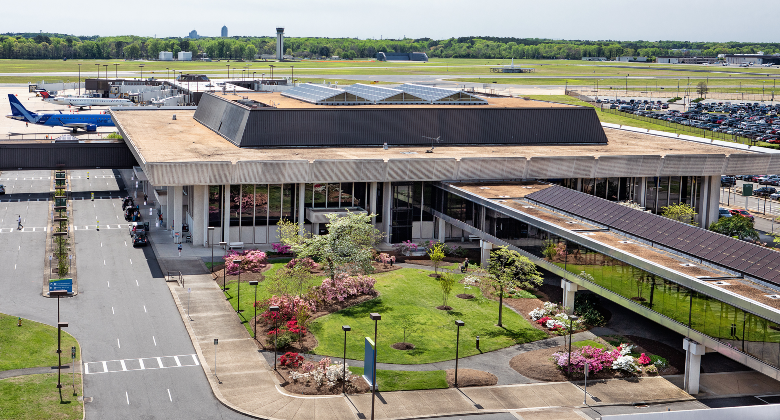 Norfolk International Airport (IATA code ORF) in Virginia welcomed almost four million passengers in 2019. Despite the airport's name, its scheduled service are currently only to US destinations. The latest passenger figures show that the airport handled a record 433,723 passengers in July 2022, the airport's busiest ever month. This is 8% more than in July 2019. For more than a decade before the pandemic the airport was handling between three and four million passengers each year.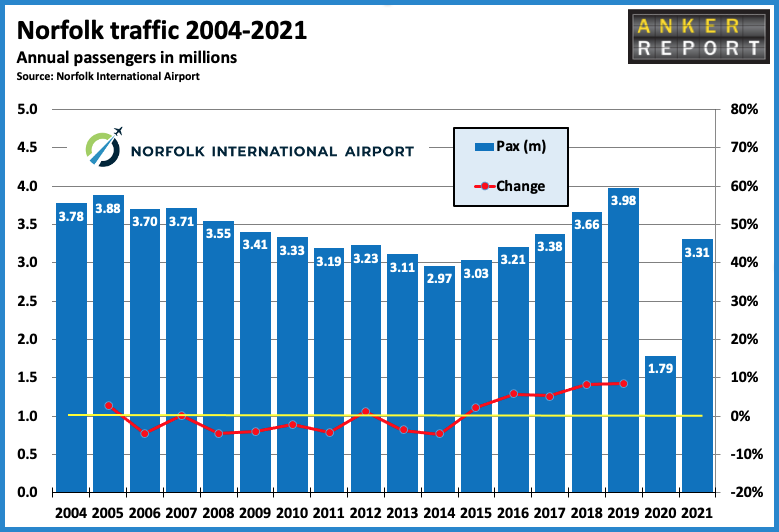 The 31% growth in demand between 2015 and 2019 was achieved thanks to capacity growth from the four big US carriers (American, Delta, Southwest and United) as well as the arrival of services from Allegiant (in October 2017) and Frontier (in August 2018). That brought the number of airlines serving the airport to six. They have since been joined by a seventh, Breeze.
Breeze has launched 12 non-stop routes so far
Breeze began serving Norfolk in June 2021 with flights to Charleston in South Carolina and Tampa in Florida. The following month saw the introduction of additional non-stop service to Columbus, Hartford, New Orleans, Pittsburgh and Providence. This year has seen further new destinations to Jacksonville, Las Vegas, New York Islip, West Palm Beach and Westchester/White Plains. Of these only six are operating this winter; Hartford, Las Vegas, Providence, Tampa, West Palm Beach and Westchester/White Plains. Three others (Charleston, New Orleans and New York Islip) are currently set to resume in the first quarter of 2023.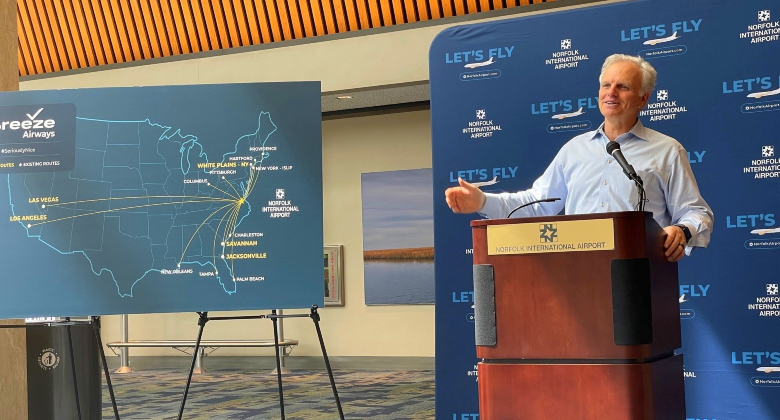 Breeze's on-line booking tool allows customers to book flights from Norfolk to Nashville and Sarasota/Bradenton starting from early November. However, both of these routes are same plane, one-stop services via Westchester/White Plains. The airline had previously indicated that it would be launching non-stop service to both Los Angeles and Savannah. However, neither of these routes are bookable as of September 2022.
25 destinations served non-stop in September
According to Cirium schedules data, Norfolk's seven airlines offer a total of 452 weekly departures across 25 non-stop destinations this September. The following shows which airlines operate which routes (weekly frequency in September in brackets):
Allegiant: Orlando SFB (2)
American: Charlotte (53), Chicago ORD (11), Dallas/Fort Worth (18), Miami (7), New York JFK (28), New York LGA (18), Philadelphia (28), Washington DCA (27)
Breeze: Hartford (2), Las Vegas (2), Providence (2), Tampa (2), Westchester/White Plains (2),
Delta: Atlanta (46), Detroit (18), New York JFK (21), New York LGA (25)
Frontier: Denver (4), Orlando MCO (7)
Southwest: Baltimore/Washington (32), Chicago MDW (14), Dallas DAL (1), Nashville (7), Orlando MCO (2)
United: Chicago ORD (14), Denver (7), Houston IAH (7), New York EWR (17), Washington IAD (28)
The only two routes over 2,000 kilometres are to Denver (2,500km) and Las Vegas (3,470km). There are currently no non-stop flights to California though that will change as and when Breeze begins its LAX route.
Home of world's biggest naval base
Norfolk is a coastal city in south-east Virginia with a population of around 240,000. It is best known as the location of the world's largest naval base, Naval Station Norfolk, on Chesapeake Bay. The waterfront has been revitalised in recent decades and is home to Nauticus, the National Maritime Center, which opened in 1994. Since 2000, it has also been the site of USS Wisconsin, the last battleship to be built in the US.